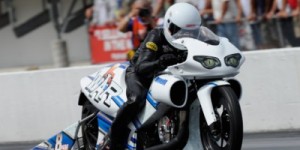 After sitting out the most recent NHRA Full Throttle Series event in Brainerd, Minn., Jerry Savoie and the White Alligator Racing Pro Stock Motorcycle team are primed for this weekend's Mac Tools U.S. Nationals at historic Lucas Oil Raceway at Indianapolis. The importance of the U.S. Nationals, the oldest and most significant event on the NHRA calendar, isn't lost on the second-year pro who was runner-up at the event last season.
Savoie's 2011 Indy debut included an upset win over champion Eddie Krawiec and victories against Jim Underdahl and Karen Stoffer before he ultimately lost to then-fellow rookie rider Hector Arana Jr. in the final.
"I hated to skip Brainerd, but if it means that we'll be more competitive for Indy, then I guess that's a fair trade," said Savoie. "Indy is our biggest race, and it's the one that everyone wants to win. I had such a great time last year. It was cool to get to our first final. I'd love to go back and do it all over again this year."
As for which motorcycle he will ride in Indy, Savoie plans to once again pilot his Suzuki Hayabusa – the same bike that carried him to a season-best 6.92 at last month's Sonoma event. Savoie has also qualified in the top half of the extremely competitive Pro Stock Motorcycle field at the last two events (held in Denver and Sonoma), a clear sign of the progress made by crew chief Mark Peiser.
"We have two engines ready to go, and I think we're going to have a very fast motorcycle," said Savoie. "We've been fast at the last few races but haven't had much luck on race day. That is going to change, and hopefully we can make it change this weekend.
"There is a storm coming to Louisiana this weekend so it's a good time to get out of town," Savoie continued. "We're going to have some fun."