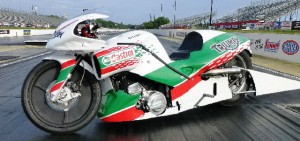 It has been two months since Kieth Burley made his highly anticipated NHRA debut as the driver of the Junior Pippin-owned Triumph Castrol Pro Stock Motorcycle at the Route 66 Nationals near Chicago, but Jupiter, Florida-based Burley has been anything but idle during the down-time. The young rider has done his homework and is fresh off of a productive test session in preparation for the most prestigious event on the Full Throttle Drag Racing Series tour: the 58th annual Mac Tools U.S. Nationals in Indianapolis.
"There was so much energy and excitement associated with debuting the Triumph Castrol Pro Stock Motorcycle in Chicago, and the rush that goes along with introducing the fans to these great brands of Castrol Motorcycle Oil and Triumph North America – it's just unparalleled," said Burley, who rode competitively in the AHDRA early in his career and now pilots an S&S Performance-powered two-wheeled machine. "The awesome thing for me is that we feel just as excited to get back out there and race at one of the most historic events in our sport.
"It's a new bike, and we had some issues in Chicago that meant that things didn't come out the way we wanted them to – but now we have a chance to redeem ourselves, and also to get out there and touch a whole new group of people who haven't yet had a chance to see us race. I could not be more excited."
In Chicago, Burley came to the starting line for every available qualifying pass, but electrical gremlins wreaked havoc to stunt their efforts, and ultimately, the team fell just short of edging their motorcycle into the field.
"We've tested a lot in the last two months," said Burley, who will be tuned at the U.S. Nationals and through the remainder of the season by newly appointed crew chief David Bost, an instrumental part of the team since its inception. "Through it all, we have been able to identify problems and find solutions – and a lot of those areas that have required improvement are ones that other top teams have already found. We're catching on and catching up, and those big issues that we faced in Chicago, we've been able to fix them. Now it's just a matter of putting it all together on raceday.
"Our goal as a team is to really come out and show everyone that the package we've put together makes the Triumph Castrol Pro Stock Motorcycle a bike to be reckoned with. Back in the pits, the fans will see that we're here for them 110 percent. On the racetrack, we want to show everyone that this is no joke; we're here to race with the best of them."
Burley will begin the weekend by participating alongside other professional drivers in NHRA's FanFest in downtown Indianapolis at Monument Circle on Wednesday, from 11a.m. to 2 p.m. The event will provide the always-enthusiastic Burley the opportunity to meet and greet fans in person – many of whom have been following his progress on Facebook (www.facebook.com/KiethBurleyRacing) and Twitter (@KiethBurleyNHRA).
"We're really looking forward to seeing the fans, meeting with them face to face, sharing our excitement about the Triumph and Castrol brands, and getting the party started for this great event," said Burley, a second-generation racer.
"It's tough for us because our team owner, Junior Pippin, won't be there in Indy with us because he will be by his wife Lisa's side as she continues to battle triple-negative breast cancer. Our thoughts and prayers will be with them, and hopefully, we can do well in their honor while bringing awareness to the disease.
"When it comes to the race, our goals are simple. We have the same expectations that we have for every event: we want to qualify, we want to qualify well, and we want the opportunity to show the fans what this Triumph Castrol Pro Stock Motorcycle is truly capable of."