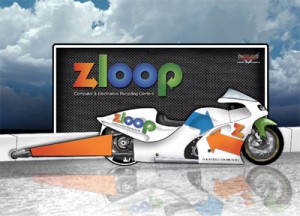 Officials from Hickory, N.C.-based Zloop Computer and Electronic Recycling Centers have announced a marketing partnership agreement with Pro Stock Motorcycle rider L.E. Tonglet for the remainder of the 2012 NHRA season.
The alignment with Tonglet's GT Motorsports is the first in the motorsports sector for Zloop in NHRA, but also signifies the company's launch towards bringing attention to race fans about the seriousness of eWaste and educating them about the proper disposal of used or outdated computers and electronics.
Tonglet, 23, will debut in the Zloop colors in this week's 58th annual Mac Tools U.S. Nationals presented by Auto-Plus at Lucas Oil Raceway at Indianapolis. The seven-race partnership will conclude with the Automobile Club of Southern California NHRA Finals at Auto Club Raceway from Nov. 8–11.
"I'm so pleased to have this awesome opportunity to represent Zloop for the remainder of the season. Both my family and I are honored with the faith, and support that Zloop has provided to us by coming onboard as our title sponsor," said Tonglet. "We're excited to not only welcome a new marketing partner to our sport – but also help with a cause that I personally believe in, and support. Hopefully, we can come out of the box strong together, grab some attention, go some rounds and win some races, but most importantly educate the public about the proper recycling of computer and electronic waste."