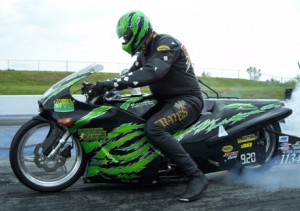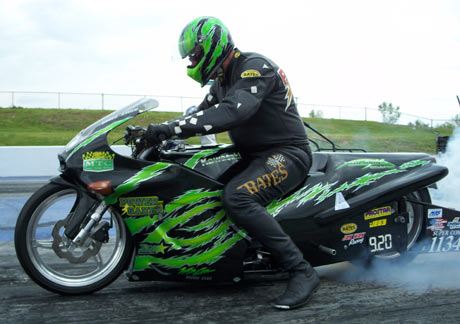 The following article chronicles AMA/Prostar Drag Race Manager Bruce Sauer's incredible comeback in 2003, when the multi-time champ battled back from serious health complications to win the Norwalk 10K Payday.
Over the last three decades Kawasaki specialist Bruce Sauer has established himself as one of the most talented and successful bracket racers and tuners to ever throw a leg over a drag bike. Sauer has won over 50 national events, eight AMA/Prostar championships, and nine Sportsman Mechanic of the Year awards. In spite of his many achievements Sauer enjoyed perhaps the richest and most meaningful weekend of his long racing career at the 2003 Norris Cyclefest from Norwalk, Ohio.
Coming into the 2003 season Sauer had not missed a Prostar race since 1990 and was well on his way to becoming the Cal Ripken Ironman of drag bike racing. However in January Sauer's health unexpectedly started to diminish and his racing career became of little importance to him and his loved ones. Sauer was diagnosed with a life-threatening condition that affects the heart, known as Kawasaki disease. Despite the ironic name, the disease actually has nothing to do with motorcycles.
"When I was in the hospital I was told that I would never get on a motorcycle again," Sauer said. "My blood pressure went off the map and the doctors were really concerned about me having a heart attack."
Sauer missed the first four races of the tour but in typical drag racing fashion he was recovering at a much quicker than expected rate. To the displeasure of his doctors Sauer decided in June he was ready to strap up his helmet and return to the sport he loves.
"I had to come back out to see if I could still do it," said Sauer, who has been racing national events since the early eighties. "The doctors were worried that the adrenaline rush that comes with racing would affect my heart."
Sauer's return to Prostar came at Norwalk Raceway – coincidentally the same venue where he collected his first ever national event win back in 1985. The 2002 Norwalk race was particularly special because Prostar's Keith Kizer and Norwalk's Bill Bader joined forces to combine the Norris Cyclefest with Norwalk's annual $10,000 bracket race usually held in September.
Sauer wasted no time laying down a slew of razor sharp reaction times and dead-on consistent elapsed times that made it hard to believe he ever took time off. 22-runs later Sauer stood victorious in the winner's circle $10,000 richer.
"After making that many runs on Friday there was no doubt in my mind that I could still do this," Sauer said. "I was doing it the way I love to race too. We're were hot lapping, just pounding them out one right after another."
As Sauer crossed the finish line in the final round everything was put into a new perspective for the champ and he did something he had never done after a race.
"I cried," Sauer said. "As I crossed the finish line tears of joy were coming down face. I realized how lucky I am to be alive and how fortunate I am to do what I love."
Sauer has amassed over 72 IDBA and Prostar wall plaques in his garage over the years, but out of all of the awards, Sauer values his Norwalk 10K trophy the most.
"I consider that a championship won all in one day," Sauer said. "It represents so much and will always be special to me."
The fantasy like night for Sauer was made even sweeter by his Power by Sauer customer Rob Taylor who also advanced to the final on a bike in which Sauer built. "It was like a dream," Sauer said. "Taylor is a good friend of mine and he has come a long way to become a great racer. I get a lot of satisfaction watching these guys do well. Between Taylor, the Coulson brothers and Rob Schenz my shop has been represented very well."
Sauer capped off the weekend in style with a runner-up performance in Top Gas. Incredibly Sauer made a total of 37 laps that weekend – not bad for a guy who three months prior was in a hospital bed being told he would never race again. Astonishingly Sauer is fully recovered from illness – something doctors can't quite explain. "They call me their miracle patient," Sauer said. "My health is as good as ever."
Sauer may have recovered from medical Kawasaki disease, but he will likely never be cured from the much stronger love of drag racing I'll call KZ, ZX, Kawasaki disease. This need for speed is a condition Sauer has had ever since his father took him to the track in 1963; and of course the only prescription is more laps.