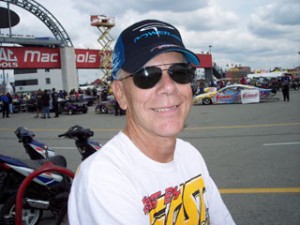 Cycledrag.com spoke with motorcycle drag racing icon Paul Gast about his plans for the 2007 season, his first six-second run, AMA/Prostar, what it takes to be competitive in the NHRA and more.
Cycledrag – It's been quite an eventful off-season to say the least. In December it looked as though your class, Pro Stock, would be cut from AMA/Prostar – an organization you have been a part of since its inception in 1989. What was your initial reaction to this news?
Paul Gast – I was not at all happy about the decision to cut it. To make it worse, I really wasn't even informed. I read about it on the internet.  That's what really bothered me.  What If I had a brand new bike and three new motors in production?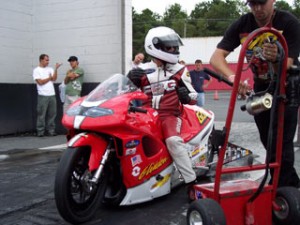 Cycledrag – After Hammer Motorsports purchased Prostar in early February, it was announced that Pro Stock would indeed be back. How has that changed your outlook?
Paul Gast – I'm very happy they reinstated Pro Stock, I was really pushing for it. I like racing with the bike guys more than I enjoy racing in the NHRA.  I love the all-motorcycle atmosphere and that's where all my customers are. Even if there wasn't going to be a class for me I still planned to go with the flow and support Prostar any way I could.
Cycledrag – Are there any changes in store for Pro Stock?
Paul Gast – Now the class will be better than ever because it will have the same exact rules as the NHRA and it will be a great place for people to come over and practice.  I think the fans will really enjoy it.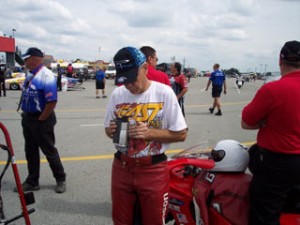 Cycledrag – Speaking of the NHRA, you had a tremendous season in 2006 and went to the second round at three of the four highly-competitive NHRA races you attended, including the illustrious US Nationals. Will you again compete in the NHRA in 2007?
Note – Gast has been a career best 7.04 in NHRA competition and holds one career event victory, The 1990 Pontiac Excitement Nationals from Columbus, OH.
Paul Gast – I will do seven to eight NHRA races.  I'm going to start at the Gators and hope I can pick up where I left off last year. (Gast ran a career best 6.94 at the AMA/Prostar National Finals in November.)
Cycledrag – And what will it take to duplicate that stellar 6.94 performance from last season?
Paul Gast – My whole racing operation has been based on accomplishing a six-second run for the last five years.  Heck, actually I've been trying for the last 57 years.  It meant a lot to me to get that first six.  It puts my name in the record books forever. Can we do it again?
I think so, but it won't be easy.  The good news is that I did it with a 100-percent NHRA-legal setup.  The downfall is that from a performance standpoint the Suzukis are almost at a peak.  They are so tapped out that the gains are now in thousandths, not the hundredths.  We've done just about everything we can do.  We are literally down to the last hundredth or so.  The 6.94 was so flawless there just wasn't anything left.
If I can get anywhere near running those sixes every run, even if it's high sixes I can be pretty competitive in the NHRA.
Cycledrag – Being a bonafide Suzuki racer, how do you feel about your chances against the raging influx of Buells and Harley Davidsons?
Paul Gast – There is actually much better parity than I ever dreamed of.  Especially considering that you are dealing with three totally different vehicles.  It's pretty unbelievable.  Although we'll see at the first race if anyone has stumbled upon anything.  But like I said there isn't much left to stumble on for the Suzuki's. If anyone jumps ahead it will be the Harleys or the Buells.
Cycledrag – Would you ever be interested in running the entire NHRA schedule for a championship?
Paul Gast – It would be nice but when it comes down to it running for a championship is really all about money and I don't want to have to sell a car to do it.
Note – Gast owns some pretty impressive sports cars.
Cycledrag – As a guy that has been involved in the sport for so very long what do you think about the recent ownership change in Prostar?
Paul Gast – Prostar needed new blood.  Even Scooter admitted that toward the end.  I've always seen Prostar as an organization with a ton of potential, and I believe under the right guidance that thing could easily double.  It will require a lot of work but it's a very strong business opportunity.  I'm very exited about the new ownership.  I think everyone from Hammer Motorsports are prime candidates.
It's better ownership changed.  This way all the decisions will come from the new group and someone isn't going to have to be on the phone with Scooter every five minutes.  Also, there will be more motivation by the new owners to grow it since they actually own it and are not just employees.
Cycledrag – Can you explain your decision to withdrawal your long-standing sponsorship from the Pro Mod class and instead sponsor Top Gas?
Paul Gast – I dropped out of Pro Mod because they (former ownership) were talking about mixing the turbos in with the nitrous bikes, and when that happened I had absolutely no interest at all in sponsoring the class.  It wouldn't work.
The decision was eventually reversed because every single Pro Mod racer said they wouldn't show up. Imagine if you have a Pro Mod bike that runs 6.90s, which is fairly common, and you had to line up against someone like Travis Davis.  You'd be about 300 horsepower short.
So then I saw that Schnitz discontinued their sponsorship of Top Gas and I said what the heck.  I certainly have more Top Gas motors out of my shop than Pro Mod motors so It is worth a try.
I didn't want to send the wrong message to the Pro Mod guys, I just didn't want to be involved with turbos. I'm already a sponsor for the ADRL series so It's nice to stay involved in Pro Mod in some way.
Note – The ADRL (American Drag Racing League) series will have Pro Mod Bikes at six  events this season: Montgomery, Valdosta, Huntsville, Norwalk, Rockingham, and the season-ending GetWorkComp.com World Finals in Ennis.
Cycledrag – And finally will we ever see Paul Gast on anything besides a Pro Stock Bike?
Paul Gast -I've thought about it.  I even have a Top Gas bike here in the shop that I'm building, but in all honesty I don't think you'll ever see me in anything but Pro Stock.
Cycledrag – Paul thanks a lot for taking the time to speak with us and we look forward to seeing you belt out some more six-second runs this season.  Also thank you for your continuing support of all motorcycle drag racing,  including the AMA/Prostar, MIROCK, and ADRL series.