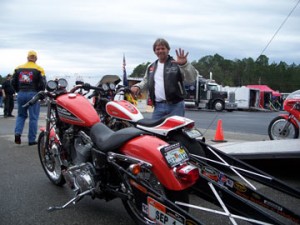 Multi-time champion Donnie Huffman entered a staggering five classes at the season-opening Bikeweek Nationals from Gainesville, Fla.
It's not uncommon for some talented sportsman racers to compete in two or even three classes at the same event, to increase their track time and chances for an event victory.  Multi-time AHDRA champion and all-around motorcycle-lover Donnie Huffman has taken that concept to the extreme by entering an astounding five classes at the AHDRA Bikeweek Nationals.
"I think it's going to help me out," Huffman said.  "I seem to do better when I run multiple classes because it keeps me focused and it keeps my adrenaline pumping."
Huffman certainly has a solid enough resume to back-up his theory.  He has won a total of five championships in the last three seasons.  Huffman says jumping off of one distinctive bike to another with different characteristics doesn't bother him at all.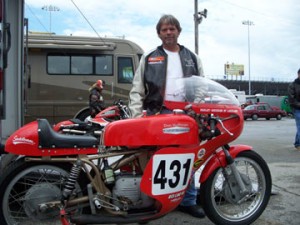 "When I throw my leg over it its like I become part of it.  It's hard to explain," Huffman said.  "I get it to do what I need it to do."
Huffman, who is the defending SEP champion, is a second generation racer than has been competing on a motorcycle since 1971.  His family owns and operates a Harley Davidson shop in Lakeland, Fla.
Throughout the Bikeweek Nationals Huffman will compete in Pro Gas, Pro Modified, SEP, Super Eliminator, and Super Sport.  Huffman will take the seat of friend Jordan Cruz's machine in Pro Stock and will race his own former X-Mod bike in Pro Modified. He will utilize his usual fleet of Sportsters in the aforementioned sportsman classes.
As if the busy weekend wasn't enough competition, on Monday Huffman will race his vintage 1970 road race Harley at Daytona Motor Speedway as part of an American Historic Motorcycle Racing Association event run in conjunction with Daytona Bikeweek.
"I will run the 350 GP class on my Harley Sprint," Huffman said.  "I love it. It's very old school.  It's what the factory used to race back in the day.  The bike is about 35 horsepower and I should be able to get it up to about 112 mph across the start-finish line on the tri-oval."
On occasion Huffman road racers one of the same Sportsters he uses at the drag strip with a few modifications.  Huffman says the extra seat time benefits his drag racing greatly.
"I just love motorcycles and I love to race," Huffman said.