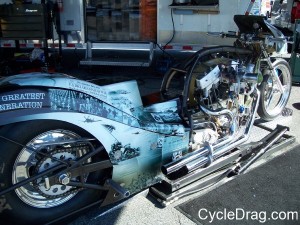 The 2012 Manufacturers Cup schedule has yet to be released, but no matter when and where these races take place, Royal Purple Pro Dragster will likely be back as a category.
Class organizer and racer Johnny Vickers of Hawaya Racing announced Royal Purple has committed to returning as a class sponsor.
Pro Dragter is one of the most unique classes in drag racing. It features nitro-burning, carbureted, high-gear, V-twin motorcycles.
At the Manufacturers Cup Fall race last season, Vickers set  a new record at 7.128, eclipsing the previous mark of 7.139 held by Rick Moore.