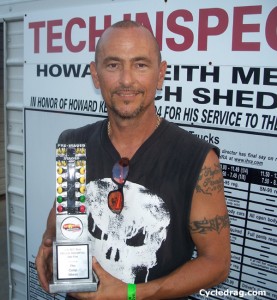 After waiting out a six-hour rain delay at the MIROCK Fall Nationals from Maryland International Raceway, Oct 1-2, multi-time MIROCK champion Ronnie Procopio reset the Pro Mod record to 4.067.
Procopio ran a 4.067 in the opening round of qualifying and backed the number up with a 4.069 in session No. 2. The previous record was also held by Procopio at 4.101, set at MIR on Oct. 3, 2010.
Jeremey Teasley also ran under the previous record with a 4.07 on Rob Hunnicutt's "Superman" Suzuki.  Teasley did not make a run in session No. 2.
The third and final qualifying session has been moved to 10AM on Sunday morning.
Will history be made at MIR?  With conditions ideal for running quick elapsed-times, cool air and a tailwind, many believe Pro Street racer Ryan Schnitz has a very good chance of running the first six-second Pro Street pass on Sunday.  Schnitz leads PS qualifying with a 7.17 on the HTP GSXR 1000. Schnitz ran a 7.06 during his last visit to MIR in July while facing hot, hot, humid adverse conditions.
Joey Gladstone is No. 1 in Real Street with a 7.85.
The total bike count for the event is 419.