Through T-shirt sales in the Americus community, Star Racing was able to donate $1,400 of the proceeds to "The Ride Home 2011," which is hosted by the Georgia and Florida chapters of Rolling Thunder each year in Americus, Ga. The Ride Home weekend of events is intended to honor former POWs and to remember those still Missing In Action. This year's events, held Sept. 15-18, brought more than 1,000 people to the Americus area.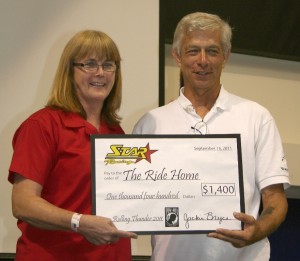 To encourage local support from individuals and businesses, Star Racing designed and sold event T-shirts throughout the Americus community. With the huge response, Star soon sold completely out of all shirt sizes and continued to have more people ask about them.
As a 31-year Americus community member, Star Racing was eager to show its support for the yearly Ride Home weekend not only through T-shirt sales but also by hosting an open house during the event. The Star Racing Open House was held from 1-4 p.m. Thursday, Sept. 15. More than 60 people attended the open house, including individuals from the Americus community, Rolling Thunder chapters and POW/MIA families. Star Racing also gave free "Ride Home 2011" T-shirts to the first 50 people to sign in at the event. Guests at the open house were offered tours of the Star Racing facility, food, drinks and a chance to enter a raffle for a free Dyno session for their motorcycle. Darryl Rogers from Jacksonville, Fla., was the lucky winner of the raffle. Darryl drives a 2004 Touring Model Harley-Davidson.
Star Racing also participated in The Ride Home staging on Friday afternoon and Saturday morning, Sept. 16 and 17, offering free cold beverages to the riders of more than 400 motorcycles lining up to cruise through Americus.
The company was honored to be invited to The Ride Home Social, the Heroes Banquet and the Candlelight Ceremony on Friday evening. At the Heroes Banquet, Jackie Bryce, co-owner of Star Racing, presented a check for $1,400 to The Ride Home on behalf of Star Racing. Jim "Moe" Moyer, director of Florida and Georgia Rolling Thunder chapters and chairman of The Ride Home, accepted the check on behalf of The Ride Home.
According to The Ride Home Web site, Rolling Thunder ®, Inc. is a class 501 C-4 non-profit organization with more than 80 chartered chapters throughout the United States and members abroad. Members consist of both veterans and non-veterans. Although many of its members ride motorcycles, a person does not have to own or ride a motorcycle to be a member. Membership does require a commitment of time and a willingness to be an advocate for our troops, our veterans and our Prisoners Of War and Missing In Action, according to the site.
Click here to see what's new on the Star web page