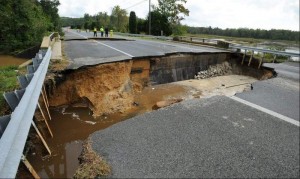 The bridge over Allens Fresh Run on Budds Creek Road in Charles County will remain closed to traffic until mid-November after being destroyed by flooding during Tropical Storm Lee, according to a news release from the Maryland State Highway Administration.
MIR officials have marked a detour for racers and fans and commented on the MIR website, "The directions from the north that we have suggested are the very best to take, even if 234 were to be open. Adjustments from the south are minor and should be easy to follow."
From the North: From the DC Area, take the Beltway I-495 to Exit 7A (Branch Ave). Continue south
13 miles, turn left onto Rt. 5 S. Follow 3 miles, turn left at light to stay on Rt. 5 S. Go 13 miles, turn
right on Rt. 236. Follow 6 miles to end. Turn left onto Rt. 234, MIR immediately on right.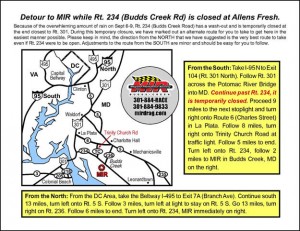 From the South: Take I-95 N to Exit
104 (Rt. 301 North). Follow Rt. 301
across the Potomac River Bridge
into MD. Continue past Rt. 234, it
is temporarily closed. Proceed 9
miles to the next stoplight and turn
right onto Route 6 (Charles Street)
in La Plata. Follow 8 miles, turn
right onto Trinity Church Road at
traffic light. Follow 5 miles to end.
Turn left onto Rt. 234, follow 2
miles to MIR in Budds Creek, MD
on the right.