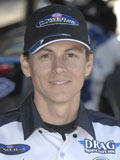 Chris Rivas will ride the Drag Specialties S&S Cycle Proven Performance-powered Buell for G Squared (G2) Motorsports in the 2008 NHRA POWERade Pro Stock Motorcycle drag-racing series.
Rivas will represent Drag Specialties, the motorcycle parts distribution powerhouse, which returns for a third season as the primary sponsor of the G2 motorcycle.
According to George Smith, G2 president and crew chief, the Fresno, Calif., resident was a natural choice to fill the empty seat on the team's motorcycle.
"There were a number of good riders available for the coming campaign, but Chris was the most logical candidate for the Drag Specialties/S&S/G2 bike," said Smith. "He was one of the best at getting off the starting line last season, and now on our bike, which we believe is one of the strongest in the class, he becomes a real threat for the championship this season."
Rivas is anxious to get back in the saddle, especially with the organization which has been the source of the engines, parts and motorcycles he has raced throughout his career.
"I am extremely excited to help celebrate the 50th Anniversary for S&S Cycle by having the chance to work with George Smith and (chief mechanic) Ken Johnson, as well as the rest of the Drag Specialties/G2 team," said the 40-year-old who has been drag racing motorcycles for 13 years, the last four professionally. "S&S has always been a vital part of my racing career by supplying the parts needed for a competitive race bike. Their parts have been on every one of the bikes I have raced and now I am really pumped up with this chance to ride the bike directly connected to them."
His experience includes riding motorcycles with more than just S&S parts; he has ridden S&S powered Buells prepared by G2 ever since the company offered them to customer teams.
"No other customer rider has as much experience on G2 prepared/S&S powered Buell motorcycles, because Chris in 2005 became the first and continued on them through qualifying for last year's Automobile Club of Southern California NHRA Finals," said Smith.
Both rider and crew chief expect good things right away.
"I can't wait to start the season and get back to Gainesville (site March 13-16 of the season kickoff 39th Annual ACDelco Gatornationals) because that is where I've had my best runs," said Rivas, who finished the 2007 NHRA POWERADE Pro Stock Motorcycle season in 11th place. "Last year I turned a 6.947 second lap and a 191.84 mile-perhour run during qualifying at the Florida track."
"Like we do every year, we have been working through the off season to build on what we learned last year, to get even better performance from our bike," explained Smith. "And with Chris's experience and ability, we expect to go fast right away. He shouldn't have any learning curve to overcome on our motorcycle."