How quick will the popular Orient Express Pro Street Bikes go in the cool November air at the IDBL World Finals, Nov. 3-5? Several racers expect to leave this event with a new personal best and a new ranking on the Greatest of All-Time (GOAT) list.
It's been a banner year for the category. IDBL point leader Rodney Williford led the charge into the 6.60-zone with an IDBL record of 6.69 at the season-opener in May. For many, the thought of running in the 6.60s, sans a wheelie bar on a street tire seems unimaginable. Welcome to 2017. It's Funny Bike numbers from yesteryear on a DOT tire!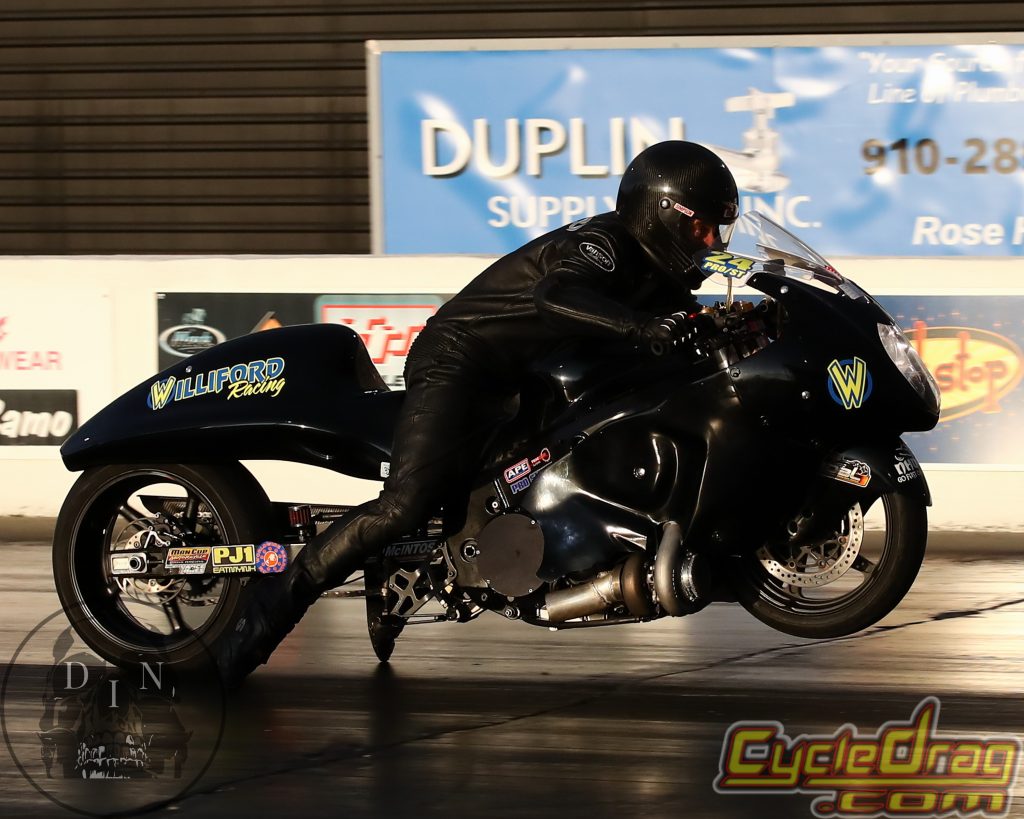 Williford wasn't finished after the 6.69. At September's ManCup race in Rockingham Williford blistered the 1320′ with a jaw-dropping 6.66 at a staggering 225 mph. The run spoke volumes on the quality and prep of Steve Earwood's recently resurfaced Rockingham Dragway.
"People said the Rock is back," Earwood said with a smile. "We never left."
This season's Pro Street upward trend in performance continued into October. At the IDBL Fall Nationals from Maryland International Raceway, Oct. 6-8, Brad Mummert and Richard Gadson shocked the world with a 6.65 on their 1980 Suzuki GS nitrous entry in pre-race testing. It is unofficially the quickest Pro Street run of all-time.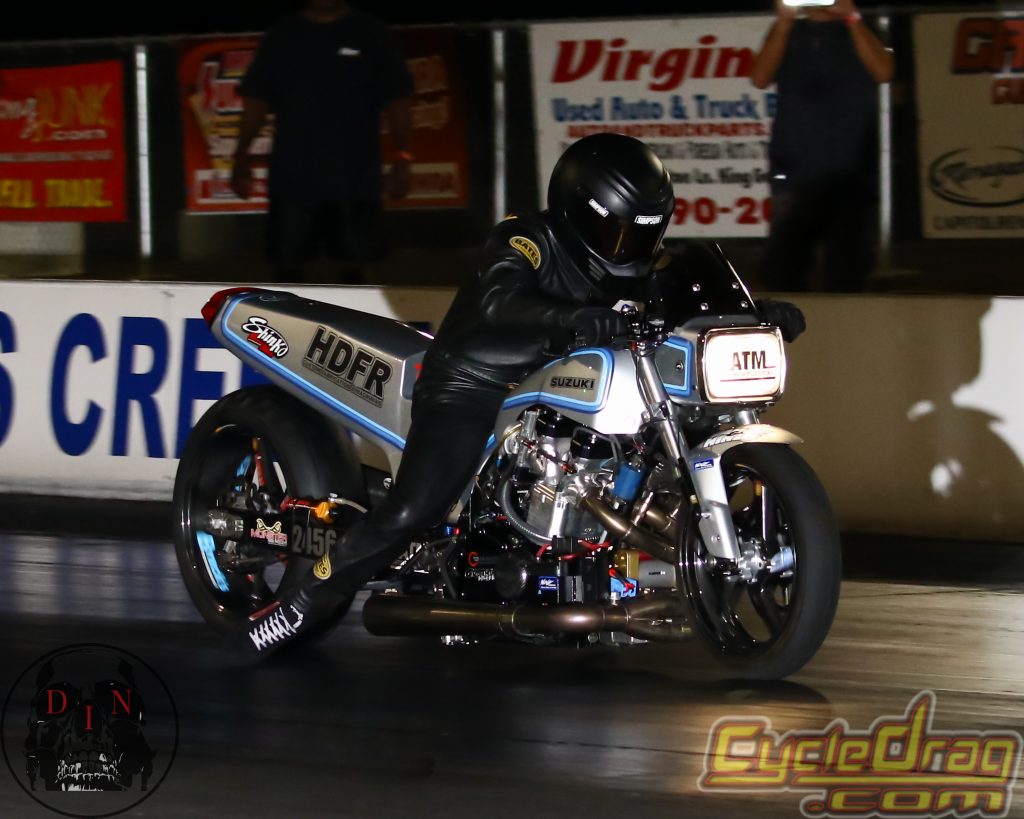 Although not eligible to become an IDBL record, the 6.65 added plenty of intrigue heading into the fifth annual, $10,000 Orient Express Battle Royale. The excitement continued in qualifying as for the first time in IDBL history, three bikes ran in the 6.70-zone with Williford securing the top spot with a 6.76, followed by No. 2 Frankie Stotz on his Honda CBR 1000 at 6.78 and Gadson at 6.79.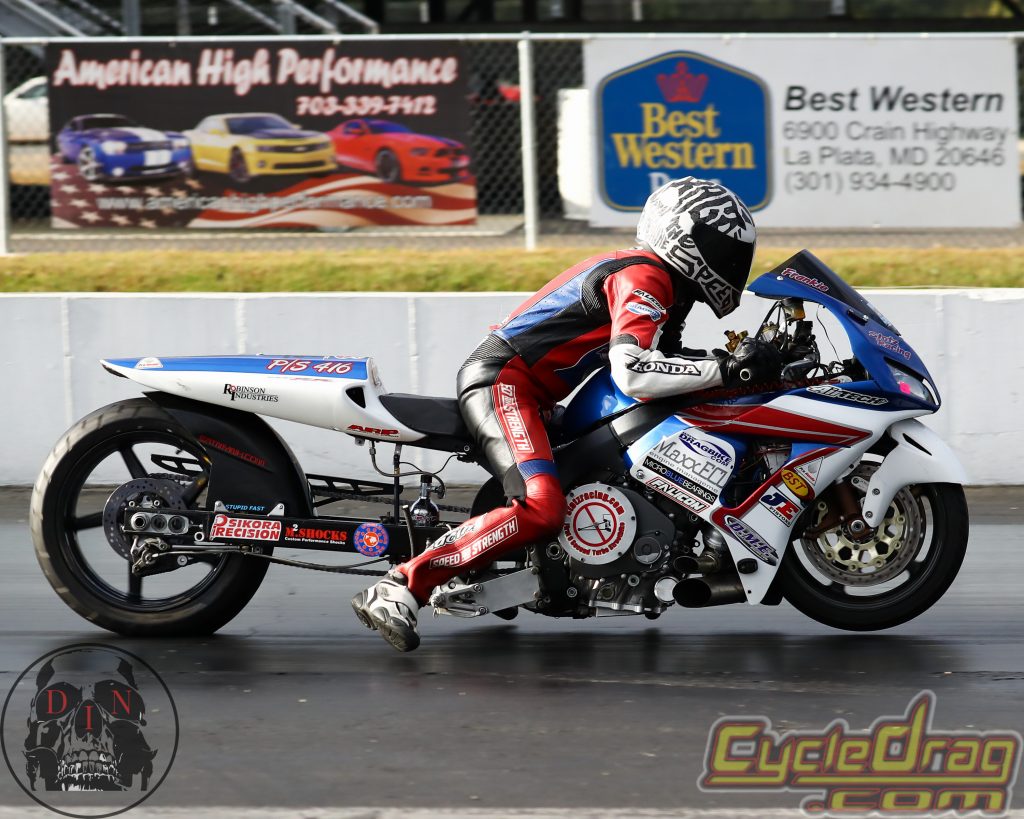 Gadson encountered mechanical gremlins and was upset in the opening round by Justin Shakir.
Two-time Battle Royale winner of Team DME Terence Angela posted low-elapsed time of eliminations with a 6.75.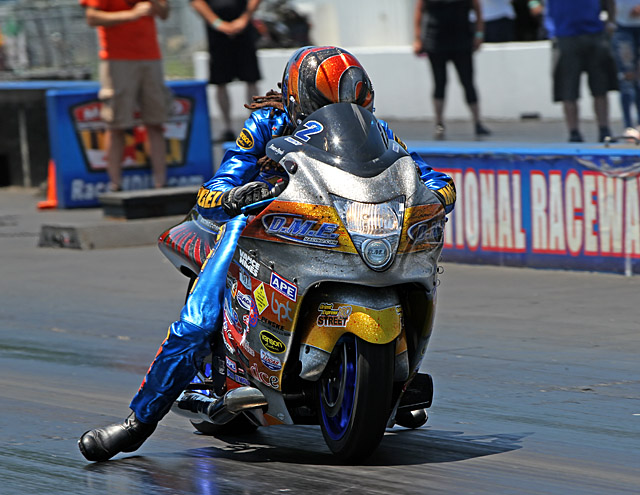 Unfortunately for the Aruba-based rider, his bid for a third title was stymied in round two by Williford.
The rain came in just prior to the semifinals which has pushed the conclusion of the much-anticipated Battle Royale to Saturday, Nov. 4 at the Rock. The IDBL will crown a first-time Battle Royale winner as Williford takes on 14-time dragbike racing champion Jeremy Teasley of Team DME and Stotz takes on the red-hot Ehren Litten, also of Team Williford Racing.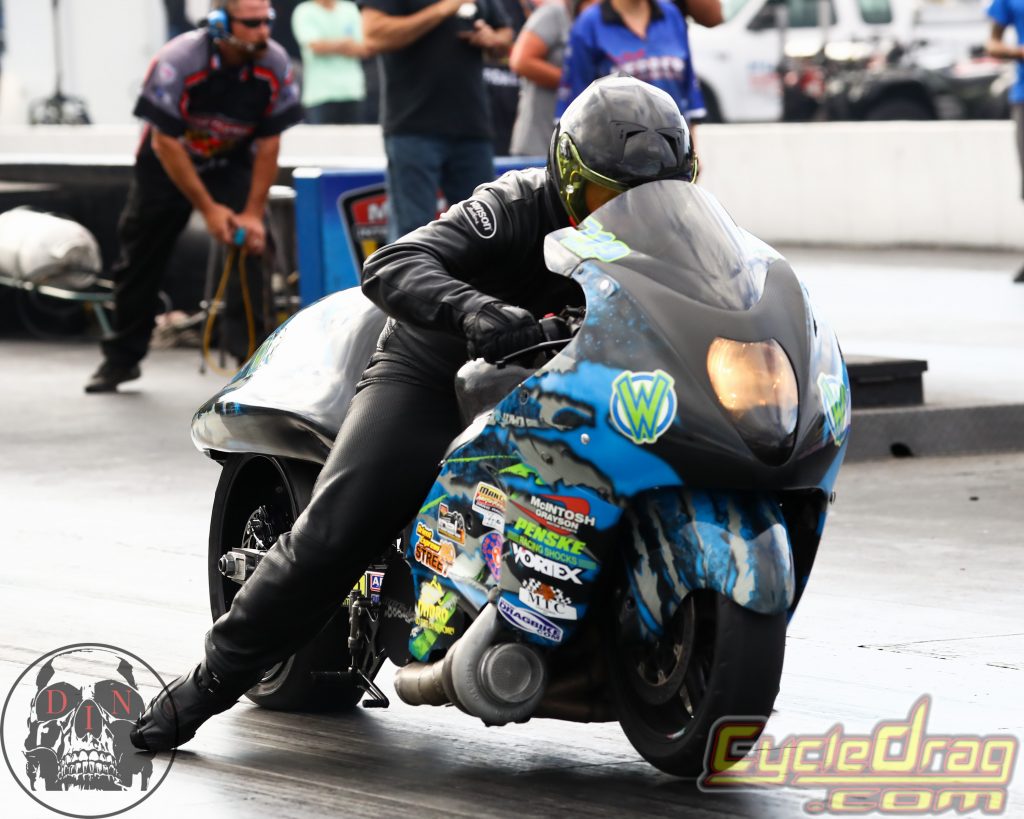 Aside from the exitment of the Battle Royale, Pro Street competitors will be fighting and clawing to improve their standings in the IDBL championship points series during the World Finals Race to be held on Sunday Nov. 5. Championship plaques are awarded to all riders who finish in the top-ten and each rider is allowed to display a single digits vanity number the following season.
Many IDBL top-ten players such as Chris Connelly Jr., Jason Dunnigan, Jeremy St. Julien, Kenny Brewer, Jordan Hasse, Doug Witt, Jake Dugan, Curtis Ellerbee, Tony Ficher, Keith Correia, Darion Payne, Rocky Tinker, Jamie Lopes and more are expected to enter the World Finals.
With cool air, and Earwood promising another great racing surface, many Pro Street racers could leave the IDBL World Finals with a new personal best.
What will the GOAT list look like after the IDBL World Finals?
Top 50 Greatest of All-Time (GOAT) List Heading Into Rockingham
1) Rodney Williford, 6.667 Turbo Hayabusa 9/17 – Eliminations – Manufacturer's Cup
2) Ehren Litten, 6.689 Turbo Hayabusa 10/17 – Qualifying – NHDRO
3) Mark Gargiulo, 6.705 Turbo Hayabusa 10/17 – Eliminations – NHDRO
4) Mark Paquette, 6.707 Turbo Hayabusa 11/16 – Eliminations – All Star Shootout
5) Joey Gladstone, 6.720 Turbo Hayabusa 4/15 – Eliminations – IDBL
6) Richard Gadson, 6.733 Nitrous GS 1100 5/17 – Eliminations – IDBL
7) Frank Stotz, 6.776 Turbo 1k – Honda, 10/17 – Eliminations – NHDRO
8) Justin Doucet, 6.809 Turbo Hayabusa 5/17 – Eliminations – Manufacturer's Cup
9) Terence Angela, 6.813 Turbo Hayabusa 9/17 – Qualifying – Manufacturer's Cup
10) Jeremy Teasley, 6.819 Turbo Hayabusa 9/17 – Qualifying – Manufacturer's Cup
11) Gabe Frederick, 6.822. Turbo Hayabusa 3/17 – Eliminations -OSR
12) Brandon Mitchan, 6.824 Turbo Hayabusa 10/17 – Eliminations – NHDRO
13) Jason Dunigan, 6.826, Turbo Hayabusa 5/17 – Eliminations – Manufacturer's Cup
14) Bud Yoder, 6.838, Turbo Hayabusa 10/14 – Qualifying – MIROCK
15) Ryan Hable, 6.850 Turbo Hayabusa 6/17 – Qualifying – Manufacturer's Cup
16) Michael Bayes, 6.876 Turbo Hayabusa 11/16 – Eliminations – All Star Shootout
17) Tony Ficher, 6.881, Supercharged Hayabusa 4/16 – Eliminations – IDBL
18) Walter Sprout, 6.892 Turbo Hayabusa 11/15 – Eliminations – Manufacturer's Cup
19) Rob Budgell, 6.900, Turbo Hayabusa, 10/14 – Qualifying – MIROCK
20) Ryan Schnitz, 6.907, Nitrous Hayabusa 10/11 – Eliminations – MIROCK
21) Jordan Haase, 6.908 Turbo Hayabusa 9/16 – Eliminations – Manufacturer's Cup
22) Chris Connelly, 6.912, Turbo Hayabusa 9/17 – Qualifying – Manufacturer's Cup
23) Doug Gall, 6.927, Turbo Hayabusa 5/15 – Eliminations – NHDRO
24) Mike Kovacevich, 6.939 Turbo Hayabusa 9/16 – Eliminations – NHDRO
25) Jamie Lopes, 6.949, Turbo Hayabusa 11/16 – Qualifying – Manufacturer's Cup
26) Rudy Sanzoterra, 6.963 Turbo Hayabusa 10/17 – Qualifying – NHDRO
27) Justin Shakir, 6.966 Turbo Hayabusa 3/17 – Eliminations -OSR
28) Tyler Fisher, 6.981 Turbo Hayabusa 9/13 – Qualifying – NHDRO
29) DD Boulware, 7.018 Turbo Hayabusa 8/16 – Eliminations – NHDRO
30) Gaige Herrera 7.023, Nitrous Hayabusa 6/17 – Eliminations – NHDRO
31) Darion Payne, 7.030, Turbo Hayabusa 7/14 – Qualifying – MIROCK
32) Alan Danial, 7.036 Turbo Hayabusa 8/17 – Qualifying – NHDRO
33) Brad Anassis, 7.037, Turbo Hayabusa 11/16 – Qualifying – Manufacturer's Cup
34) Doug Witt, 7.039, Nitrous Hayabusa 9/15 – Qualifying – IDBL
35) Phil Stoll, 7.048 Turbo Hayabusa 10/14 – Qualifying – MIROCK
36) Lavar Delee, 7.050 Nitrous 1K – Suzuki 10/14 – Eliminations – MIROCK
37) Quinn Orand, 7.057 Turbo Hayabusa 9/16 – Eliminations – NHDRO
38) Shannon Maylee, 7.059 Turbo Hayabusa 10/13 – Qualifying – MIROCK
39) Joey Jobbe, 7.059 Turbo Hayabusa 7/16 – Eliminations – Manufacturer's Cup
40) Rocky Tinker, 7.067 Turbo Hayabusa 7/17 – Qualifying – IDBL
41) Cameron Teasley, 7.081 Turbo Hayabusa 10/14 – Qualifying – MIROCK
42) Danny Cox Sr, 7.086 Nitrous Hayabusa 9/12 – Eliminations – MIROCK
43) Crow Teasley, 7.103 Turbo Hayabusa 9/14 – Qualifying – NHDRO
44) Jason Angela, 7.108 Turbo Hayabusa 4/14 – Eliminations – Manufacturer's Cup
45) Alex Williams, 7.115, Nitrous Hayabusa 4/16 – Eliminations – Manufacturer's Cup
46) George Gooch, 7.116 Turbo Hayabusa 11/12 – Qualifying – Manufacturer's Cup
47) Matt Lahey, 7.125 Turbo Hayabusa 8/16 – Qualifying – NHDRO
48) Chris Edwards, 7.125 Turbo Hayabusa 9/17 – Qualifying – Manufacturer's Cup
49) Jose Valencia, 7.128, TurboHayabusa 11/13 – Eliminations – Manufacturer's Cup
50) Keith Correia, 7.130Turbo Hayabusa 4/16 – Eliminations – IDBL
IDBL Pro Street Points Heading into Rockingham