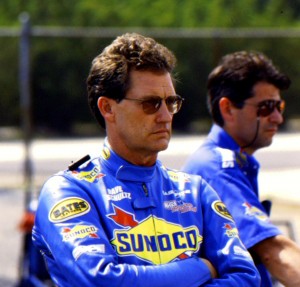 Dave Schultz is one of the greatest motorcycle drag racers who ever lived.
For his ingenuity and tremendous success, he is revered as the godfather of Pro Stock Motorcycle.
A true perfectionist and a fierce competitor, Schultz was a pioneer of the "gasoline and carburetor" class. He amassed six NHRA championships and 45 victories. Schultz is the only motorcycle drag racer to win the coveted, early 90s triple crown – a NHRA, IDBA and AMA/Prostar championship in the same year. He accomplished the feat twice, 1991 and 1994. When Schultz was on his game there was little his competition could do.
The legendary Terry Vance of Vance and Hines said, "He was the best guy who ever rode a Pro Stock motorcycle and I don't think anybody would argue with that. He was the most dedicated person to that sport that there has ever been."
Schultz elevated the category's level of professionalism. No one ever saw Schultz in an old dirty set of leathers or saw his motorcycle in primer. His paint schemes were some of the most vivid and memorable designs the sport has ever seen. Schultz's attention to detail was unmatched and his entire operation was always immaculate.
In the summer of 2000 the dragbike legend faced the battle of his life as he was diagnosed with colon cancer. Tenacious, steadfast and inspirational Schultz won the 45th Wally of his career at Houston Raceway Park, just days after undergoing draining chemotherapy.
Shultz's outstanding and legendary 23 year career came to an end with his untimely death in February 2001.
Cycledrag.com was fortunate enough to receive some rare photos from Schultz's personal collection. Enjoy.
Click here to see the gallery.