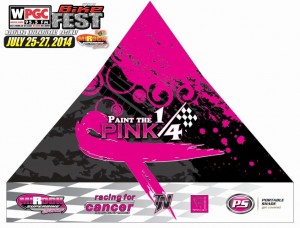 Portable-Shade USA is once again proud to be able to support the "Paint the Quarter Pink" event at the upcoming WPGC Bike Fest (July 25-27) at Maryland International Raceway. This canopy will be donated to the event to help promote awareness of breast cancer and raise funds for breast cancer. The winner of this canopy will be the female participant that raises the most funds for the event. All funds will go directly to the "Bikers Against Breast Cancer" organization that will be present on the midway.
Remember… Support Those That Support Your Sport!
The next event for the Mickey Thompson Tires MIROCK Superbike Series will be the WPGC Bike Fest at Maryland International Raceway on July 25-27, 2014.