It will be a season to remember for Mac McAdams
For many successful dragbike racers like Antron Brown or Matt Smith, the urge to blast down the quarter mile on four wheels is just too much to resist.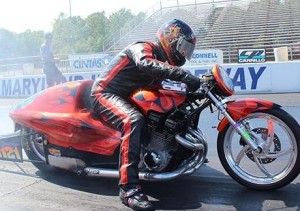 Such is the case for now Pro Mod car competitor, McAdams, 38, of Harwood, Md., who has been drag racing motorcycles for over 20 years.
"I blame my wife for getting me into cars," laughed McAdams. "She sent me to the Frank Hawley Alcohol Funny Car School a few years ago as a birthday gift. I got to go 6.12 at 227 mph and get my license. I was hooked after that."
McAdams initially planned on purchasing an Alcohol Funny Car but after evaluating the state of the classes, he decided a Pro Mod was a better choice. Two cars, one wrecked, were purchased to create a mean, NHRA-legal, 1953 blown Corvette to go with McAdams' pair of immaculate Suzuki GS-based bracket bikes.
Racing motorcycles in the MIROCK series and making his debut in Pro Mod this season has McAdams busier than he ever imagined.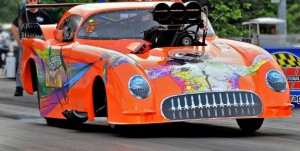 "If we are not inundated at the body shops we are busy making this car better," said McAdams, owner of Classic Collision, two high-volume collision repair shops with close to 30 employees.
It was a recent test session at his home track, Maryland International Raceway, which really has McAdams feeling optimistic about his new Vette. McAdams was instructed to shut the car off in second gear by his crew chief Camp Stanley. It was a task easier said than done for a man with an affinity for speed.
"It threw me back in the seat, it stuck and it felt great. I just couldn't resist putting it in third gear and keeping it lit past the eighth mile," said McAdams, who posted an impressive 4.16 at 178 mph on the pass with a 1.00 sixty foot. "That is an ET that can turn on some win lights. I think the car has a lot of potential and 3.90s are not out of the question."
What McAdams really wants to see is 5.90s at 245 mph in the quarter mile. Mac hopes to race the car at least four times this year to prepare him for a commitment to the Northeast Outlaw Pro Mod Association's ten or so races in 2015.
The toughest choice for McAdams will be figuring out what to do when a Pro Mod race overlaps with a MIROCK event.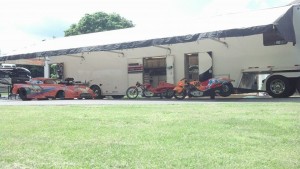 As a true motorcycle lover, McAdams has a ton of MIROCK bracket wins and has competed in Outlaw Pro Street, NHRA Pro Stock Motorcyle and Pro Mod Motorcycle, where he still holds the MIROCK eighth-mile speed record at 176 mph. This season McAdams is having a great time racing in what is billed as the world's quickest index class, the Louis Concrete 4.60 class.
"I think this is the next big thing. I'm a huge fan of Pro Mod bike. To go out and run in the low 4s is great, but unfortunately it takes a lot of money and know-how to keep that going," McAdams said. "I think the next best thing is a 4.60 index. It just doesn't beat up parts and it gives everybody a fair chance to win."
All those years of successfully competing on a motorcycle are facilitating McAdams' transition into four-wheel racing.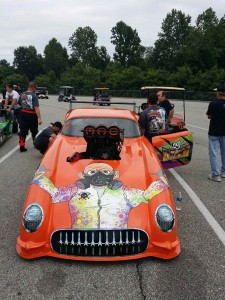 "It's a mind thing. When you take somebody who is used to going fast they can slow the whole process down," McAdams said. "The biggest thing I struggle with is getting used to being restrained. Being strapped in tight in a car is a lot different than hanging off a motorcycle going 180 mph."
And as a true competitor, Mac knows exactly what the ultimate goal is.
"I want the car and the motorcycles to run in the front of the classes," McAdams said.
McAdams knows that will take not only some impressive driving, but also continued help from key people. McAdams expressed sincere gratitude to those helping make his dream a reality.
"I really want to thank everyone for all the help," McAdams said. "My wife Lisa and my daughter Paige have been instrumental. All the guys at my shops really pick up the slack when I'm gone too."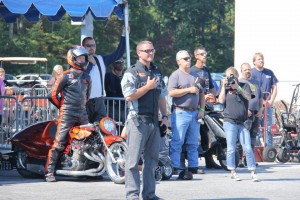 McAdams also thanked his longtime friend Rob "Superman" Hunnicutt, Steve Wood, Micah Mcclintic and Rick Smith for the help with his motorcycle program and Camp Stanley, John Stanley, Leroy Dewdney and Derek Wisooker for the help with his Pro Mod car operation. He also thanked Royce and Jason Miller of MIR for providing a great race track.
Up next for Mac will be a PDRA race in Virginia, War on Wednesday, July 16 at MIR and a Northeast Outlaw Pro Mod Race at MIR in August.