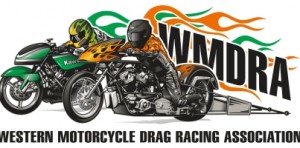 The Western Motorcycle Drag Racing Association (WMDRA) is excited to add a Drag Racing 101 clinic to their popular drag racing school at Sturgis, to be presented exclusively for members of the press and media. Race School Director Mark E. Dotson will conduct a private one-hour clinic at Sturgis Dragway to introduce media to the nuances of motorcycle drag racing from noon to 1:00 p.m. on Wednesday, August 6 during the 74th Annual Sturgis Motorcycle Rally.
The clinic will introduce terminology, technical requirements and race procedures in a controlled environment and participants will learn how to properly stage and launch a motorcycle to make a smooth, safe pass. Each member will then make a full timed pass down the track on their own motorcycle and be presented with their own Sturgis Dragway time slip and a certificate.
"As an organization committed to safety and development of motorcycle drag racing, the WMDRA bears a responsibility to racers in our growing motor sport," says WMDRA President Sandra Alberti, "and we're really excited to take things a step further this year and broaden our reach to include members of the media."
If you're covering the Sturgis Rally as an editor, copywriter, photographer or publisher, we already know you're a motorcycle enthusiast and now it's time to see what all the excitement is about at the drag strip. Alberti added, "We see this as a wonderful opportunity for media to get a 'behind the scenes' look at drag racing and perhaps take a closer look at their local racers and even take their new found knowledge to their local track."
The clinic will be followed by a pork slider luncheon provided by the South Dakota Pork Producers Council as well as a Q&A and autograph session with our 2014 Sturgis Nationals Grand Marshals, Bonnie Truett (2014 Sturgis Hall of Fame Inductee), Pete Hill and Marion Owens.
The WMDRA Drag Racing 101 Clinic will take place on Wednesday, August 6, from noon to 1:00 p.m.at Sturgis Dragway, located at 20523 Hwy 79, just off Hwy 34 between the Full Throttle Saloon and Buffalo Chip Campground. There is no charge for participation, but riders must be fully capable of the safe operation of their motorcycle, and both the motorcycle and rider safety gear (over ankle boots, leather jacket, full face helmet, gloves, etc.) must pass a technical inspection before being allowed down the track. For more information, please contact the WMDRA at (208) 850-5795 or info@westernmotodrags.com.