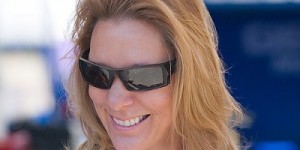 Consistency has been the mantra of GEICO Suzuki rider Karen Stoffer throughout the 2011 NHRA Full Throttle Drag Racing Series season, and it's taken her to the top of the Pro Stock Motorcycle standings.
The popular rider from western Nevada has no intentions of wavering from that plan as the GEICO team prepares for this weekend's fifth annual Summit Racing Equipment NHRA Nationals.
"Our plan has not changed," Stoffer said. "In fact, it's even enhanced. The last (Pro Stock Motorcycle) race in Englishtown was a little bit of a challenge – and yet a testament to our consistency because we had two substitute crew members there. Our consistency was definitely tested, and it proved out to be pretty good."
Stoffer raced to the finals in Englishtown, N.J. – her third runner-up finish in four PSM races this season – to extend her championship lead to 43 points over Andrew Hines.
"We obviously didn't get to exactly where we wanted to go, but we did get to the final round," Stoffer said. "It proved to us that if you maintain your program, you'll do well."
In the past, Stoffer admits she hasn't had the best of luck in Norwalk, but what happened before won't sway her or the GEICO team this time through.
"Norwalk's been a challenging track for us," Stoffer said. "Historically, we've never done very well there. We're always fighting weather issues. It tends to be a one-lane track, depending on the conditions. It's definitely going to test our consistency and our program once again, but that's OK.
"I want to keep my head down and stay focused on making as many passes on the weekend as we possibly can, including Sunday, and whatever that brings, it brings. The guys want to keep that GEICO Suzuki running the way it has been all year. Hopefully, we can eat some of that famous Norwalk ice cream with a Wally on Sunday."
Stoffer, crew chief/husband Gary, and the entire GEICO team know it is easy to talk about being consistent, but hard to maintain.
"My whole thing this year when it comes to racing is to have a good time and do my best, no matter what goes on," said Stoffer, who has qualified No. 2 three times and No. 4 once this season. "We've been challenged a couple races to do that but we're staying focused. The goal is to go down the racetrack perfectly as many times as we can. As long as we keep that in our minds, we'll see results. We don't talk about it much. We just try to execute the plan of having fun and being consistent. That's the focus."