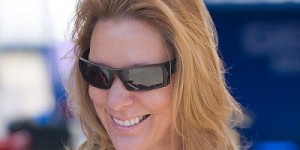 Things are going extremely well for Pro Stock Motorcycle favorite Karen Stoffer. The popular rider from Reno, Nevada, is coming off her first victory of the season, which returned her to the No. 1 spot in the world rankings. Now she's heading to one of her favorite racetracks — Infineon Raceway — for this weekend's 24th annual FRAM-Autolite NHRA Nationals anticipating more success.
"Infineon Raceway can be one of the quickest and fastest tracks we race on each year," said Stoffer, rider of the GEICO Suzuki. "There's lots of oxygen there because of the location, which makes our engines happy, and if the weather is just right these Pro Stock Motorcycles can absolutely fly.
"It's an especially dramatic change for the riders because on consecutive weekends we go from the slowest track on tour in Denver, where we race at more than a mile of altitude, to one of the quickest. It's a big mental adjustment and you have to be on your game to hit those shift points perfectly so you don't lose any horsepower. We have to wait to shift gears in Denver, but those shift points come super-quick in Sonoma."
Aside from her biggest passions of going fast and winning races, Stoffer loves northern California for the partial, pro-motorcycle crowd that packs the grandstands.
"This is the biggest race of the year for our class," Stoffer said. "There's nothing better than looking up from the pits and seeing row after row of motorcycles lined up on the hillsides. People who ride motorcycles like to be around other people that ride motorcycles.
"It's amazing to see the support we get here and as a competitor I can speak to the fact that it's very motivating to race in front of people that are so enthusiastic."
Stoffer has lived her entire life in the western United States and, along with her crew chief/husband Gary, has raced predominately in California, Nevada, and Arizona when she was working her way up the competitive ranks of drag racing.
"I'm a Division 7 racer and love all these race tracks out west," she said. "Sonoma is one of two tracks I consider as a 'home' track, along with The Strip at Las Vegas Motor Speedway. We live near Reno so it's close enough where we can drive over, and it's easier all our friends and family to come out. That adds to the fun.
"We're ready to race. It's been a good season and the playoffs are fast approaching so we're all very excited. Sonoma is going to be great."