The Orient Express NextUp engine kill control module will now include a new feature for semi-auto transmission applications – ZeroKill – which is gear position programmable.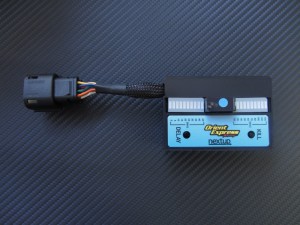 ZeroKill is an improvement over the class-leading 20ms kill time offered in the NextUp Gen3 models, and when used with a semi-auto transmission, it eliminates the need for an additional shift counter on your machine.
This simplifies installation and set up, reducing time in the garage, and getting you on the track faster.
The new NextUp ZeroKill will be available in both plug & play and terminal style versions to fit a wide range of motorcycles (bike specific harnesses sold separately). Fully tested and race proven, the new NextUp ZeroKill has all the features of the Gen3 version, including the sophisticated engine kill control that works with either fuel injection or ignition systems, and four or eight injector machines.

Kill time and delay can be adjusted per gear, with easy to use on-board programming and pushbuttons. A gear position sensor input works with existing OEM sensors.
The NextUp allows full throttle upshifting with a quick shifter, air shifter, or push button system. NextUp ZeroKill is compatible with fuel injected and carbureted machines.
For more information regarding the Orient Express NextUp ZeroKill, please contact Orient Express via our website 
http://www.orientexpress.com
, call us via 800.645.6521 or 631.231.9552, or send an email to 
sales@orientexpress.com
. Orient Express is proud to celebrate 41 years of delivering the finest high performance motorcycle components for racers around the world.