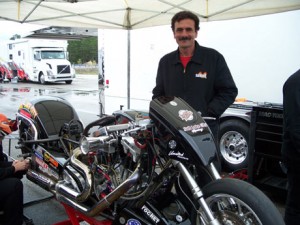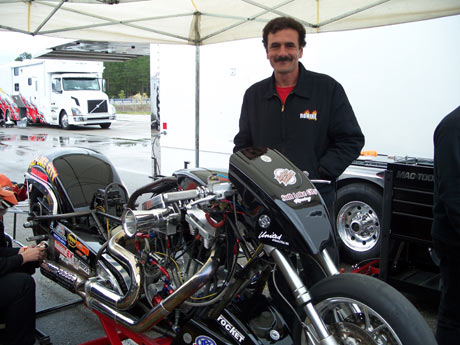 Mike Romine's early to mid-season consistency earned him a second straight AHDRA Nitro Harley championship.
It's good to be king.
When Mike Romine won the opening round of this year's AHDRA series in Gainesville, Fla. he effectively began 2006 the same way he ended 2005 in Las Vegas.
Now after a solid early to mid-season string of consistent round wins Romine has also ended 2006 the same way he ended 2005 – with an AHDRA No. 1 plate.
"We're not always the quickest bike, but the quickest bike doesn't always win on Sunday," Romine said. "Consistency is what gets it done."
In June, after Romine had won an exhibition race at the NHRA Bristol event and back-to-back AHDRA events in Atlanta and Norwalk, it appeared he would run away with the championship before the end of the summer.
However, Jay "The Bulldog" Turner of Mancuso Racing assembled a formidable late-season charge.  Romine struggled with clutch woes at the Jim McClure Nationals in Virginia while Turner scored a double event win, conquering both Top Fuel and Pro Fuel.  Turner would go on to win the subsequent event in Rockingham, NC as well, placing him 90 points behind Romine giving him a chance, albeit a small one, to dethrone the defending champion in Vegas.
After qualifying Romine was sixth at 6.56, 214 mph and Turner was No. 13 at 6.70, 210 mph.  Much like the situation NHRA point leader Andrew Hines was in six-hours west in Pomona, Calif. Romine could simply keep pace with his championship-contending adversary and win the title.
However, and also like the scenario of Hines', Romine was upset in the opening round by Steve Dorn, who was making his return after a crash in Texas back in the spring sidelined him for most of the season.  Dorn ran a 6.67 at 198 mph to Romine's 6.87 at 208 mph.
And suddenly Turner's championship hopes were strong enough to be taken off of life-support.  If he could win the event, he could win the title.
In the end it was Romine's nemesis Doug Vancil, the same man who nearly cost him the championship in 2005, that saved the day.  Former IHRA champion Vancil beat Turner in the opening round with a 6.54 at 202 mph to Turner's 6.70 at 210 mph.
That triggered an immediate celebration in Romine's pit.
Romine can celebrate for now, but based on the late-season efforts of guys like Turner, Vancil, and Tak Shigematsu, who ran 6.38 at this event, 2007 could shape up to be the toughest season yet in Nitro Harley.
Earning a three-peat could require more consistency than ever – Consistently low ETs that is.
"