Mike Scott Racing is pleased to announce the formation of a new Top Fuel Harley team that will enter the 2017, NHRA Mellow Yellow series at the next race. They will compete in the remaining six events of the NHRA T/F Harley, Mellow Yellow racing series in 2017. Starting at the Denso Spark Plugs, NHRA Nationals, to be contested at The Strip at Las Vegas Motor Speedway, on March 31 to April 2nd, the new Horne/Romine/Scott, Top Fuel Harley team will take it to the competition with a championship bid for the 2017 title. With sponsorship support from; Tridyne Projects Corporation, Zedcor Energy Services, Royal Camp Services, Pipestone Projects Inc, The Crossing Group and Horne Concrete, the team is race ready.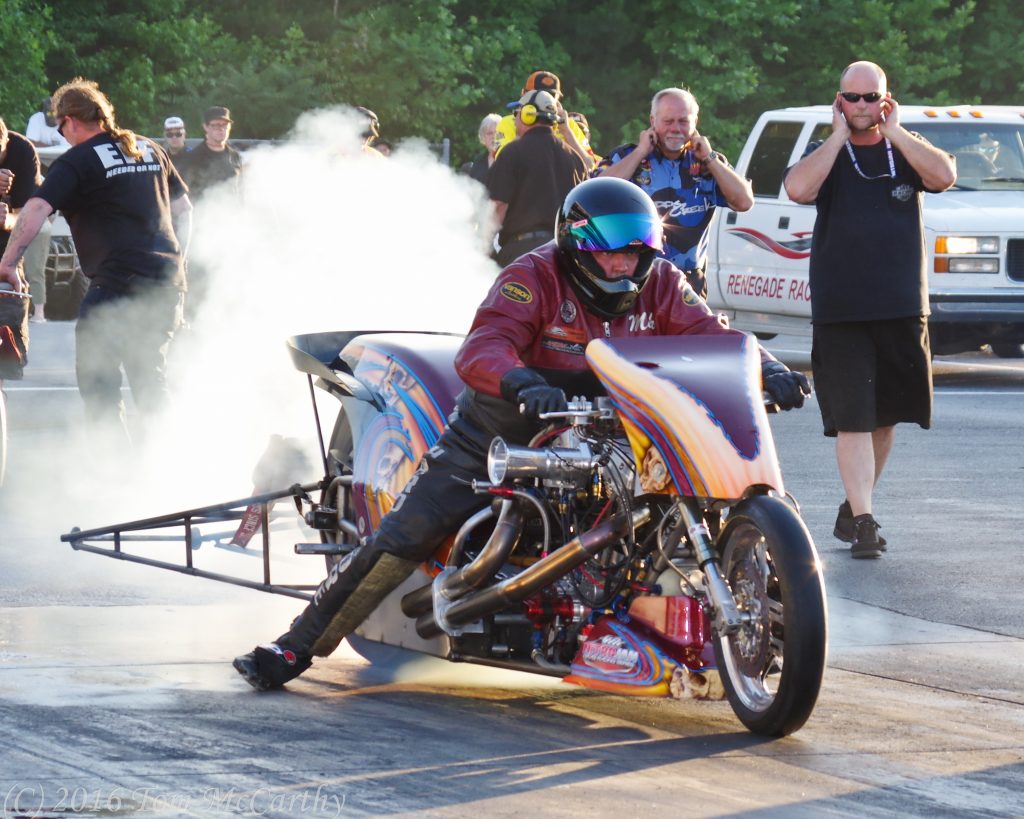 Steve Horne and Mike Scott have assembled this group to bring the Horne Racing Top Fuel Harley back into action, with Mike Romine turning the wrenches and 2014 NHRA Nitro Harley Champion Mike Scott doing the driving duties. These cagey veterans are out to give the current field of NHRA T/F Harleys a run for their money and will do so with gusto. Mike Scott feels the team has a great chance to win even though they are entering the season two races down. "I'm not worried about that really" he said in a recent interview, "In Top Fuel Harley racing, anything can happen, so you show up, you race as hard as you can and you give it your best shot – every race." He further elaborated on why he feels his team can still win the 2017 NHRA Mellow Yellow championship "The Horne Concrete Top Fuel bike is a proven low six second machine that can run with any Top Fuel bike out there now. With Mike Romine calling the tune-up shots, I know he can and will get everything there is out of that bike no matter what the conditions, so the rest is up to me as the driver: Steve Horne shows up to win"
Mike Scott won the Canadian Top Fuel Harley championship in 2008 and the IHRA Top Fuel Harley (Nitro Jam) championship in 2014, so he knows what it takes to win the big one. "I've been honoured and fortunate enough to work with some of the greatest in Top Fuel motorcycle drag racing over the years: Jay Turner, Ron Houniet, Don Newlove, Rex Harris, Tracy Kyle to name a few. But now teaming up with Steve Horne's Top Fuel motorcycle and with Mike Romine calling the tune-up shots, this is already a championship team, right out of the gate."
The Horne Concrete Top Fuel bike is a 2013, Weekend Frame Works chassis by John Storace, with a Romine Racing 191 CID Mike Romine motor in it. The combination has a previous best 6.20 when Doug Horne last piloted the bike in 2014 at an NHRA Divisional race featuring the Top Fuel Harley class. Mike Romine has freshened up the bike and it's race ready. Mike has tuned T/F Harley bikes to over a dozen championships since he began racing the monsters in 1985 himself.
For further information please contact Mike Scott mikedscott@live.com or 403 801 1506