Drywall bead powerhouse Trim-Tex announces a personal sponsorship for rider Joey Gladstone in his first full year of NHRA Mello Yellow Pro Stock Motorcycle racing. Joey will be showcasing a custom Trim-Tex helmet at all events in 2017.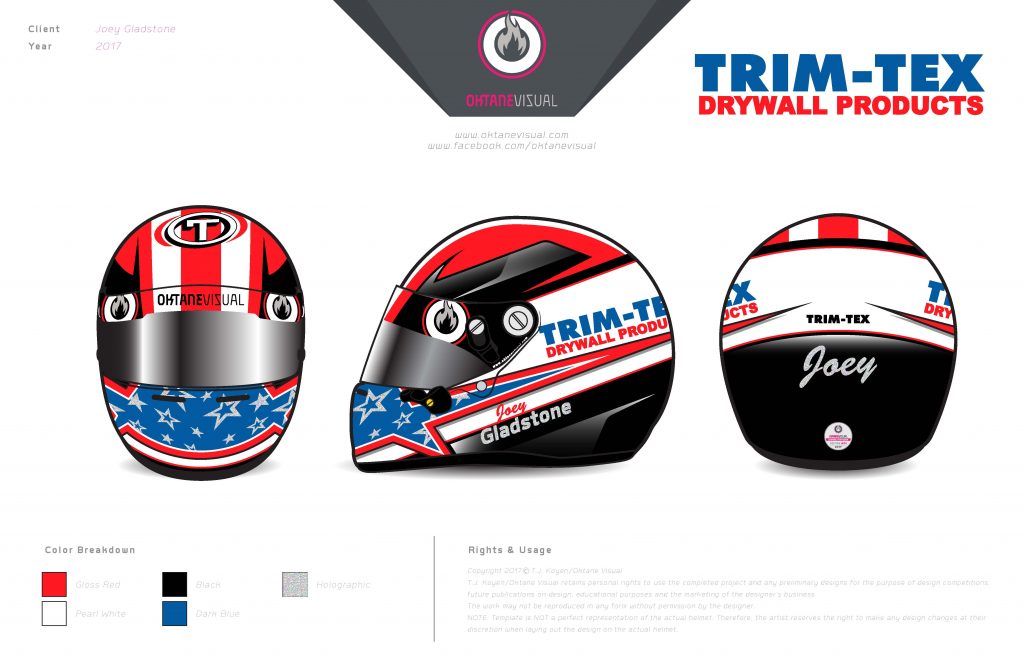 "I first met Joey at the beginning of the 2016 motorcycle drag racing season," said Trim-Tex owner Joe Koenig. "It wasn't long before I realized his personality, work ethic, and obvious ability to flat-out win races would make him an excellent addition to the team of athletes we help support at Trim-Tex."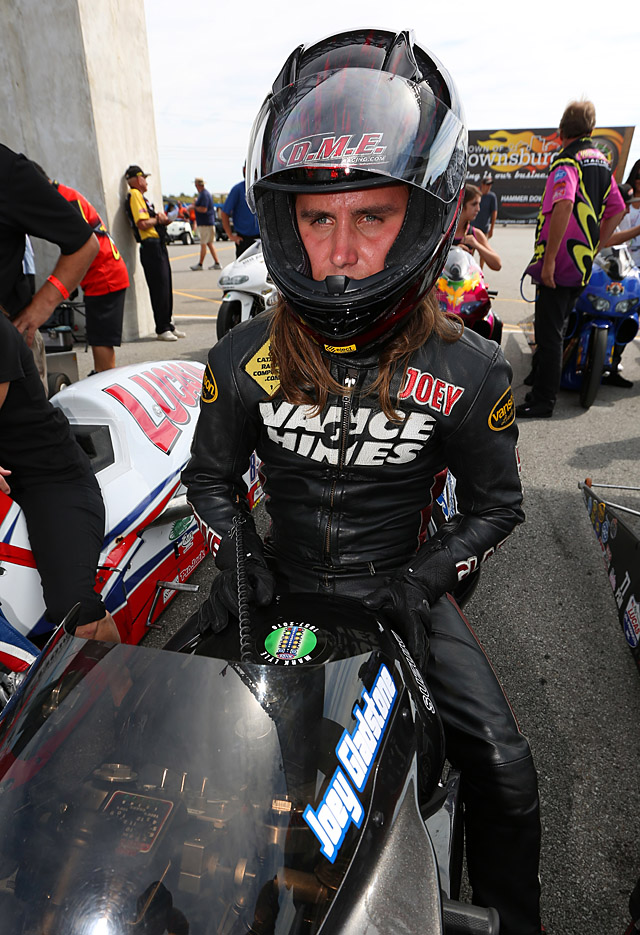 "I'm extremely excited to have the Trim-Tex name and a great person like Joe on board," said Gladstone. "To have them invest in me personally is such a great feeling. I'm honored and hope to represent Joe and Trim-Tex in a real positive manner this year and get them as much exposure as possible."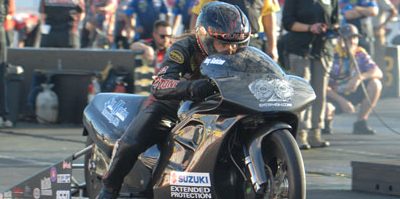 Koenig used to race Pro Stock Motorcycle himself, earning the nickname "7.0 Joe" with a record-setting pass in 2002 during AMA/Prostar's "Mountain Motor" days. Koenig has also maintained a successful career as a sports car driver, racing in IMSA, SCCA, and NASA 25 hour endurance events.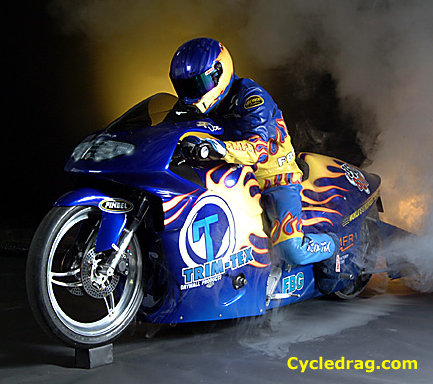 As team owner, Koenig carried the Trim-Tex banner to the NHRA PSM championship with rider Geno Scali in 2003 and the Indianapolis Motor Speedway winners' circle with Brian Sellers and Mark Boden at the wheel of his BMW in the 2013 Brickyard Sports Car Challenge.

Trim-Tex sponsorship has long graced the side of Larry "Spiderman" McBride's legendary Top Fuel Motorcycle, even more so since McBride debuted his new bike in 2016. Ryan Schnitz rode Rob Muzzy's Pro Stock Motorcycles (first a Buell, then a Kawasaki ZX14 ) from 2006-2008 with Trim-Tex livery. And Trim-Tex also adorns the helmet of young sports car star Trent Hindman, the 2014 Continental Tire SportsCar Challenge GS champion and co-driving winner of this year's four hour Continental Tire SportsCar Challenge race at Daytona.

"Geno, Ryan and Larry are legends with a lot of success in the sport," said Gladstone. "Larry's a great friend of mine, and to be included under the Trim-Tex banner with him is breathtaking."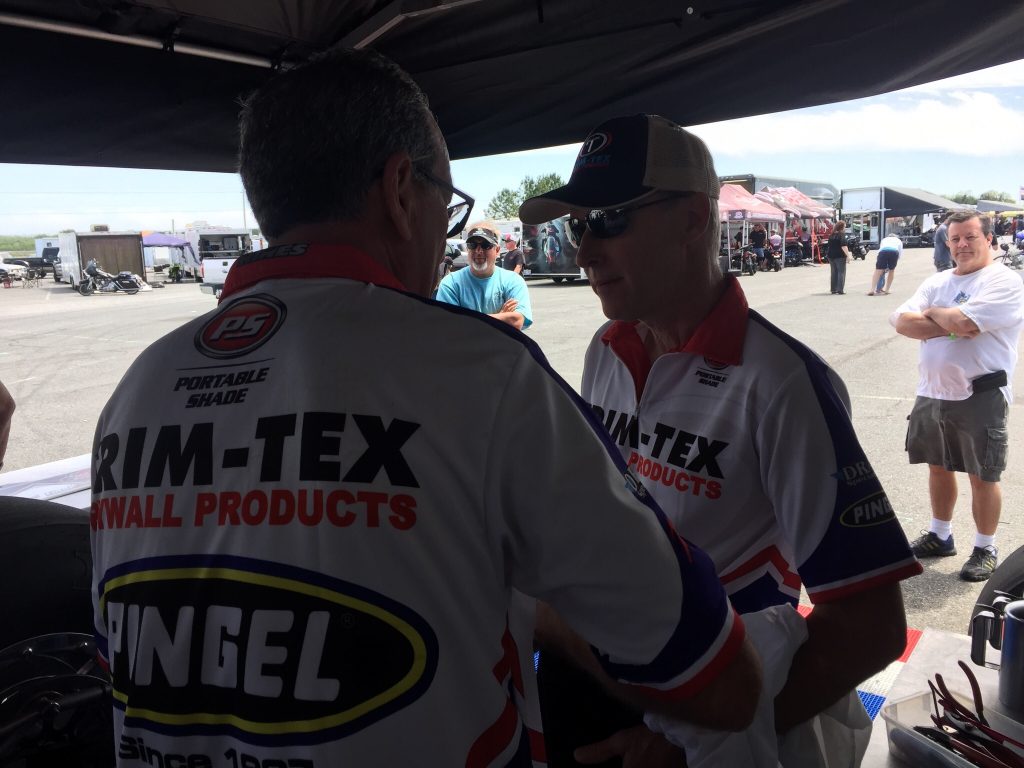 "I'm really glad to get back involved with NHRA and Pro Stock Motorcycle racing," added Koenig. "Those days racing with Geno and Ryan were very rewarding but required a lot of passion and a strong work ethic. Hopefully Joey will see that level of success one day."

Gladstone became a household name in motorcycle drag racing on DME Racing's 700 horsepower, turbocharged, Pro Street Suzuki Hayabusa, totaling eight championships in four years. Starting in Supersport and advancing to Real Street—with occasional grudge races, 4.60 index, and one other quick dip into Pro Stock—the fully rounded rider that Gladstone is was formed.

And as Gladstone moves in to a whole new arena this year aboard Joe Riccardi's San Marino Excavating Suzuki, he'll have the support and confidence of the Trim-Tex brand behind him. "It's crazy thinking back 10 years and wondering what steps I need to take to get to this level," finished the 25 year-old Gladstone. "It's people like Joe that make what I do possible and I'll do my best to make him proud and prove that he's made a good choice."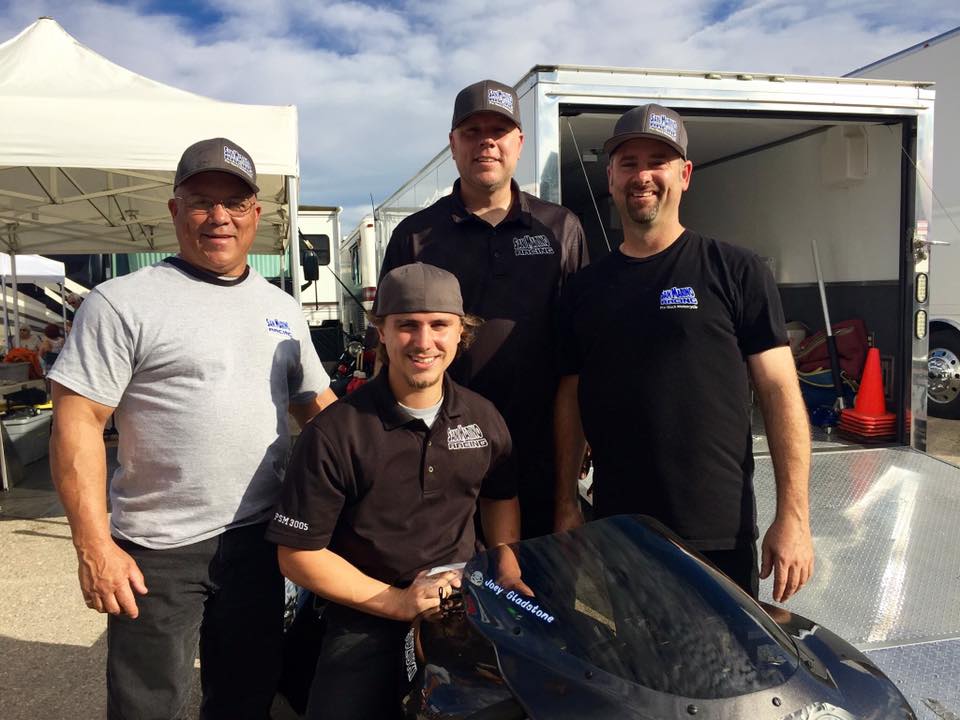 About Trim-Tex

Trim-Tex has been designing and producing the industry's finest and most innovative line of vinyl drywall accessory products for over 45 years. Besides being economical, vinyl drywall corner beads are more flexible and durable than metal and will not rust, kink or dent.

Trim-Tex doesn't just make decorative products, Trim-Tex is the industry leader in creating products designed to solve common drywall finishing problems. Our patented Magic Corner solves cracking problems on inside off angle corners, cathedral and tray ceilings. In fact, Trim-Tex has acquired over 15 patents for our innovations. Our manufacturing facilities located in Lincolnwood, Illinois, are the most modern and efficient in the industry. With more than 220,000 square feet of production and warehouse space, we inventory over 60,000 boxes of product at all times for same day shipment.

Everyone at Trim-Tex believes in the philosophy "Work hard, play harder" and that is why we love motorsports so much! Good luck and safe travels to all our racers!

Joey Gladstone thanks Joe Koenig and Trim-Tex http://www.trim-tex.com/ , Eddie Krawiec and everyone at Vance & Hines http://vanceandhines.com , San Marino Excavating http://www.sanmarinoexcavating.com , Suzuki Extended Protection https://www.suzukisepdirect.com , Underdahl/Stoffer Racing, Kustom Machine http://www.kustom-machining.com/ , Eight Mile Signs http://eightmilesigns.com , Northeast Ohio Dyno, Pingel Enterprise http://pingelonline.com/ , Manitoulin Chrysler http://www.manitoulinchrysler.com , and his family.

Contact: jgladstone231@aol.com

For media inquiries: Tim Hailey timhailey@eatmyink.com

Find out more about the NHRA at http://www.nhra.com/

This report was prepared by Tim Hailey. Enjoy everything there is to read, see and watch about motorcycle drag racing and more at http://www.eatmyink.com