No dragbike racer has ever been quicker than Top Fuel Motorcycle pilot Peter Svensson, who recorded a 5.709 seconds at Tierp Arena, Sweden, in Q2 on the afternoon of August 24, 2012.
But where has he been?
Since a trip to the United States in 2013 to race Larry "Spiderman" McBride and company at the ManCup event in Bradenton, Svensson and the STARTA Racing Team have been idle.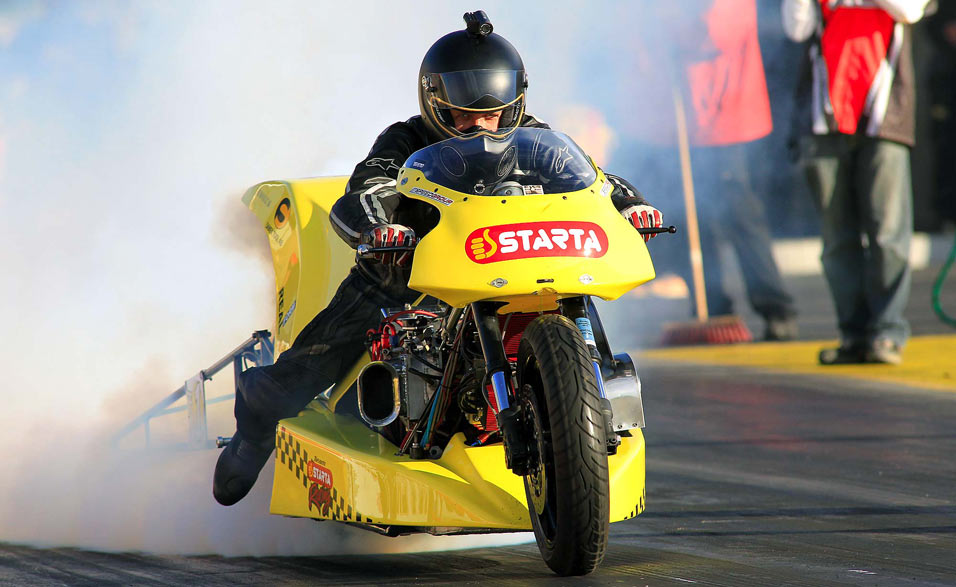 Peter's older brother and crew chief Soren Svensson says, "As you might have heard from other racers we are on hold at the moment and we have not made any future plans if or when we are going to race again.
The bike is stored in our workshop since returning back home from Bradenton and it would need some spares and modifications in order for us to race again. That would take a lot of time to manufacture which we don´t have at the moment, concentrating ourselves on our families and new business."
Due to the demanding and expensive nature of the Top Fuel Motorcycle class, Svensson would not be the first to take an extended break or even retire from the sport altogether.
Nonetheless the team still has the all-important, revered world record that every current Top Fuel Motorcycle racer is gunning for.
Cycledrag.com wishes Svensson and his team the best and hopes to see them back out at the track one day soon!