A few weeks ago Cycledrag.com reported the IDBL Real Street championship-winning, all-motor Suzuki Hayabusa of Joey and Skip Gladstone, known as "Maggie May" had been sold and would soon resurface.
Cycledrag.com is poised to reveal the new owner of this impressive machine, which features a 1635 c.c. motor, Vance & Hines head, Marine 9 mill crank, CP pistons, Carrillo Rods, a Montgomery Motorsports carbon fiber air box, a DME custom four-into-one header, a Penske triple adjustable shock, Dymag carbon fiber wheels, a DME chassis featuring a DME swing arm and much more. The bike has been 7.69 at 182 mph with Joey Galdstone at the helm. Joey's father Skip calls it, "the most feared Real Street bike of the past two seasons."
We also know the bike and its new owner will make a competition debut in DME Racing Real Street at the upcoming IDBL WPGC Bike Fest from Maryland International Raceway, July 28-30.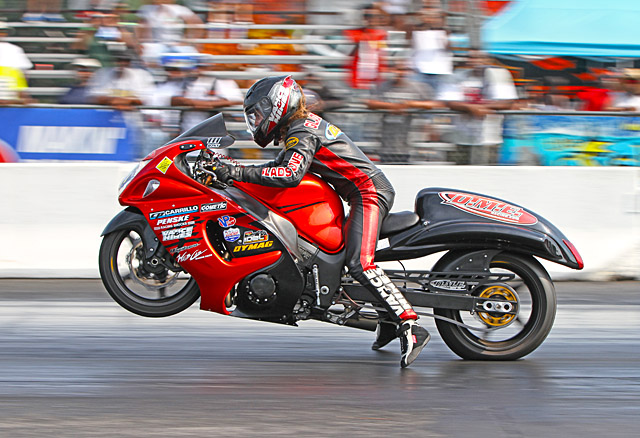 The Gladstones parted with the highly-respected motorcycle due to Joey's shift over to the Pro Stock Motorcycle class.
On Facebook, Cycledrag.com reported that the new owner was a highly-skilled and highly-accomplished racer. This championship-winning rider had the opportunity to test his new machine last week in miserable conditions at Great Lakes Dragway in Union Grove, Wis. and impressed everyone around.
Without further ado, the new owner of the defending IDBL Real Street championship-winning Suzuki is –
2003 NHRA Pro Stock Motorcycle Champion Geno Scali!
For Scali, 52, it marks his return as a competitor following a retirement from the Pro Stock Motorcycle class nearly a decade ago.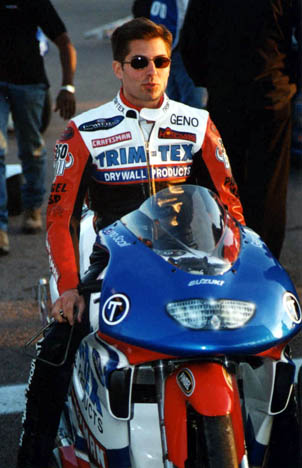 How exactly did the former NHRA champ end up with Gladstone's Real Street Busa?
Trim-Tex Drywall Products, who sponsored Scali during his championship run and currently sponsors Gladstone, was at the center of it all.
"Joe Koenig (Trim-Tex Drywall Products President) has been telling me to get back out there and have fun. He wanted a racing buddy," Scali said. "Joe was talking about having Skip build him a new bike. I said if Joe buys a bike, I'm buying Joey's Real Street bike. Everyone thought I was joking."
It was certainly no joke.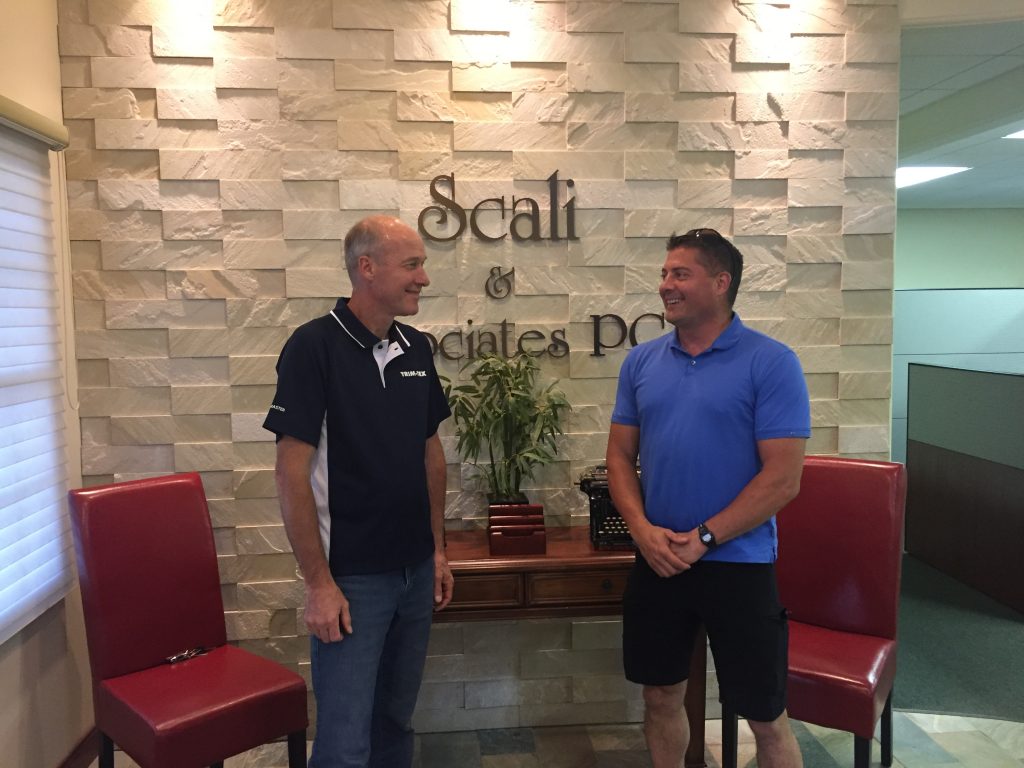 That became evident at last week's test session when Scali was able to ride his new motorcycle for the first-time. With a disadvantageous density altitude around 3,500 feet and 114 grains of water in the air, Scali clicked off an 8.00 at 169 MPH, impressing everyone involved. It seemed the former champ still had his touch.
"Geno is a champion and an excellent rider. Champions never lose their desire to excel. Geno will do well. I think if we made another pass he would have dropped into the sevens. It proved Geno will be competitive at the IDBL race," said Skip Gladstone, who will tune the bike for Scali at the IDBL Bike Fest from Maryland International Raceway, July 28-30. "I'm going to do everything in my ability to make sure that he has everything he needs. There are things that will be done to make the bike even stronger"
Scali says the team will make adjustments to the clutch and switch to a clear shield. With Scali's heavier body weight, as compared to 140-pound Gladstone, Scali will be able to run the bike at 71-inches if he weighs in at over 170 pounds. Gladstone would have had to run the bike at 68-inches this season following a rule change to maintain parity after Joey's championship run.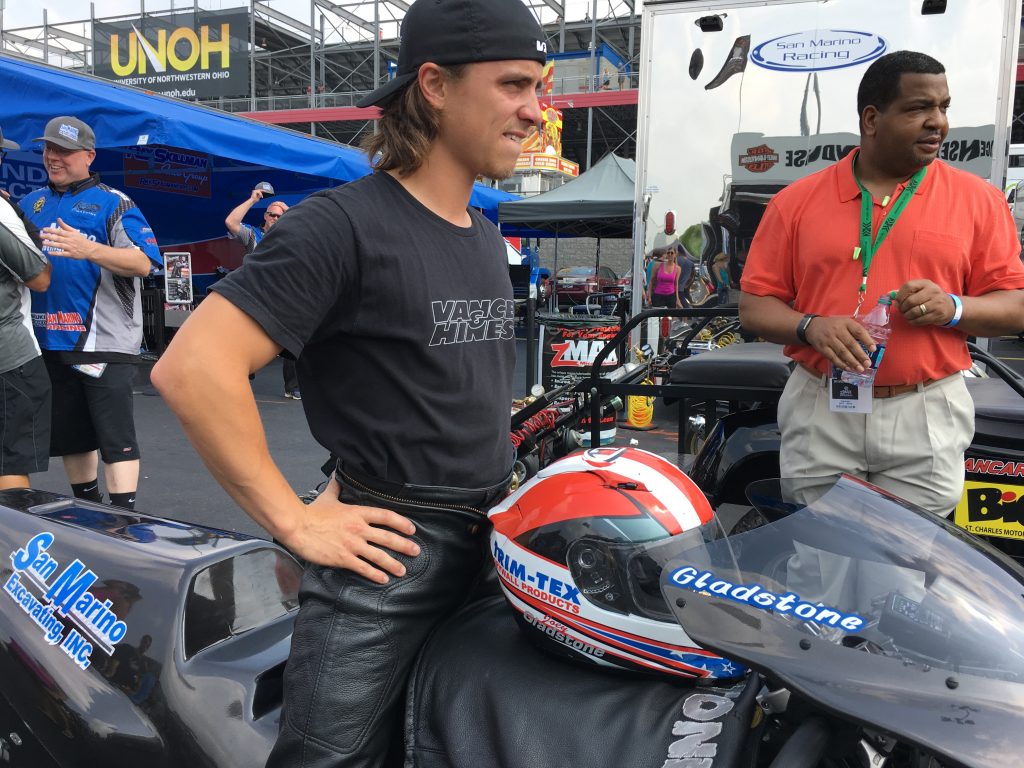 Joey says Scali is the only other person to ride Maggie May. For Joey, a chance to work with Scali is a coveted opportunity. Scali has accomplished what Gladstone dreams of atop the NHRA mountain. Joey calls it a funny role reversal that he's offering Scali riding tips for the Hayabusa.
"It made for a fun, great day. It's cool. We worked really well together," Gladstone said. "The first thing out of my mouth after the run was, you are going to win races."
Gladstone knew after watching one pass Scali would have no problem transitioning to the much different no-bar, street-tire class.
"Before the run I was a little skeptical about how quickly Geno would adapt," Gladstone said. "I'm really proud of how he rode. He showed why he is a past champion. He kept the throttle locked and hit his shift points. He got tucked tight and disappeared behind the fairing."
Scali picked up on the differences between driving a Pro Stock Motorcycle and a Real Street Bike immediately. He says many aspects of the Hayabusa will make his job as a rider easier.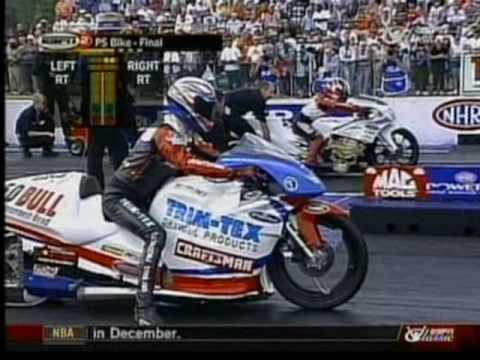 "A Pro Stock Motorcycle leaves so much harder. Your sixty-foots are around 1.03. In Real Street a 1.28 is good," Scali said. "On a Pro Stock Bike the tire is wider so you have to make a harder correction. On these bikes it's real fine. Pro Stock Motorcycles are ridged with no suspension except for a little travel in the front forks. Real Street bikes have great suspensions and you don't feel the bumps. It's easier to ride than what I imagined. I like it."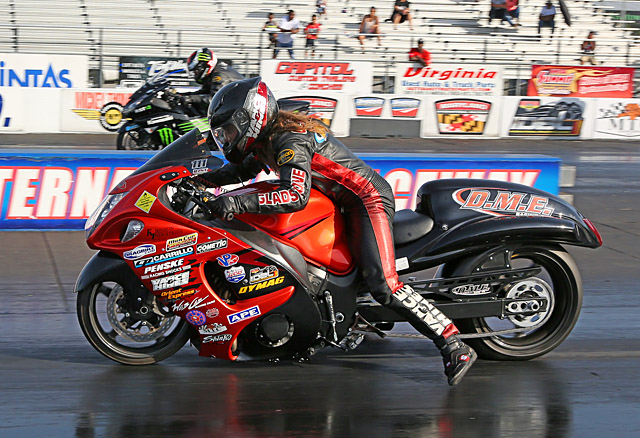 Scali sees one big difference in his riding style from Gladstone's.
"I don't drag my feet," Scali said.



Few know that for the past 13 years Scali has been coping with the effects of a 2004 testing accident that sent him into the sand trap and safety net. It was an incident that unfortunately shortened Scali's NHRA career.
"I had to go to the Mayo Clinic (renowned medical facility) for nerve damage. Every day I have pain in my left shoulder from hitting the catch net. They said my brain hit my skull and I suffered a severe concussion," Scali said. "For a long time I had balance issues."
Scali says doctors told him his nerves would grow back slowly each year. Scali says he could feel his physical improvement on Maggie May and is glad he's running a heads-up class where he won't have to look around at the top end of the track.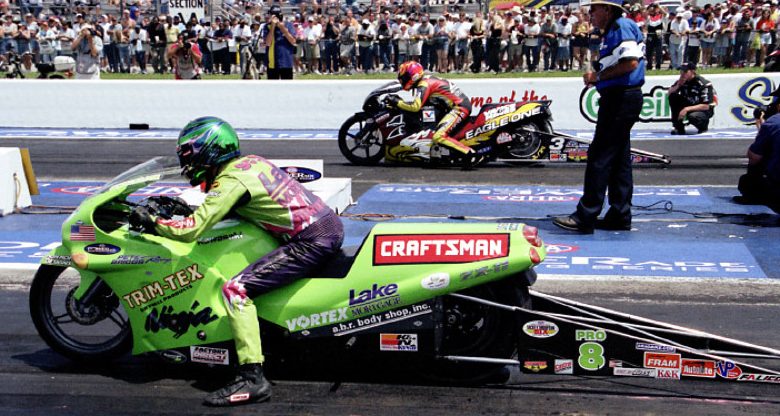 Before his hiatus Scali assembled an impressive racing resume. He gained a reputation for getting the most out of his combination. He found success on the Pete Briggs Pro Stock Kawasaki, winning Brainerd in 2002, at a time when no one could seem to win on anything but a Suzuki.
Scali was even the last to race the great Dave Schultz, before his untimely death.
"As a kid growing up, you look at these people as your heroes," Scali said. "John Myers and Dave Schutlz were two guys I wanted to be like."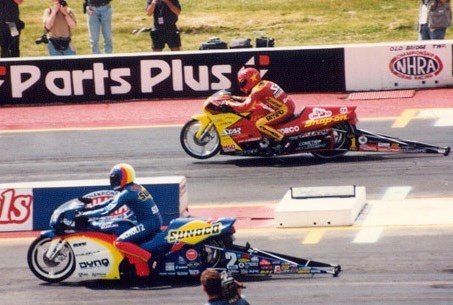 In 2003, in an era dominated by Star Racing's Angelle Sampey and Vance & Hines' Matt Hines, a freshly-assembled team, out of Chicago shocked fellow competitors. With the backing and expertise of Koenig, the tuning excellence of Earl DeGlopper, and the fantastic riding ability of Scali the squad captured the 2003 NHRA Championship in its first year of contention.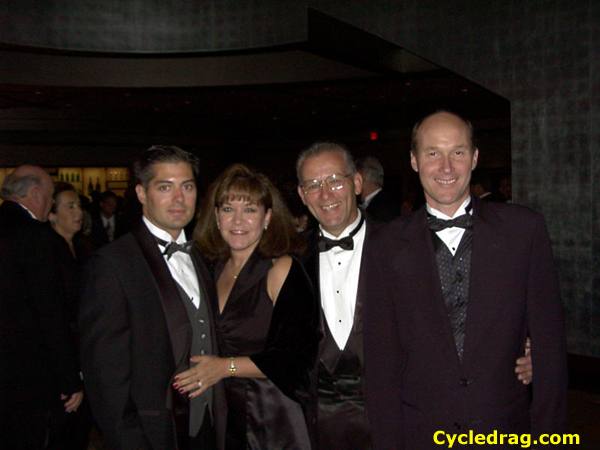 "It was a great year. It was like the dream team," Scali said. "It all worked and the timing was right. The Harleys were really fast but were not there just yet. We certainly didn't dominate but we had a top-five bike and we made the most of it."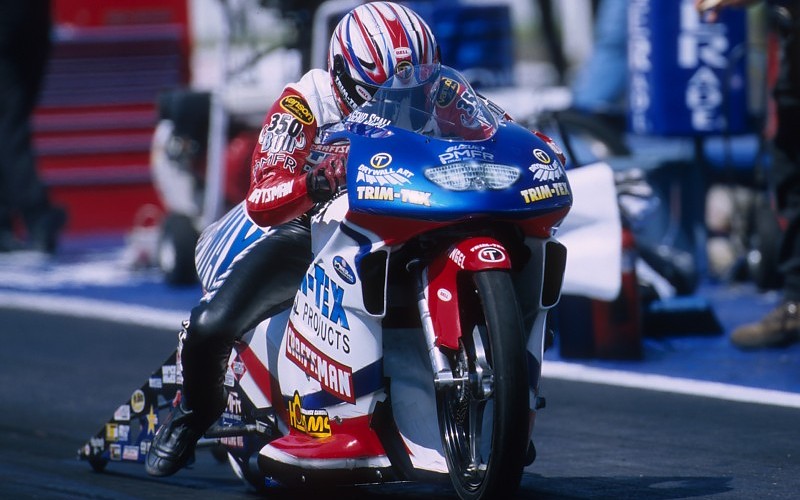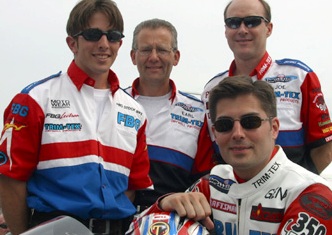 Now Scali is excited for the next chapter; one where he says he plans to have more fun and keep the pressure low compared to what he experienced on the NHRA stage.
"I'm very competitive. So of course my goal is to go out there and win. But winning is harder than everyone thinks," Scali said. "I'm going out to have fun. We will barbeque and eat well. There will be no pressure, and nobody is going to say you have to be over there now."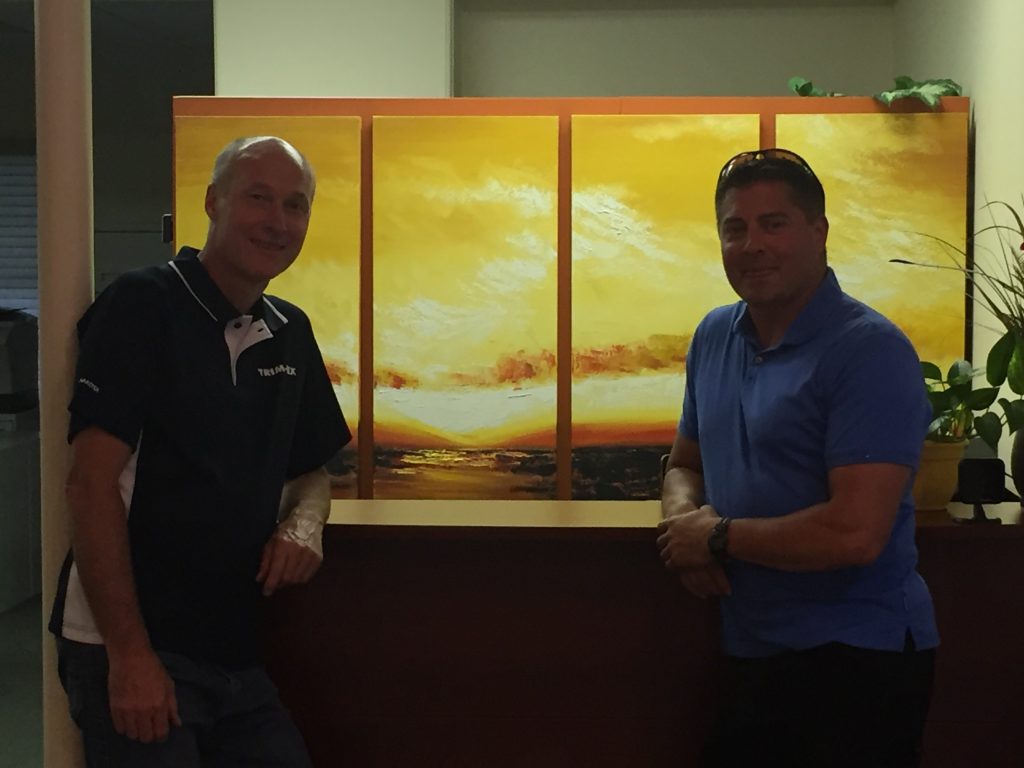 Scali says he's also thankful for all the support he has been given by his friends.
"I'm surprised how many people want to come watch," Scali said. "I was shocked. It feels great."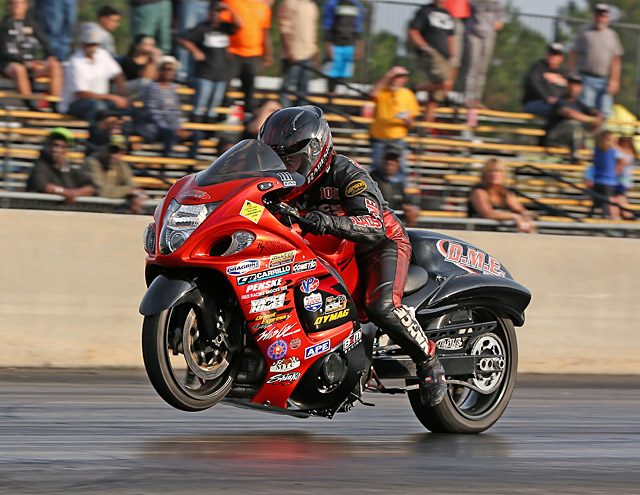 Scali will battle high-horsepower nitrous and turbo bikes on his all-motor, quick-accelerating machine. Skip says the "Maggie May" name was given accordingly.
"At the time we were naming all of the bikes. When we went on the road trip to pick up the bike, we took our Chiwawa Maggie May with us," Skip said. "Shortly after that the dog passed away and we wanted to honor her. She was little, but all she knew was she was a dog and had fight. This bike may be little compared to the nitrous and turbo bikes, but it's like a dog that's ready for the fight."
It seems Maggie May and Scali are up for a fight, and a heck of a lot of fun.