We are quickly approaching what has become one of the largest motorcycle races and festivals of the year – the much, anticipated IDBL WPGC Bike Fest from Maryland International Raceway (MDIR), July 28-30. This page is designed to provide you with the information you need.
What is the WPGC Bike Fest?
The Bike Fest is the premier race for the IDBL, the largest motorcycle drag racing series on the East Coast. With the help of Maryland International Raceway's outstanding racing surface and promotional help from D.C. powerhouse station WPGC, this event has seen more than 800 entries and more than 8,000 spectators for the weekend. Like the Daytona 500, it's a race everyone wants to win. It's the IDBL's version of the "Big Go."
The Sunday atmosphere of the Bike Fest is a "must-experience" for any motorcycle fan. The race has grown into a lifestyle event with a Daytona Bike Week-like feel. On Sunday there will be live music by serval prominent and up-and-coming acts (Beyoncé once played at MDIR before Destiny's Child made it big), a bikini contest, a beer garden with bikini bartenders, great food, a full vendor midway, a huge motorcycle show and a street bike corral for all the different clubs and riders who come in on two wheels. If you have never experienced this race, make your travel plans and cross it off your list because this year is shaping up to be bigger than ever.
ESPN Coverage
For the first time in the history of the sport, ESPN will devote more than six hours of live coverage on the popular, worldwide ESPN 3 platform. The race will be viewed by thousands on a multitude of different devices. It's a coveted opportunity to not only provide all of the individual teams and IDBL sponsors more exposure, it's an opportunity for all of us to introduce motorcycle drag racing to an entirely new audience.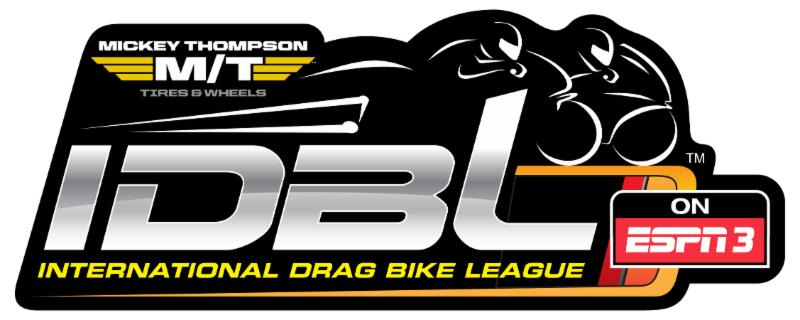 The added value a racer can provide to an individual sponsor with this opportunity is tremendous. The recommendation is if you own a dragbike and look for partnership and sponsorship throughout the year, this is an event to not be missed. This is where a racer could tell all of the sponsors or potential sponsors he or she has courted to watch them on a worldwide broadcast. The four letters of ESPN add major credibility to any sponsorship proposal. Racers should be able to come away from this event with a highlight reel and a worldwide ESPN broadcast to add to their resume.
This is no guarantee that this type of coverage ever comes around again. Make sure not to miss this one.
Paul Teutul Sr. and the Orange County Chopper Spiderman Bike
He entertained millions on his hit reality show and even sat in the board room with President Trump. Now he's on his way to one of the biggest motorcycle drag races and festivals of the year.
The International Drag Bike League (IDBL) is proud to announce world-famous motorcycle builder Paul Teutul Sr. and his Orange County Chopper (OCC) team will take part in the WPGC Bike Fest, Sunday July 30th.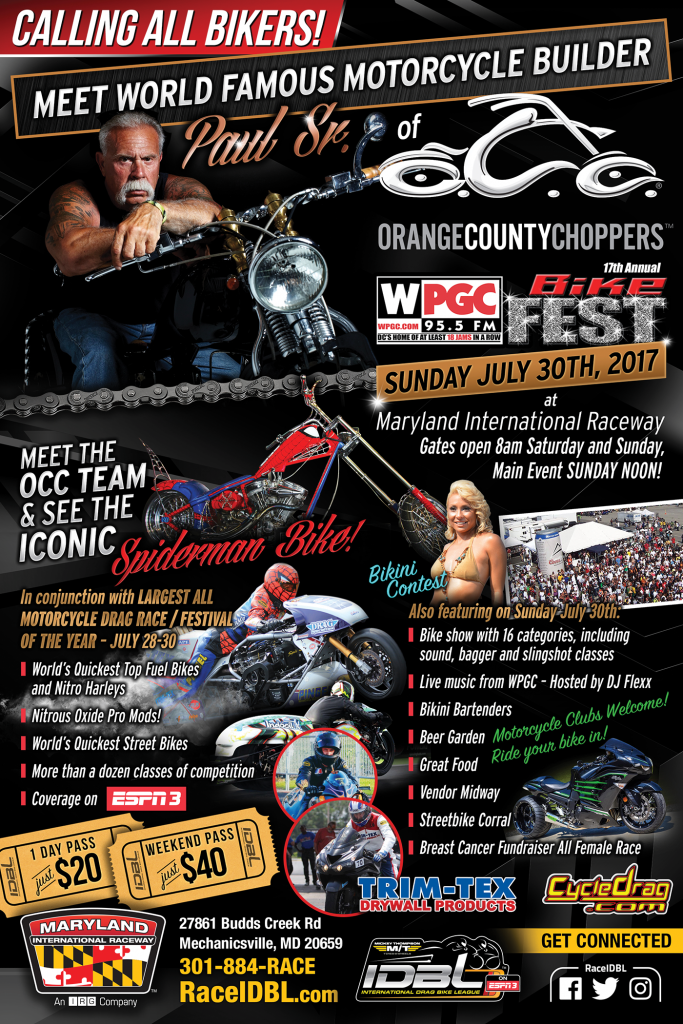 Teutul Sr. will be bringing his son Mikey and the popular Spiderman custom chopper. Along with mingling with fans, team OCC will enter the IDBL's huge motorcycle show, featuring 16 categories of competition.
Don't miss your opportunity to meet a true motorcycle icon!
Team Money Cycles, Garwood Cycles, Throttle Life, Backyard Baggerz Bike Show
The famous International Drag Bike League (IDBL) WPGC Bike Fest from Maryland International Raceway will now include the largest motorcycle show in the event's history. On Sunday, July 30, some of the nation's top builders and customizers will compete in a variety of categories for 16 total awards. The contest is open to all makes and models, even Slingshots!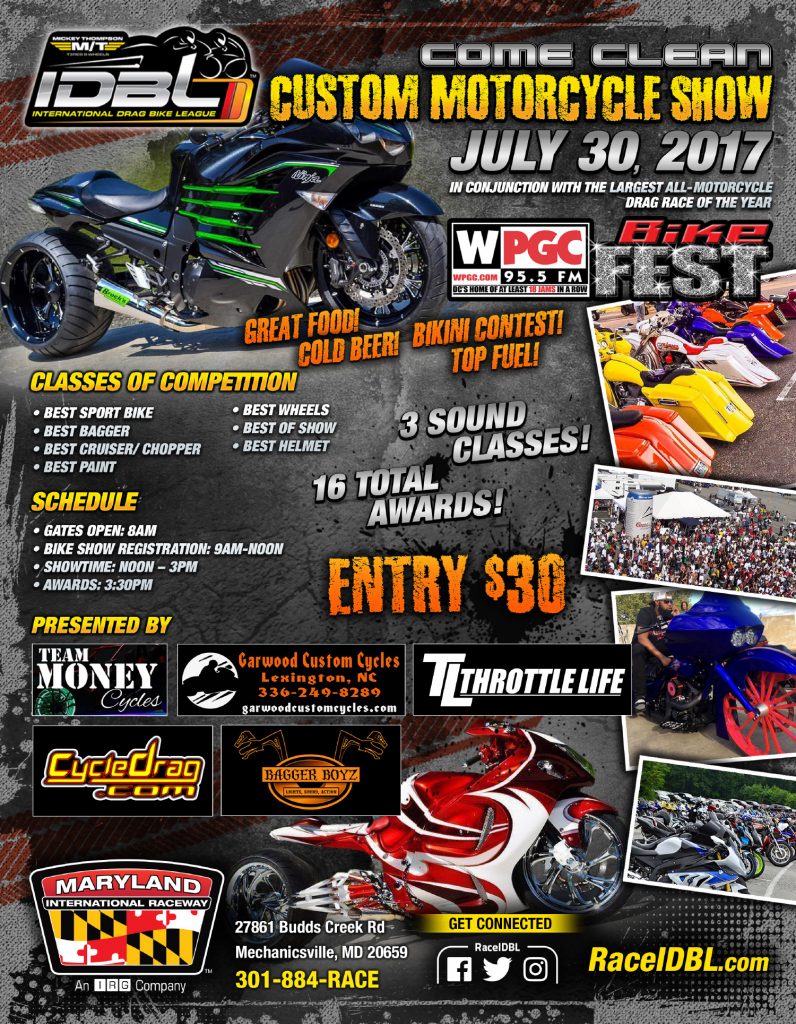 Classes include: Best Sport Bike, Best Bagger, Best Cruiser / Chopper, Best Paint, Best Wheels, Best Helmet, Best Slingshot and Best of Show along with three different sound categories. Clean up the ride and enter it into the IDBL Bike Show! It's sure to be a great time!
Paint the 1/4 Pink Breast Cancer Fundraiser
Racing for a good cause – it's time to once again Paint the Quarter Pink – a special fundraiser to help those battling breast cancer.
On Saturday, July 29th a special all-female, "Paint the Quarter Pink" bracket race will take place. The IDBL and Maryland International Raceway are granting all competitors free entry, as long as they have purchased a tech card for another class. The winner of the race will receive a trophy, winner's circle photos and of course bragging rights as the top female dragbike racer in the region.

The real winner will be decided by who can raise the most funds. Most of the ladies began their fundraising campaigns weeks ago. Donations will be accepted all-weekend long and a winner will be announced on Sunday afternoon. Portable Shade and MTC Engineering will crown the winner with personalized racing umbrellas.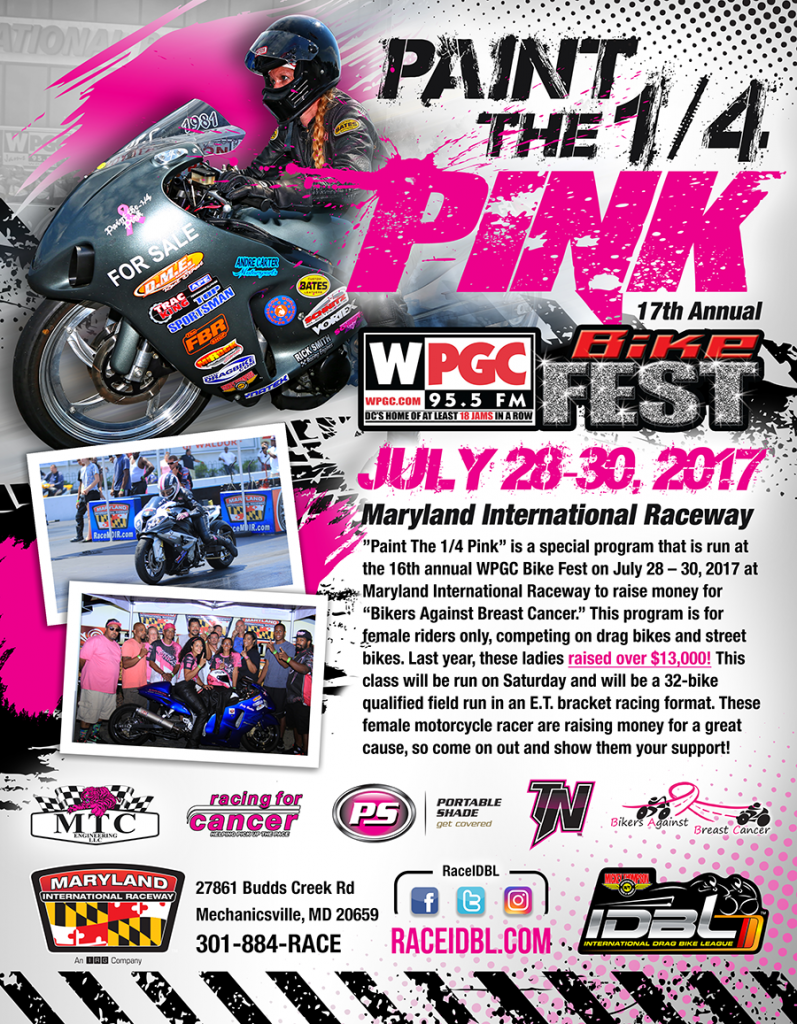 APE – Pingel Top Fuel Motorcycle
In July of 2014 16-time Top Fuel Motorcycle champion Larry "Spiderman" McBride and talented racer Dave Vantine made motorsports history by recording the first and only side-by-side five-second pass on two-wheels. It was a testament to the quality of the track and the talent of the two teams.
The entertaining duo will be out to make history again in a competitive, weekend dual.
Since the historic run Vantine has continued his rapid ascension in the category, improving his personal best to a 5.77. McBride has been as quick as 5.74 on his former motorcycle "Blue" and 5.83 on his new motorcycle "Star."
McBride and Vantine will also be out to break a world record, attempting to surpass Sweeden's Peter Svennson's 5.70 mark. No motorcycle racer has ever entered the 5.60 zone. McBride and Vantine look to change that, in front of a huge crowd and a worldwide ESPN audience.
For the first time ever, IDBL championship points are on the line and an IDBL Top Fuel champion will be crowned at season's end.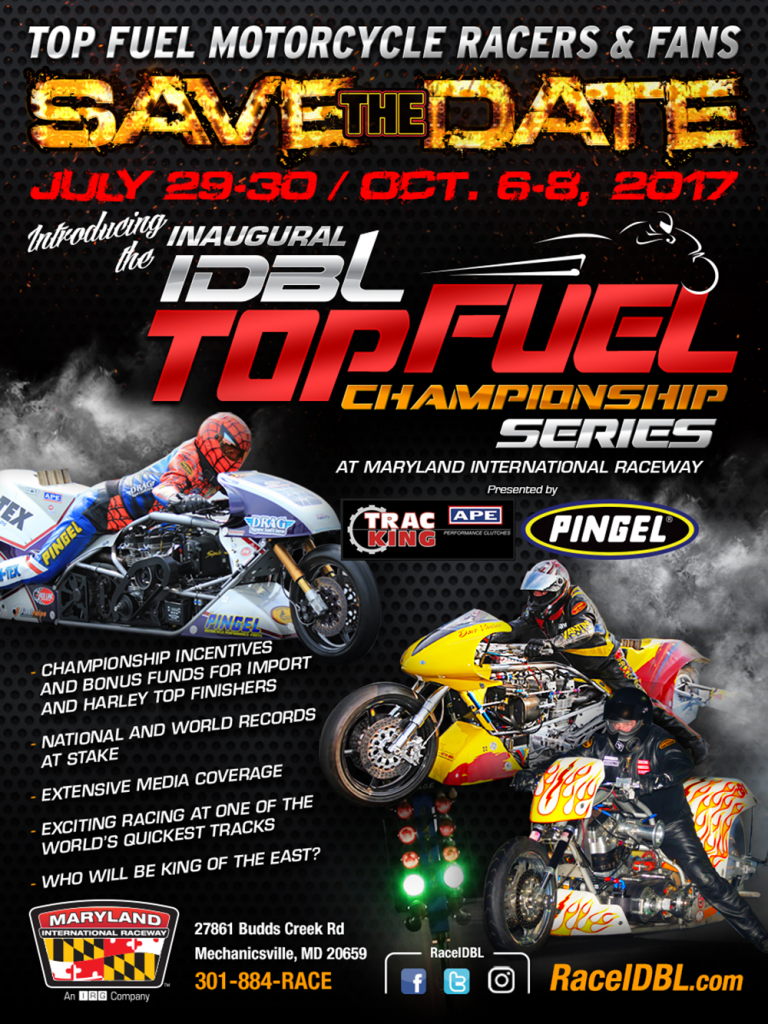 Don't miss your chance to see these marvels of engineering in person. A fun, grudge, import vs. domestic run with a Nitro Harley racer may even be held later Sunday.
It's all dedicated to the "Babe Ruth" of dragbike racing, the great Elmer Trett, who lost his life in a Top Fuel racing accident in 1996. With McBride wearing a Trett shirt every time he makes a run, the legend's impact on the sport can still be felt today.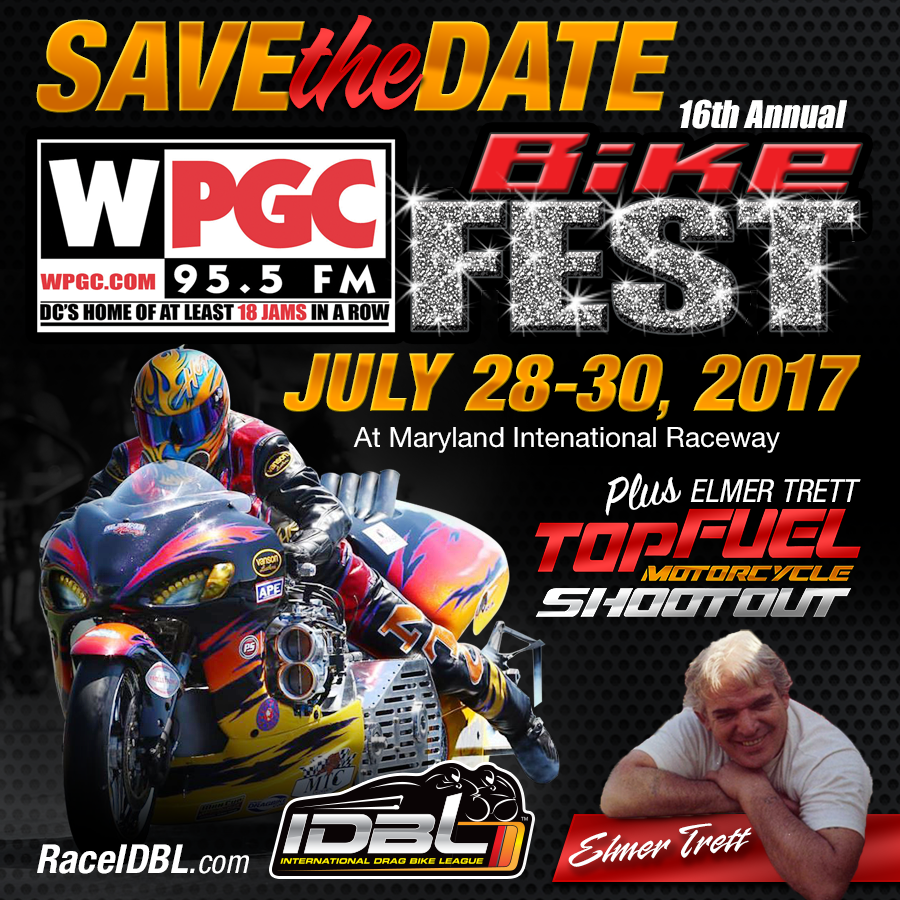 Trim-Tex Drywall Products Nitro Harley
The nitromethane-fed, rumbling American V-Twins have become one of the world's most popular drag racing categories. Some of the quickest and most impressive Nitro Harleys in the nation will be at MDIR vying for the organization's first Nitro Harley championship. Last season Peter Geiss turned a lot of heads with the help of drag racing legend Bob Spina.
Rich Vreeland made an appearance at the IDBL's May race and says he is ready for more.
All Pro Fuel motorcycles are welcome to enter the class as well.
Alabama Pro Fueler Billy Hendren gets quicker each time out and says he's ready for David to slay some Goliaths. There will be a Barry Andrews Homes bonus awarded to the last remaining Pro Fuel bike. If a Pro Fuel bike wins the overall race, he or she will take the purse and the bonus!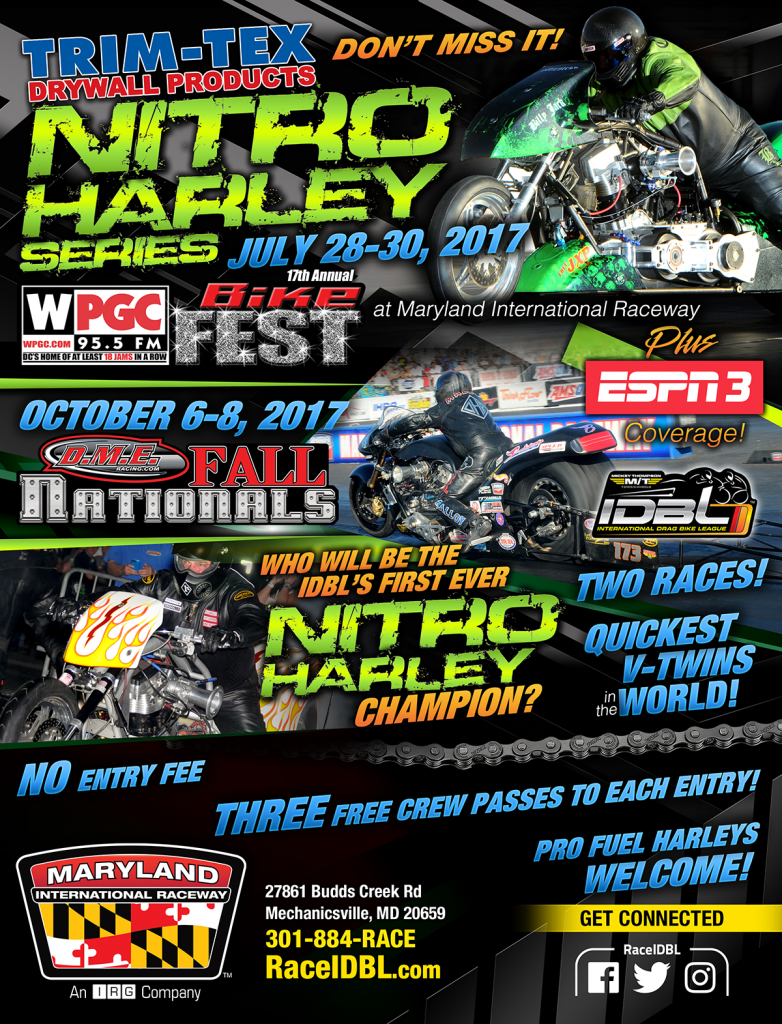 Expected Entries
1) Peter Geiss
2) Rich Vreeland
3) Billy Jackson
4) Jim Doyle
5) Jamie Emery
6) Jeremy Phaup
7) Kevin Garrow
8) Billy Hendren
9) John McConnell
10) Chris Streeter
11) Dean Comunal
Possible
Armon Furr, Bob Malloy and many more.
McKinney Motorsports, Fast by Gast, Grothus Dragbikes Pro Mod

Who doesn't love the excitement of nitrous-oxide-powered missiles that cover 660 feet in less than four seconds? The category's toughest and most talented racers will be making their way to MDIR in late July to compete for a new bragging right – the IDBL's first Pro Mod champion.
One of the most successful Pro Mod races of the last decade, Eric McKinney and his imposing team will bring their entire operation to the IDBL, including Pro Mod standout and veteran from the AMA Prostar days, Ashley Owens. Georgia's red-hot Travis Davis will also enter. In early June, McKinney and Davis made motorcycle drag racing history with the category's first side-by-side three-second pass at the PDRA North-South Shootout from Maryland International Raceway. Could we see another side-by-side three?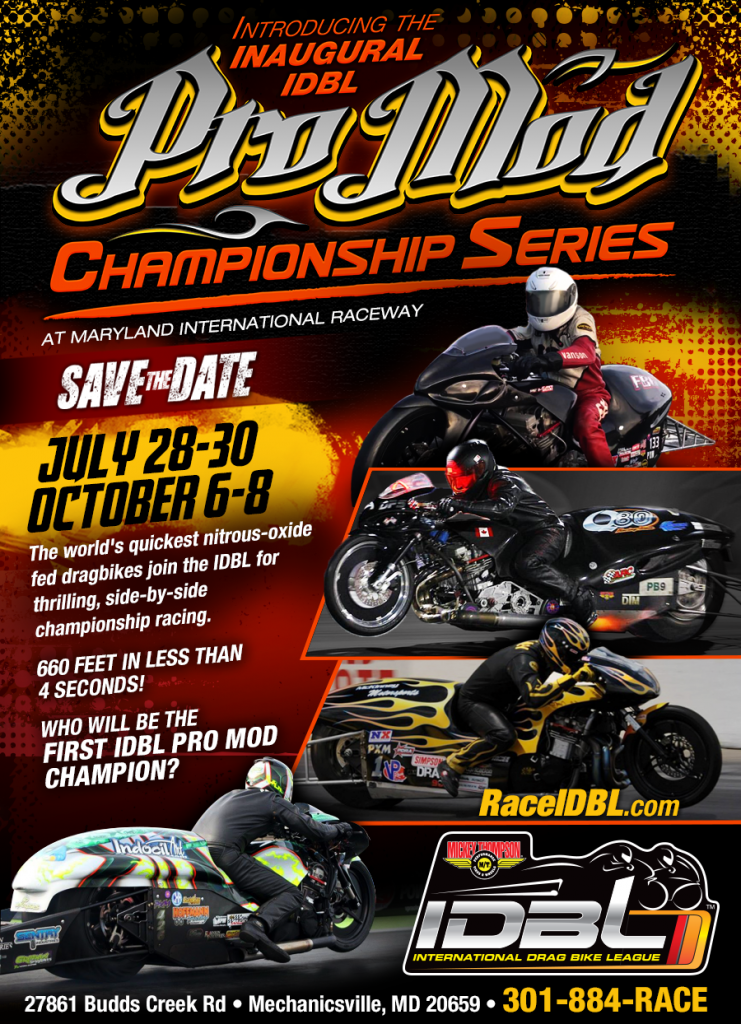 Dragbike racing legend Paul Gast will be making his return MDIR and Midwest powerhouse team Grothus Dragbikes will make their IDBL debut. Legendary tuner Dan Wagner says he will bring at least one entry. Wagner found tremendous success at MDIR dating back to the Outlaw Pro Street days.
With other teams expected to compete, the battle for bragging rights will be fierce.
Expected Entries
1) Eric McKinney
2) Ashley Owens
3) Travis Davis
4) Paul Gast
5) Brunson Grothus
6) Dan Wagner-tuned entry
7) Spencer Allen
8) Brad McCoy
Possible –
Kim Morrell, Dave Norris and many others..
1 Stop Speed 600 Supersport
For the first time since 2004, 600 Supersport makes its return to drag racing as an exhibition category. The addition of this category is a direct result of folks online calling out for it, driven by rules expert and one of the most successful 600 Supersport racers ever, Ryan Schnitz.
It's the ultimate test of rider skill. Many greats from the class have graduated to Pro Stock Motorcycle like Rickey Gadson, Keith Dennis, Chip Ellis and Eddie Krawiec.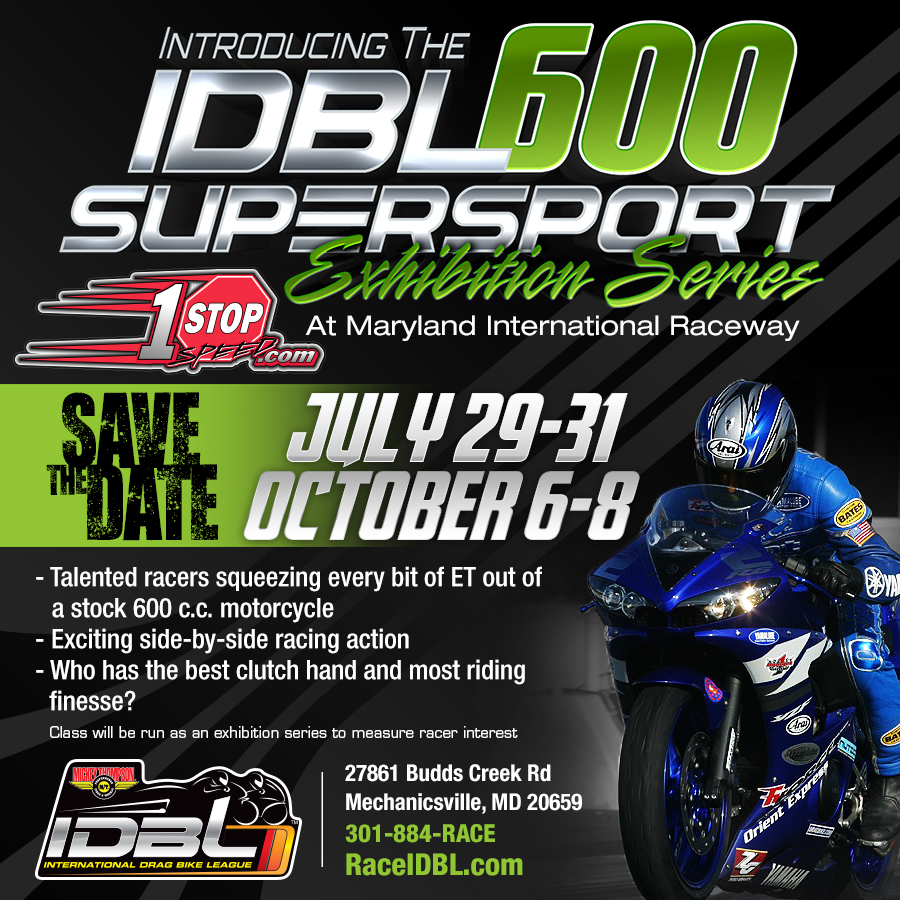 The category features virtually stock, right from the factory 600 c.c. sport bikes. Without the addition of aftermarket performance parts, the class embodies pure drag racing. It takes incredible riding talent, finesse, clutch and throttle control to reach the finish line first. Fans will remember the class from the popular AMA Prostar series. With IDBL tech official Will King brining years of experience in the class to the table, racers will be kept within the rules.
This class will also serve as a test for reaction. If enough interest is evident, the category could be added to the IDBL lineup in 2018.
Expected entries
1) Richard Gadson
2) Jeremy Teasley
3) Nick Hamlett
4) Louis Green
5) Steve Knecum
6) Eddie Champman
Possible
Ryan Schnitz, Mike Belo-entry and many others.
Orient Express Pro Street
A mainstay of the IDBL organization, the exhilarating Pro Street class is off to a record-breaking start this season. In May Rodney Williford and Richard Gadson recorded the quickest side-by-side Pro Street run ever, making certain the season-opening event lived up to the tag line "World's Quickest Street Bikes."
Williford's turbo-charged Suzuki Hayabusa rocketed down the track at 6.69 seconds, the first time a Pro Street bike has officially dipped into the 6.60s. He hit 222.88 mph to edge Gadson's nitrous-GS and his 6.74-pass at 204.29 mph by a mere .009 at the stripe.
With the track and the class on point, Pro Street racers from all over the country are expected to head to Budds Creek to put on a show in front of the ESPN cameras. Brandon Mitchan has already committed to coming all the way from Texas, with serval Midwest-based teams also making the trip. If there are more than 16 entries IDBL will run a "B" class during Sunday's eliminations, also to be covered on the ESPN broadcast.
Who will win one of the biggest Pro Street races in history in front of a worldwide audience?
Pro Street Top 10 in Points
1) Rodney Williford
2) Richard Gadson
3) Ehren Litten
4) Jeremy Teasley
5) Darion Payne
6) Terence Angela
7) Doug Witt
8) Ray Lee
9) Keith Correia
10) Jordan Haase
DME Racing Real Street
The popular and exciting DME Real Street class has seen a resurgence this season. At the season-opener the category enjoyed its first full field since 2014. The passionate racers who comprise the class will be looking to fill the bracket again July 28-30.
At the season-opener Real Street veteran Johnny "Turbo" Dobrin from Sarasota, Fla. made his triumphant return to the IDBL to win the coveted $5,000 Shootout.
Now Dobrin is eyeing an IDBL championship. Several tough racers stand in his way like past champion Anibal Merced and his ZX-14 and May finalist "Super" Dave Stewart and his Hayabusa.
The class has seen the emergence of several new tough teams, like the CP-Carrillo backed Suzuki team of Del Flores.
2003 NHRA Pro Stock Motorcycle champion Geno Scali has purchased Joey Gladstone's championship-winning bike and will make his class debut at the Bike Fest.
July 28-30 is sure to be another fight to the finish.
Real Street Top 10 in Points
1) Johnny Dobrin
2) Dave Stewart
3) Del Flores
4) Luis Hornedo
5) Anibal Merced
6) Marcus Hylton
7) Eddie Champman
8) Spencer Claycomb
9) Michael Sancho
10) Jay Krawiec
Vance & Hines 4.60
The world's quickest index class – Vance & Hines 4.60 has grown in popularity each year since its inception. In 2015 Tyler Cammock outlasted the onslaught of competition to score the illustrious No. 1 plate. Last season, one of the most successful dragbike racers of all-time and multi-time MDIR track champion Ronnie Procopio returned to the limelight by scoring the season championship. This season it's veteran Boo Brown who is off to the hot start scoring the win at the season-opening race.
With three events left to crown a champion it's still anyone's title to take.
4.60 Top 10 in Points
1) Boo Brown
2) Eran Pierlert
3) Darryl Hollins
4) Rickey Gadson
4) Wilson Burkhead
6) Mac McAdams
7) Marvin Savoy
8) Dustin Honeycutt
9) Tyler Cammock
9) Curtis Griggs
9) Kenny Cornell
9) Barry Harvey
10) Durwood Rawlings
FBR Shop 5.60 Index
Known to some as Super Comp on the 1/8th mile, the FBR Shop 5.60 is one of the most competitive categories in the IDBL due to the large number of machines that can run the index. The class sees a healthy mix of bar and no-bar bikes. At the season-opening May race no one could stop talented, 13-time dragbike racing champion Jeremy Teasley from winning it all.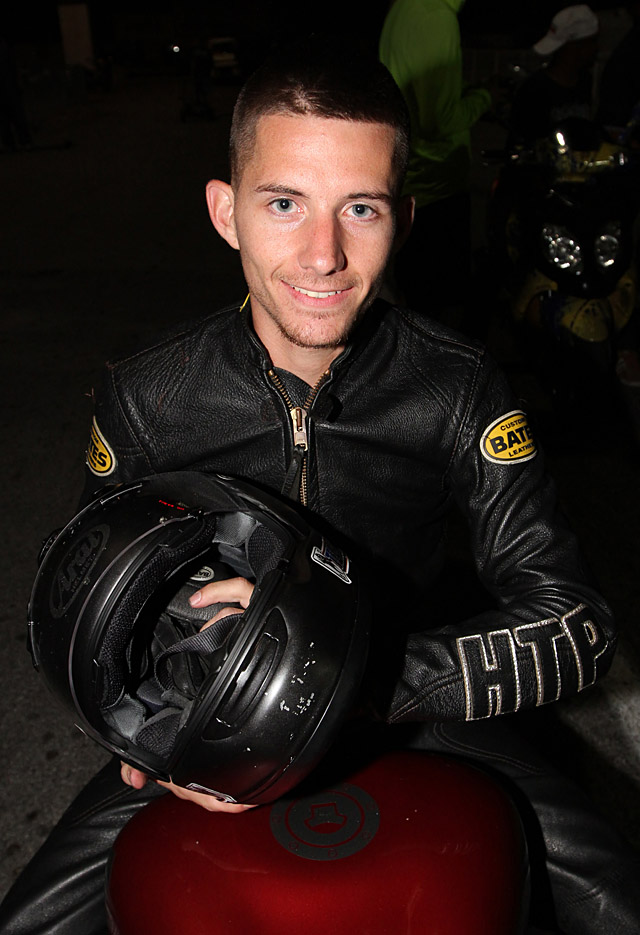 A schedule change for the Bike Fest on Sunday will help this popular class get on the track earlier. Who will outlast the rest on July 3oth?
5.60 Top Points Contenders
1) Jeremy Teasley
2) Dylan Wood
3) Robin Procopio
4) Boo Brown
4) Jimmie Miller III
6) Ben Knight
6) Derron Chesley
6) Steve Holden
6) Kevin Johnson
World Wide Bearings Crazy 8's

Many remember when it took a wheelie bar and a slick to run 8.90s. Now, huge fields of bracket racers run 8.88 with ease on street-legal bikes. The class features some of the toughest bracket racers in the country. In May it was veteran Kevin Adams who took home the Budds Creek hardware. Another giant field is expected July 28-30.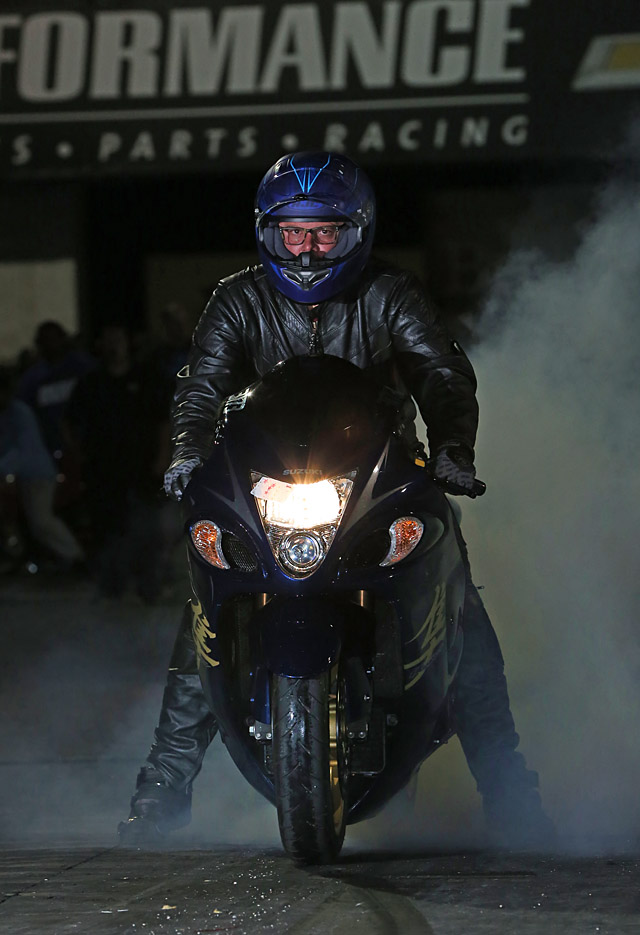 Crazy 8 Top Point Contenders
1) Kevin Adams
2) Mike Schulz
3) Duane Jackson
4)Rickey Gadson
4) Boo Brown
4) Barry Pryer
7) Robert Johnson
7) Mark Southard
7) Stephen Knight
7) Bart Colon
7) Courtland Whiting
7) Spencer Claycomb
APE Trac King Clutches Top Sportsman
MDIR veteran, on two and four wheels, Mac McAdams had a race to remember in May. McAdams laid down some consistent runs and cut some razor sharp lights to take the win and the point lead. At the Bike Fest McAdams says he's poised to defend the lead.
Top Sportsman Top Point Contenders
1) Mac McAdams
2) Jay Windsor
3) Kevin Hamilton
3) Troy Hausmann
5) Dustin Honeycutt
5) Ben Knight
5) Kermit Garnett
5) Boo Brown
Shinko Tires Pro ET
Some of the toughest bracket racers and bracket racing fields can be found in the IDBL, and for good reason – there is a race on Saturday and Sunday with each paying a cool $3,000 to win. Plus IDBL's new rule stating a racer can enter more than one motorcycle into the ET class provides even more chances to win. Dustin Lee made history at the May event by making it to the final on both of his entries!
For the July race the IDBL is calling bracket racers from all over the country to come participate. With a unique way of crowning a season champion, a win in the category will earn a racer a berth into the Tournament of Champions to be held in Rockingham, N.C. the final day of the season, Oct. 8. More than 150 entries are expected for this exciting race. A win in this one will provide bragging rights forever!
Here is who has already qualified for the IDBL Pro ET Tournament of champions –
1. Mike Schulz
2. Dustin Lee
3. Derrick Milbourne

Ladylaw.com Street ET
Hundreds of no-wheelie-bar, street tire racers will assemble at Maryland International Raceway for a Saturday and Sunday race. Who has the best clutch hand and bracket racing skills in the country? We will find out July 28-30.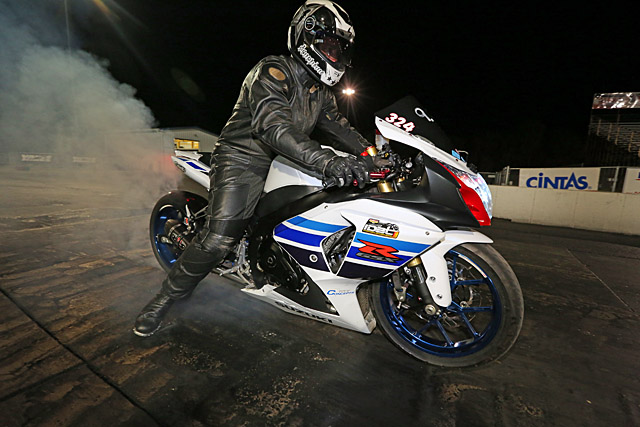 Like Pro ET, Street ET winners are entered into the Tournament of Champions to determine a season champion.
Here is who has qualified for IDBL Street ET Tournament of Champions

1. Brian Guarino
2. Darrell Mahoney
3. Ken Thiedemann
Grudge

As always, Grudge bikes are welcome at every IDBL event. Grudge bikes will run behind each Pro session throughout the weekend. Lock in a big race and do it in front of a worldwide ESPN audience! Many racers also use this valuable track time for extra testing. Grudge entries are only $50 per day.
Bikini Contest, Live Music, Beer Garden and Bikini Bartenders
Fans will be entertained on Sunday by live music, a bikini contest, a beer garden and much more. Sunday is designed to be entertaining for even those who may not love motorcycles. Bring as many friends as you can and expose them to this cool event. A big ride-in crowd is expected! Call your riding buddies!
Social Media Coverage

As always IDBL will work to give racers and their sponsors the social media coverage they deserve. Come take your shot at winning one of the biggest races of the year to give your sponsors maximum exposure, or to help capture the attention of potential new sponsors.
General information –
What – IDBL WPGC Bike Fest, featuring the quickest motorcycles in the world and more than a dozen classes of racing.
When – July 28-30, with many festivities planned for Sunday July 30 – custom bike show, live music, bikini contest, etc.
Where – Maryland International Raceway, 27861 Budds Creek Road, Mechanicsville, MD, 20659
Travel information
The surrounding area is jam-packed with great shopping and wonderful places to eat. Situated near the Chesapeake Bay, Southern Maryland is a popular vacation spot.
Recommended airports
DCA – 44 Miles from Track
BWI – 65 Miles from Track
IAD – 71 Miles from Track
Suggested Lodging
Courtyard Marriott Waldorf – 3145 Crain Hwy, Waldorf, MD, 20603
Best Western La Plata – 6900 Crain Hwy, La Plata, MD 20646
Holiday Inn Express La Plata – 6860 Crain Highway, La Plata, MD 20646
Please share this article and please make your plans to be a part of history! As always the IDBL and MDIR staff, including the energetic and talented Fabian Brown, will be very excited to welcome you!
Drag racing legend and IHRA President Mike Dunn may also join Fabian Brown and Jack Korpela in the broadcast booth for some special guest commentary!
All of this great entertainment for just $20 a day or $40 for a weekend pass! Load up all your friends and help us make this biggest WPGC Bike Fest ever! Clubs and ride-ins are encouraged!
There will be testing all day Friday. On Thursday Real Street racer Del Flores has the track rented and is looking for others to join. Contact Del for more information.
Thank you!
Jack Korpela
IDBL President