Top Fuel Motorcycle legend and 16-time champion Larry "Spiderman" McBride knew his team would be put to the test under the hot summer sun at the ManCup MTC Nationals, July 15-16, from Galot Motorsports Park in South Dunn, N.C. In the team's first eighth-mile race in more than a decade, the Spiderman endured brutal 140-degree track temperatures to take the pole with a 3.88 at 189 mph in a very competitive seven-bike field.
"We were just trying to get the bike down the track without smoking the tire. This was a tough field so we were happy to qualify at the top," said McBride, who ran 3.85 in Friday testing. "My team did a great job setting up the motorcycle."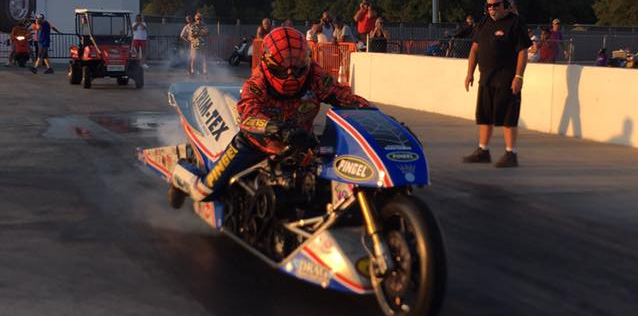 For Sunday, McBride scored a first round-bye where he smoked the tire, and crossed the finish line with a 7.98.
"We had the power we needed," McBride said. "It was just a matter of figuring out the clutch."
In the second round McBride again smoked the tire, but so did his European rival Ian King. McBride advanced to the final with a 4.48 at 170 mph over King's 4.66 at 171 mph.
"We knew we were borderline with the tune-up and we probably just didn't change enough to calm it down," McBride said. "It was a difficult tuning situation."
That situation got even tougher for the final. A rainstorm moved in and cooled the track down more than 25 degrees. As McBride and No. 2 in the points, and last season's runner-up, Sam Wills staged, McBride said he could see a fine mist of rain starting to fall.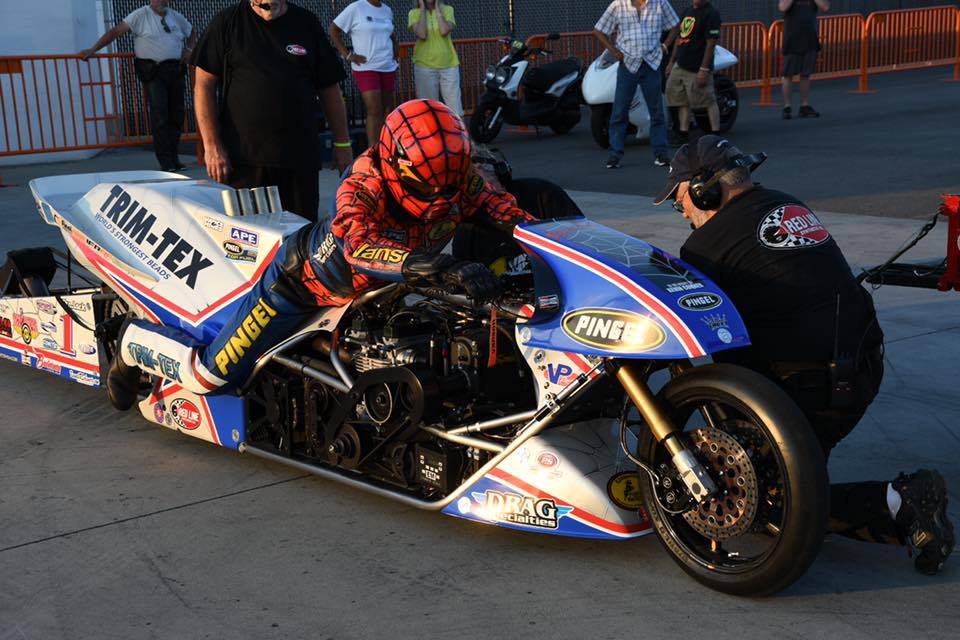 McBride and Wills were like a pair of top bracket racers on the starting line. The bikes left at nearly the same exact time with McBride cutting a .050 to Wills' .051. McBride's 1.01 short time got him to the 60 foot clock ahead of Wills' 1.04, but the Spiderman smoked the tire shortly after and Wills soared to his first victory of the season with a 4.05 at 184 mph to McBride's 4.48 at 185 mph.
"We really didn't think we were going to smoke the tire. We thought we had a handle on it. Hindsight is 20-20; we should have taken more timing out of it. Sometimes you are the bridesmaid," joked McBride. "I'm very happy for Sammy and his whole team. Those guys work every hard."
McBride smoked the tire all three rounds on Sunday. He said it was a reflection of the extreme heat and not the outstanding facility at Galot.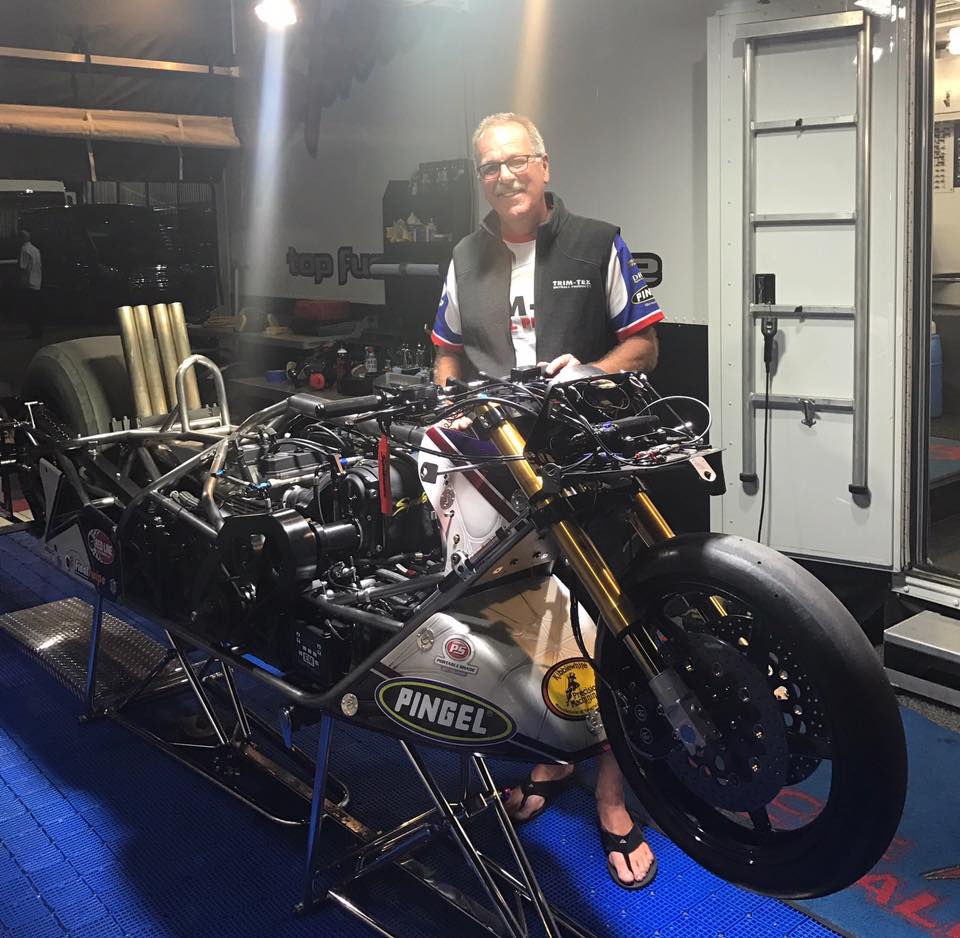 "Galot is an awesome place and the people are great," McBride said. "I couldn't ask for more."
McBride says his team gained valuable information to use in the future.
"We have come a long way with this new bike," McBride said of his Top Fueler "Star", debuted in April of 2016. "We still have a ways to go with the learning curve. The good thing is we know we have serious horsepower."
McBride now has a slim five-point lead over Wills in the standings heading into the next ManCup Event.
"This team is going to come back," McBride said. "We will be looking to get some revenge on Sam in Rockingham in September."
McBride's next stop is the IDBL WPCG Bike Fest from Maryland International Raceway where he will be covered on ESPN 3 and be joined by Paul Teutul Sr. from Orange County Choppers. A huge crowd is expected for McBride's closest race to home.
"We are really excited about this race," McBride said. "Please everyone come up and join us."
Larry "Spiderman" McBride 2017 Tour
MANCUP Spring Cup, Maryland International Raceway, Valdosta, Ga. April 7-9 – Winner
MANCUP HTP Performance Nationals, Memphis International Raceway, Memphis, Tenn. June 3-4 – Rainout
MANCUP MTC Nationals, Galot Motorsports Park, South Dunn, N.C. July 15-16 – Runner Up
IDBL WPGC Bike Fest, Maryland International Raceway, Budds Creek, Md. July 28-30
MANCUP Rock, Rockingham Dragway, Rockingham N.C. Sept. 23-24
IDBL DME Fall Nationals, Maryland International Raceway, Budds Creek, Md. Oct. 6-8
MANCUP World Finals, South Georgia Motorsports Park, Valdosta, Ga. Nov. 17-19
For all their continued support with this new machine, McBride thanked his primary sponsors; Trim-Tex Drywall Products, Pingel Enterprise, Drag Specialties-Parts Unlimited, Final Swipe Merchant Services, Web-Cam, APE and Kibblewhite – Precision Machine.
Vance & Hines Motorsports, Red Line Synthetic Oil Corporation, Federal Mogul, Portable Shade, PR Factory Store, Ferrea Valves, World Wide Bearings, Vanson Leathers, Five Star Powersports, Belt Drives Ltd, Simpson Race Products, Nitrous Express, APE, EK Chain, Arias Pistons, Cometic Gaskets, B&J Transmission, Carolina Cycle, L.A. Sleeve, PJ1, Mickey Thompson Tires, Valco, Goodridge, Carlisle Belts, ProJack, Bullseye Visual and Gates Belts.

Photos courtesy of Johnny Crime