Bike owner Brad Mummert, rider Richard Gadson, and their crew brought their crowd favorite Pro Street motorcycle to the IDBL's 2015 WPGC Bike Fest at Maryland International Raceway, as they'd done many times before. But this time was different—very different.
Watch the 6.89 pass and interviews with Mummert, Gadson and HDFR's Mike Schultz in this video. You'll hear about how the bike has progressed to its winning form and Johnny "Airtime" Locklear's contribution to the program:
Defying the nitrous, old school, air-cooled bike's past routine of running well on Friday and breaking on Saturday, the 1980 Suzuki GS' ancient cases and cylinder head held it all together to qualify number 1 with a 6.93—class low ET of the weekend. Then while newer, more powerful bikes struggled on a hot track, the 35 year-old Suzuki found grip where others couldn't.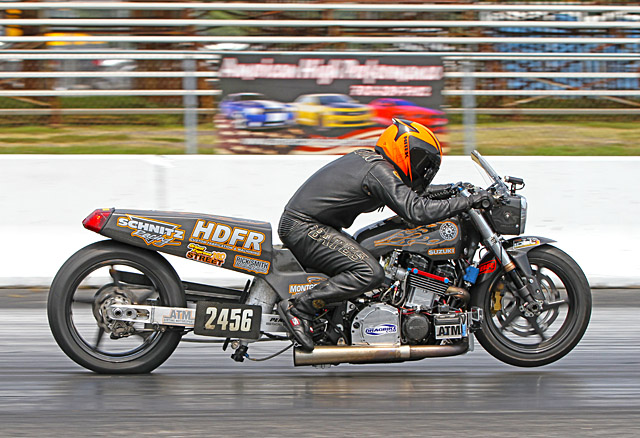 In an amazing all-nitrous semifinal match-up with Caleb McDougald on Greg Wallace's Suzuki Hayabusa, both bikes struggled. Gadson was in and out of the throttle as the GS repeatedly spun, while McDougald's bike failed to shift. Caleb actually leaned down and pulled the shifter by hand from half-track on in a race that neither rider dared contemplate losing. Gadson's slow 8.42 to 8.45 win ranked right up there with Pro Street's best-ever races.
Gadson's final against two-time champ Joey Gladstone and the normally dominant DME Racing-prepped, turbocharged 'Busa was no slouch either, with Richard taking the win with a 6.95 at 195 mph to Gladstone's 6.98 at 214.
From there the team went to NHDRO's Summer Celebration at Lucas Oil Raceway on the west side of Indianapolis, qualifying fourth with a 6.97 at 201. But Gadson and the bike stepped up big time in Saturday night's Dunigan Pro Street Shootout with a 6.89 before rain postponed Sunday's eliminations to September.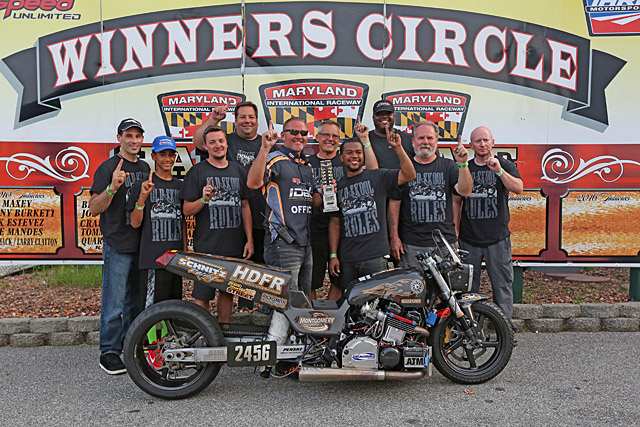 Mummert and Gadson thank Mike Schultz and Eric Saglio of HDFR Custom Fabrication and Machining http://www.hdfr.com , Tracy Slemker of Montgomery Motorsports http://www.montgomerymotorsports.net , Dave Conforti at Worldwide Bearings http://www.worldwidebearings.com , Dave Schnitz and Schnitz Racing http://store.schnitzracing.com , Johnny Locklear of Air Time Motorsports (ATM), Eddie Krawiec and Vance & Hines http://www.vanceandhines.com , Marion Ford of FBR Shop http://www.fbrshop.com , Brock Davidson of Brock's Performance http://www.brocksperformance.com , Rick Smith of Rick Smith Racing Engines, and Joe Franco of Franco's Performance.
Mummert and Gadson race next at New Jersey's historic Atco Dragway for the IDBL's Orient Express Motorcycle U.S. Nationals on September 11-13
This report was prepared by Tim Hailey. Enjoy everything there is to read, see and watch about motorcycle drag racing and more at http://www.eatmyink.com