Hey there, Cycledrag readers.
My name is Jacob Green. I am 18 years old, and I live in Wichita, Kansas. I have pretty much seen it all when it comes to the sport of drag racing, and have seen the sport from pretty much every aspect possible.
From the stands to down on the starting line, from the control tower to the time shack, you name it, I have probably been there and done that here at my home track, Kansas International Dragway. I have announced races, helped my father with his Top Gas Kawasaki, and even taken a few dates out there just to watch the racing action. However, I have not seen the sport of drag racing from one aspect – from behind the handlebars headed down the track – until now, that is.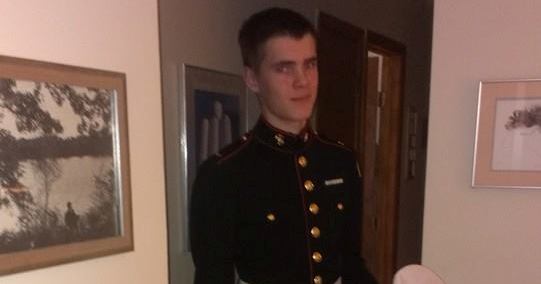 My father has been drag racing for 28 years. He started out on a Honda CB750 Super Sport chassis with a stock Kawasaki KZ1000 bullet stuffed into the frame in 1987. With the help of his mentor, the late Jerry Bryan, my dad got his foot in the door to the madness. Back in these days, racers such as Vicki Farr, Sid Pogue, and Terry Vance were making low 9-second passes on their pro-stock motorcycles, while my father was lucky to touch the low twelves on his "Hondasaki." Still, by all means, respectable.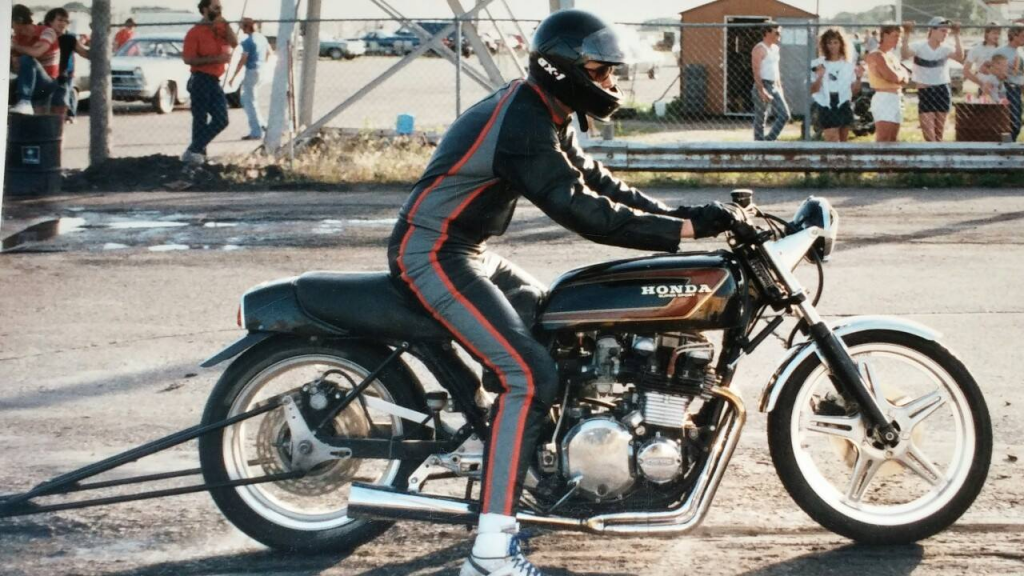 My father now races one of the baddest all-motor Kawasaki dragbikes in the state. His ride sports a 1500cc bore, Vortex II cylinder head, MTC Pro-lite pistons, Web Cam .585/.605 camshafts, 46mm Lectron carburetors, a Fast by Gast built cylinder block, MTC Slider clutch, MSD MC-4 Digital ignition, and a billet Robinson 5-speed full rotary transmission. Best ET of 8.13 at 161 miles per hour – no power adders here!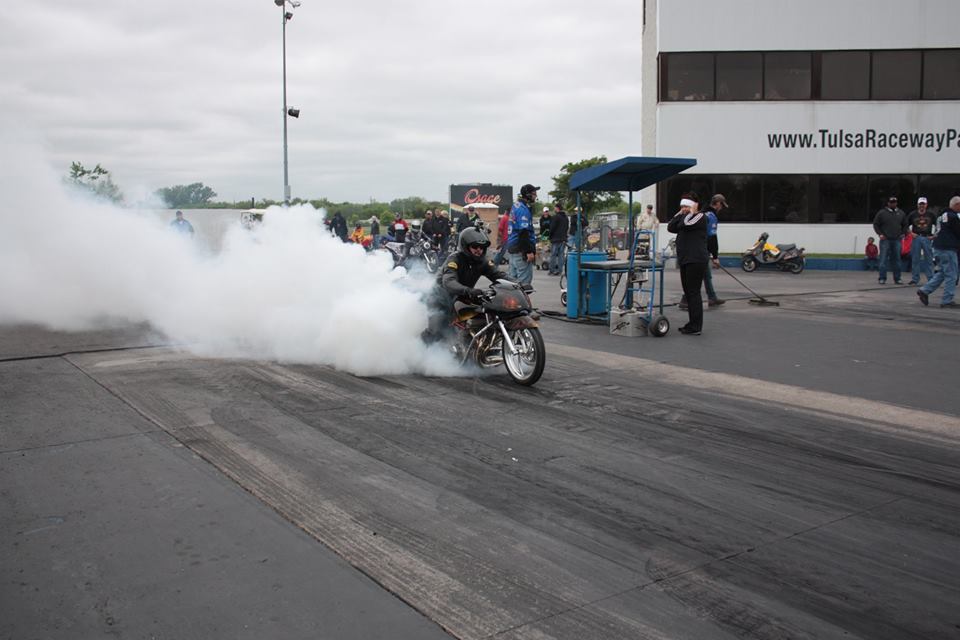 Rewind to 2002 – I went with my dad down to Thunder Valley Raceway Park for a PMRA race, the first that I ever attended. I remember that it was a relatively hot day, and I was overwhelmed by how many motorcycles were buzzing about the pit area. I never saw one car that day, and I was quite befuddled at the fact that there weren't any cars at Thunder Valley raceway park. Now it all makes sense – the Professional Motorcycle Racing Association. I was fascinated by everything that was happening around me – never before that day did I see a Suzuki Hayabusa or any other sport bike. These bikes were almost completely covered with body work, while I was used to my dad's Kawasaki KZ based smalltire bike – almost every inch of the engine was exposed and free of bodywork. The bike threw down a best ET of 8.71 at 151 miles per hour.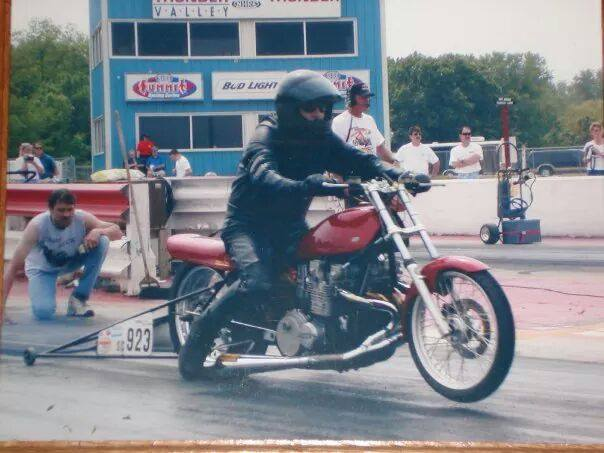 When the racing started, I was confused about the classes. There was Street ET, Pro ET, Super Comp, Super Gas, Super Street, Top Gas, and my all-time favorite back then, Funny Bike. Like anyone else new to the track, I wondered about what kind of bikes we would see in the Funny Bike class. I thought these bikes would look so odd that it would send the fans rolling with laughter, but they were all but funny. These machines were the fastest things on two wheels that I had ever seen. Glen Nickelberry was out on his turbocharged Kawasaki, which at the time was ever so close to touching the six-second range. Nickelberry ran a 7.09 at 202mph, by far the fastest pass I had ever seen. I was so used to my dad running 8.80s and 8.70s on his dragbike that I thought that was about as fast as they went. My assumptions were proven wrong that day.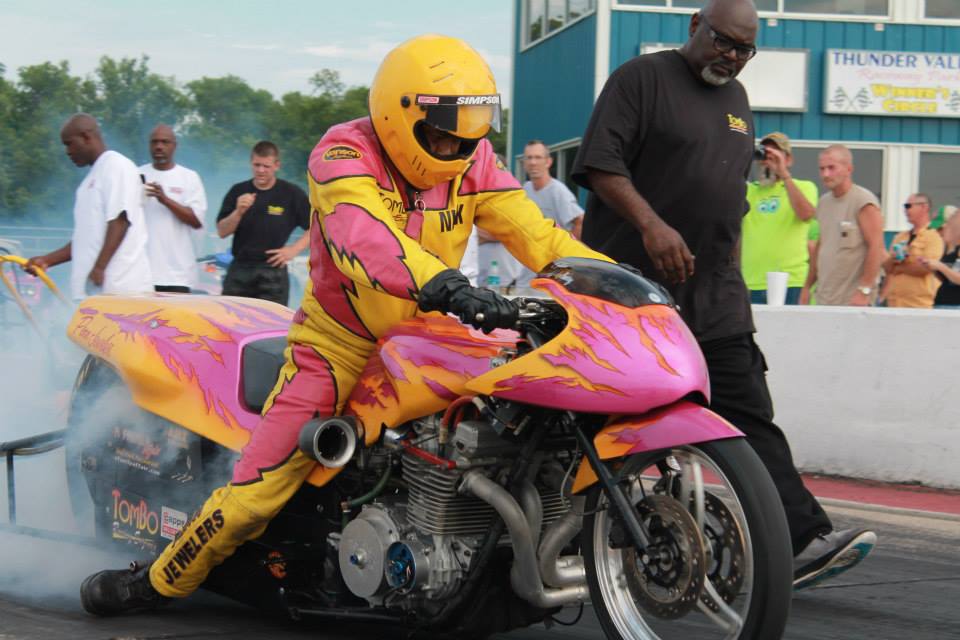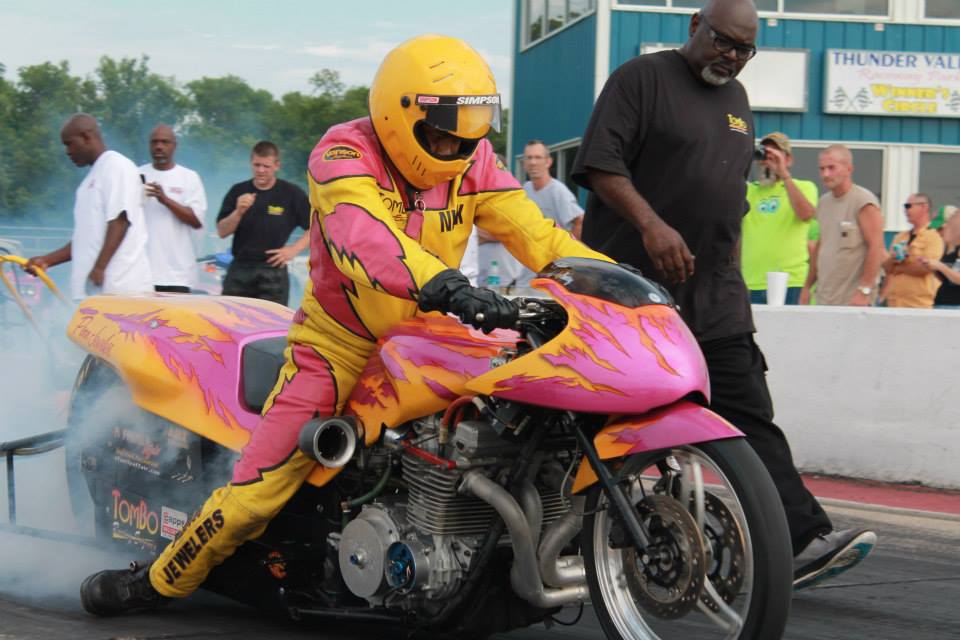 Ever since, I have done nothing but eat, sleep, and breathe drag racing. The sound of an engine is like music to my ears, and burning rubber and race fuel is my cologne. My love for the sport soared when I went to Topeka for the Kansas Nationals in 2004. I was scared to see the fuel cars at first, but once the first pair started on their way down the track, that fear turned into laughter and joy. The power of these machines was beyond incredible and the sounds of the Pro Stock cars sent chills up my spine. I remember meeting Steve Johnson, a pro stock motorcycle racer. From the time that I approached him to the time that we left, I had the biggest and cheesiest smile plastered on my face from ear to ear. At the time, I had just broken my right arm from a bike accident. All of the racers we met that day signed my sling, but I have absolutely no idea where that thing has disappeared to. A lot of memories were made that weekend, and after the fact, my passion for the sport grew even more.
Around 2012, I started going to the track with my dad more often. I began to form a better knowledge about the sport of drag racing. I started to understand all of the jargon that I hear around the staging lanes or in the pits after the final round of eliminations. I watched hundreds of drag racing videos on YouTube from several different big racing channels out there, and now it is like I don't know what I am missing.
The 2013 season was a big stepping stone for both my father and I. I was always out at the track helping him, starting him, and towing him back down the return road. I didn't miss a single race he went to. All of our work was put to the test at the PMRA world finals in Tulsa, Oklahoma. We ended up going out in the third round due to an air solenoid failure. Bad way to end the day and wrap up the season.
However, Christmas day 2013 was a special one for me. I woke up to find a present not under the tree – but in the garage. I opened the door and on the lift sat a 1975 Kawasaki KZ1000 chassis. I didn't know how to feel at the time – I was at a total loss for words. My dad had spoken before about getting me started in the world of drag racing, but not on a slick and bar bike. Phil Snare had started this bike for his son Aaron, but he lost interest. Phil ended up selling the chassis to a friend of ours, Mitch Brown, and here it ended up in our hands.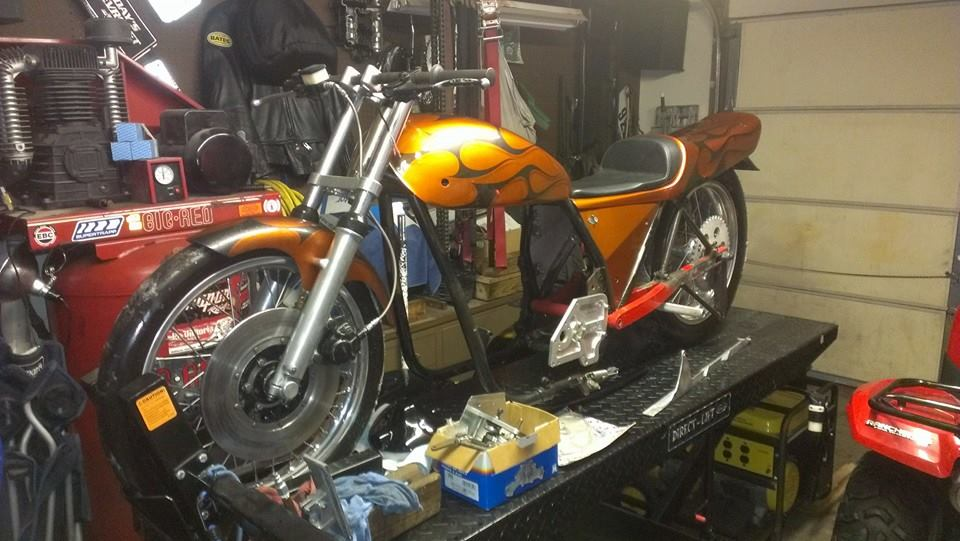 Winter 2014 went on, and we began to piece together a 1200cc big bore motor kit for the bike. A month after we began, the phone rings, and we end up with a complete 1425cc motor with a C&W Nyberg head. My dad does some searching online, and we end up with a set of 40mm Lectron carburetors, as well as an MTC slider clutch. The bike roars to life later in the year, but we quickly run into several issues.
On the shakedown pass, a bolt out of the hat of the clutch breaks loose, and is sent flying up into the top half of the engine cases. Aluminum was then cycling through the number 4 cylinder, and weakened the skirt of the piston. To only add on to the problems, the chain broke loose from the rear sprocket. This motor was done for – the cases had been cracked.
The latter half of 2014 and first half of 2015 are spent rebuilding the bike even bigger. This time with a 1500cc bore and an MTC cylinder head that had run on my father's Super Comp Kawasaki. I remember just how consistent that bike was – running constant 8.90s at PMRA and constant 8.70s at what was then Wichita International Raceway. Troy Brown purchased the head from my father, and went into the 6.70s with the help of a turbocharger.
"The Rusty Dirt Devil" (as Shawn Roetto has dubbed it) now sports a 1500cc bore, MTC cylinder head, Cam Motion Z10/Z14 (.485/.500 lift) camshafts, MTC Pro-lite pistons, 40mm Lectron carburetors, an MTC cylinder block, MSD MC-4 Digital ignition, and a stock KZ transmission with a hard first gear. The bike weighs 415 pounds dry, 575 with a fully suited, 160lb rider.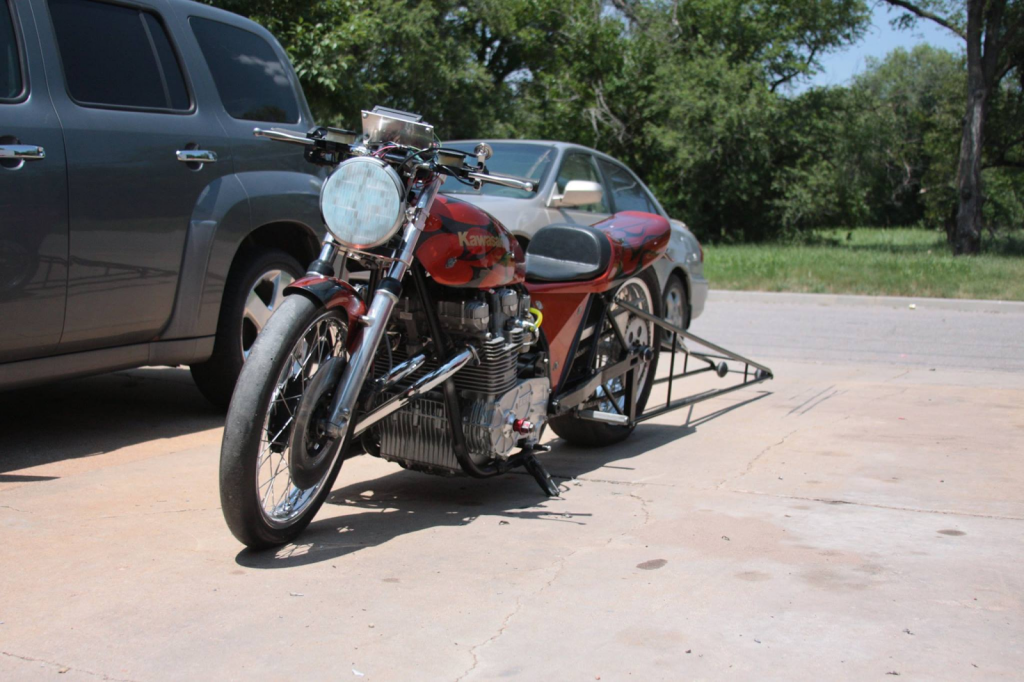 We take the bike out and everything goes beyond perfect. The only flub was that my dad was given a .400 pro tree, while we asked the track crew several times for a .500 sportsman tree. The delay box was active, so the reaction time is surely nothing to call home about. However, if the box was not active, the light would have been an .060 – not too bad!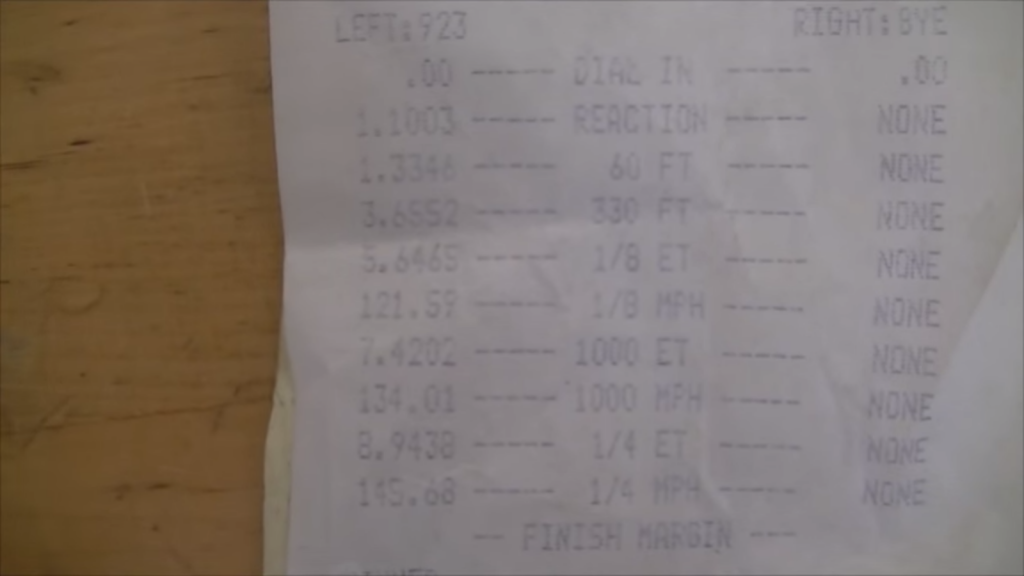 As always, my heart was stammering and I was dying to see what kind of a pass this bike was going to lay down with my dad on it. The bike was straight as a string down the track and it was on a good tear. When I looked up from my camera's viewfinder to see "8.94" displayed on the left lane scoreboard, I couldn't hold my emotions in. I was amazed that the bike had that kind of a pass packed behind it – hauling close to 240 pounds down the track.
A few weeks later, it was my turn to get some seat time on the bike. I was not nervous at first, but as soon as I started to suit up, the stomach-churning butterflies came in, full force. I was about to straddle a dragbike on an unprepped surface, and if that doesn't make anyone's stomach turn, I'm not sure what will. My father and I went out to (deserted and unprepped) Kansas International Dragway on a Thursday afternoon.
I had to build a trust with this machine. I was very skeptical on the first day. I nailed the first burnout, it was just a matter of applying what I had watched my father do so many times before and his instructions to what I did.
Put the bike in high gear, grab a handful of the front brake and open up the throttle until the motor sounds at a reasonable level. After about five to seven seconds, let the brake out and let it roll you to the starting line.
As soon as I got to the starting line, all of the nerves calmed down and I focused on what was ahead. Well, the sky, the first time. As soon as I got into the throttle, my head snapped back and I was looking for the skies that Thursday afternoon.
The second pass wasn't any better, but I managed to keep my chin down. The bike was giving us issues, and the launch control wasn't working quite right. I was pulled through on the first hit, but on the second, I decided to roll up to the line and tag the throttle.
This plan didn't work out so well. As soon as I hit the throttle, the bike kicked out to the right. Something just naturally told me to abort and I rolled out of the throttle once again – it just didn't feel right.
A couple of weeks later, we finally get back out and I get some laps on a prepared surface. The first two passes yielded no times because I was so eager to go down the track that I left before the tree was even active.
On my third pass, the bike pulls me through once again, but I stick in the throttle. I carried the bike all of the way to the eighth mile, but I rolled off just before the MPH block. I was red-lit on a deep stage foul, but the tree was at the least of my worries at the time. I ended up running a 6.96 at 100 miles per hour in the eighth mile, due to the pull-through and a lift off of the throttle at both the 60 foot and eighth mile markers.
The fourth pass, we get things figured out. The bike doesn't pull me through this time, but the "kick in the butt" was definitely a thrill that I wasn't quite accustomed to. My 60 foot time was down four tenths of a second to 1.36, and I was down to 6.82 at 103 in the eighth mile. I carried the bike to about 850 feet and rolled off. I still ran a 10.93 at 93 miles an hour on the brakes.
On my final pass, great progress was made.
I was comfortable with the bike and I felt that I had a good feel for it off of the line. I was thinking to myself as I rolled into the beams that I was going to bottom-bulb the tree.
I let go of the launch control button with the throttle pinned as soon as I saw the third amber light. The bike began the quarter-mile sprint as I looked down track and saw "-.005" displayed on the scoreboards. Had I been running in eliminations, I would be on the trailer to the tune of 53 ten thousandths of a second.
The bike rips out a 1.29 60 foot time, along with a 5.71 eighth mile. At this rate, the bike was on a solid 8.90 pass.
However, the motor started to sing it's tune higher and higher until it hit the rev limiter. The bike didn't shift into fifth gear, I was only in fourth. I forgot that I could have reached up and tapped the shift button to override the autoshift.
I rolled off of the throttle and sat up just after the 1000 foot timing blocks, and it still yielded a 9.37 at 110 miles per hour. Needless to say that I dumped nearly 20 miles per hour – I was doing about 130 at the 1000 foot mark. Not many people my age can say that they have covered a quarter mile in 9 seconds, especially straddling a KZ!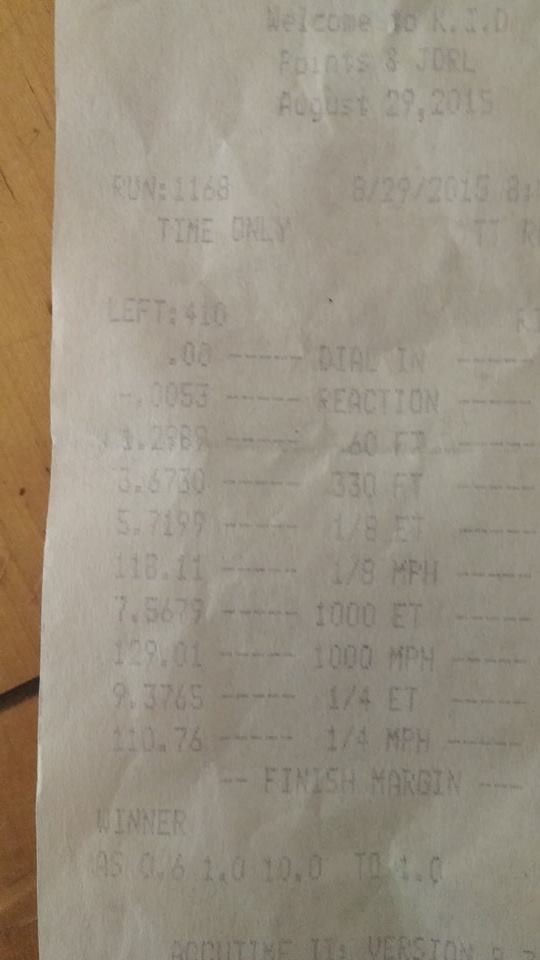 I got down to the end of the track and pulled off to the return lane. I shut the bike off and I just went nuts. I never thought that drag racing would be such a thrill, but now I can see why my father and so many other people love it. Things may not go right for you on some days, but at the end of the day, you're still having fun no matter what.
Also, I chose the number 410 for the bike because (being me…) I had a geeky reason to do so.
Fun fact, 410 is a HTML error code – like one you see when a file on a website isn't found (404) or when you are forbidden access to a web page (403.) As Justin Shearer has said time and time again about John Andrade, Jr. in his G Body Oldsmobile Cutlass – "He gone!" , the HTML error code 410 stands for "Gone" – The webpage no longer exists, but the servers are still up and running.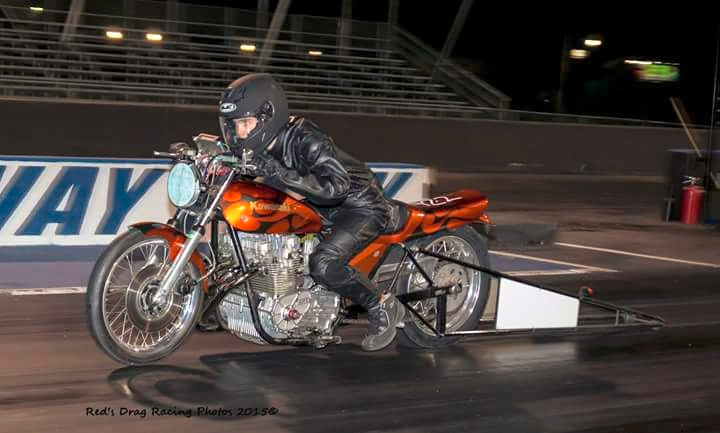 We made it out to the track on a points race day, and more progress comes to me. On my only sixth ever pass down the track, I turn out an 8.70 at 147 miles per hour. That pass, we made a few minor adjustments to the bike. We upped the launch limit to 4700 rpm and raised the shift points to 10,500. I had a 1.32 60-foot time, with a 5.48 eighth mile at 125. This pass is my personal best as of now – but I am more than sure that this is subject to change in the near future.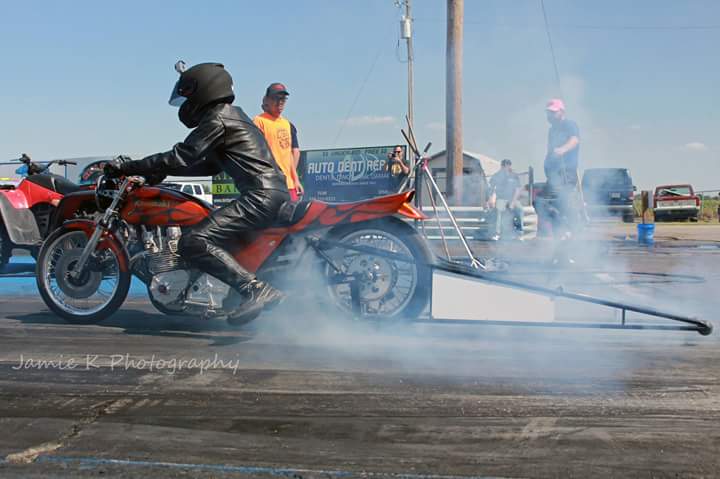 I look forward to what is ahead for both my father and I. I look forward to next season especially – because I love making ground, and I know my father is proud of me for the progress I have already made. I want his hard work and time to get me started in the one sport I have a deep burning passion for to pay off in the end – no matter what the resultant is. And I'm not so sure as to who else has two eight-second KZs sitting and ready to strike in their garage!