It's the right time of year to get hot.
Teammates Mark Paquette and Bud Yoder swept the McIntosh Machine & Fabrication Pro Street table on their turbocharged Suzuki Hayabusas at the double-race NHDRO World Finals on September 25-27 at Lucas Oil Raceway near Indianapolis.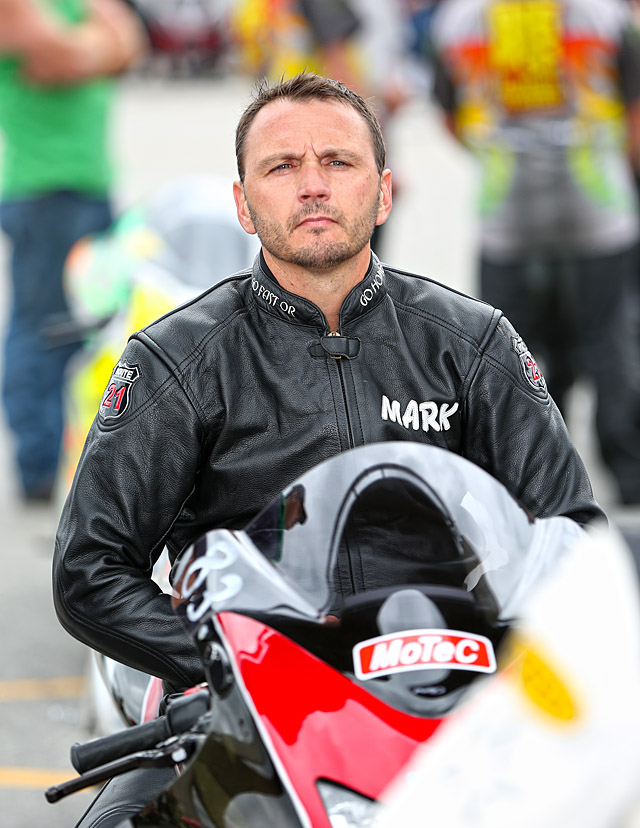 Paquette qualified number 1 for both the World Finals and August's rain-delayed Summer Celebration, with 6.87 and 6.84 ETs respectively. He and Yoder then dominated a big 25-bike field, filling both lanes of both final rounds and splitting the wins between them.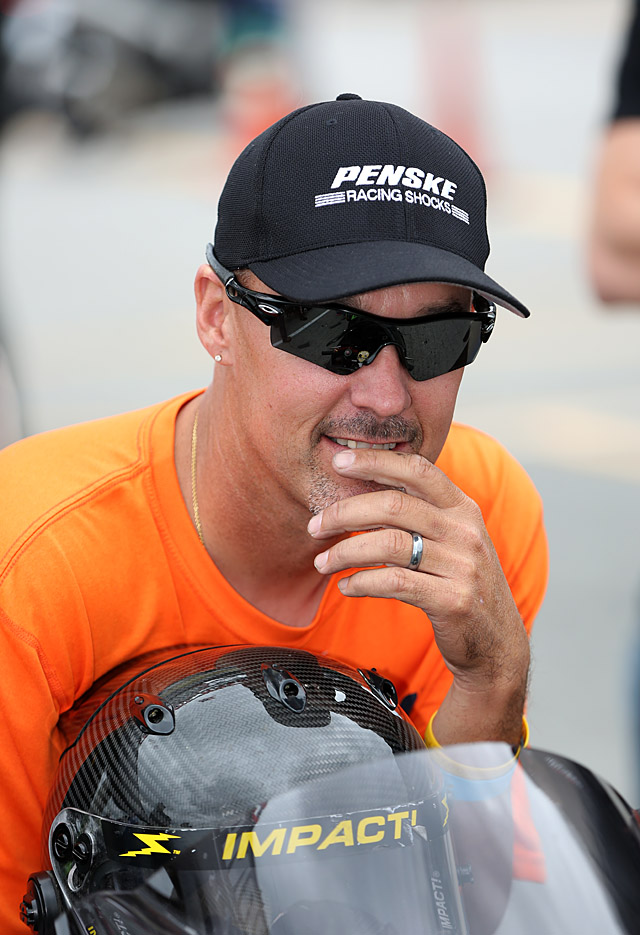 New teammate Jamie Lopes of St. Eustatius in the Dutch Caribbean also qualified for the A-field of the World Finals. He ran a career-best 7.04 in round 1 of eliminations, and then slapped an .018 light on Yoder in round 2 but lost time to Bud in the middle of the track.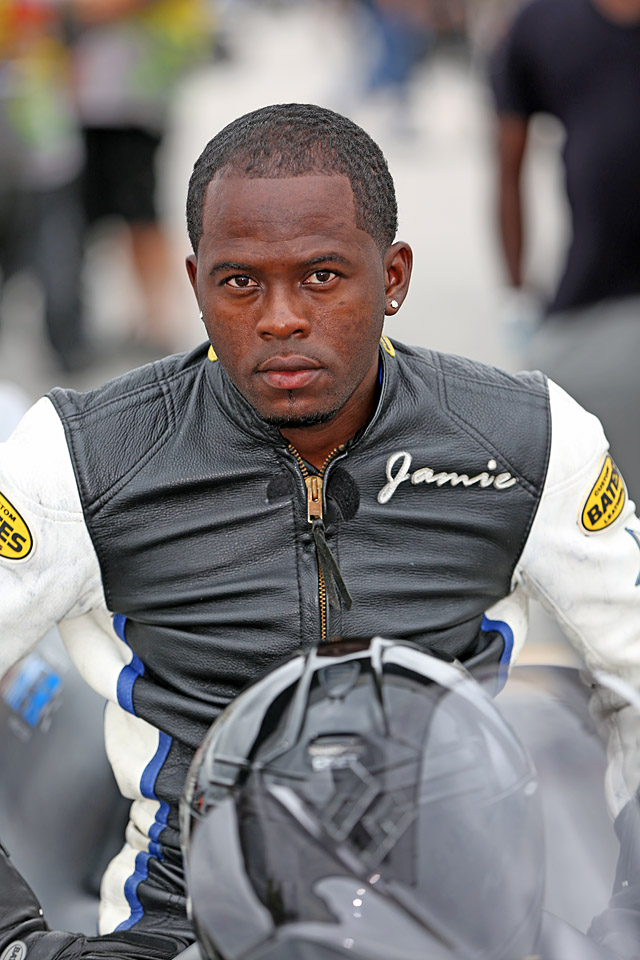 Yoder advanced to beat rising star Matt Lahey in the semi. Lahey's bike, owned by Josh Franklin, is a McIntosh Machine & Fabrication chassis build, as are the bikes that Paquette, Yoder and Lopes ride.
Paquette beat James Hendricks, Richard Gadson (also on a McIntosh chassis fielded by Detroit's Ronnie Mitchell), and Rudy Sanzottera on his way to the September final—where he had lane choice over Yoder. But a -.003 redlight ended the race early for Paquette, scored Yoder the win, and made it one each for the teammates. Yoder, however, won the ultimate battle with the Pro Street championship.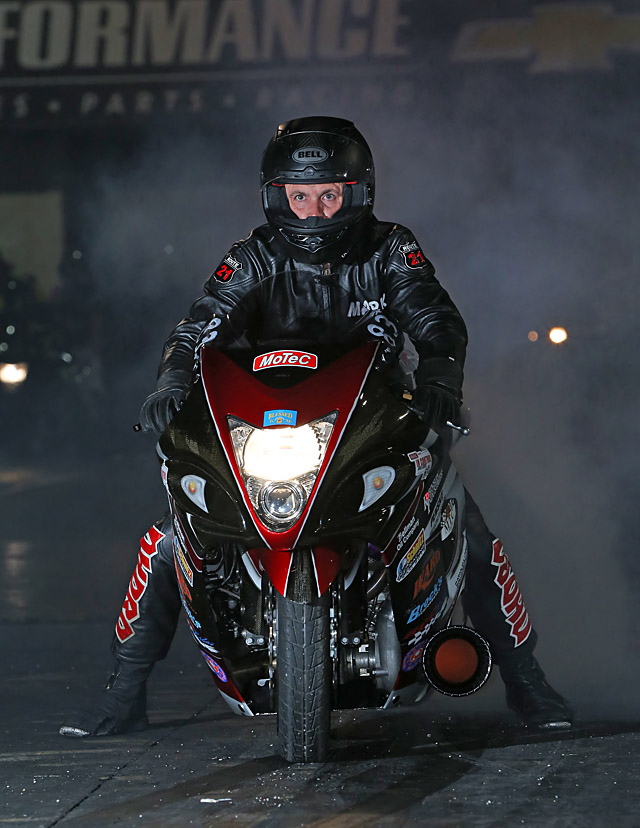 It's Yoder's fourth Pro Street championship, adding to his 2011 and 2012 NHDRO and 2012 Manufacturer's Cup titles.
But it wasn't an easy weekend for Yoder. "I had a boost leak, and then I had clutch problems," said Yoder. "So I was amazed I went as quick as I did with the issues I had to deal with. The clutch problem was getting worse and worse every round."
"Bud says he was having clutch issues, but he was still living in the .90s every round," laughed Paquette.
Going quick on a Pro Street bike while dealing with issues is something multi-time wheelie-bar champ Paquette is learning from no-bar ace Yoder. "I was having to go back in my archives and pull out everything he ever told me about riding," said Paquette, who first made a name for himself riding a monstrously powerful turbo-Kawasaki, big-tire, wheelie-bar Funnybike. "My bike was wanting to power wheelie every pass and I had to lift out of the throttle on multiple occasions to get it down the racetrack. I didn't used to be able to do that and still make a decent lap. But I was able to do what the bike needed and get it down through there."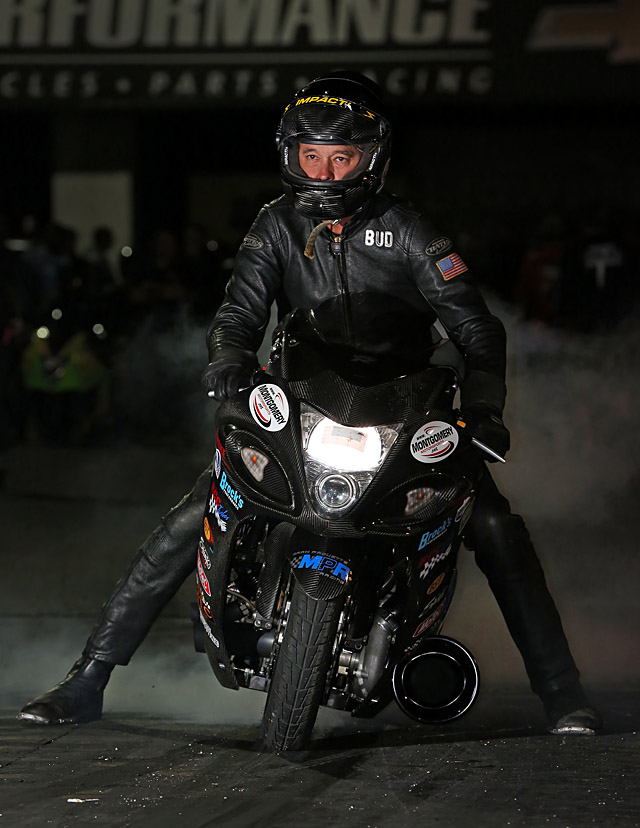 "It's hard to beat Bud's riding style, he's so smooth on everything," said chassis guru and swingarm master Terry McIntosh. "And Mark's picking up on some of that. He's used to just hitting the throttle on that Funnybike."
Where Paquette has an advantage over Yoder is in size. Yoder's thin at 5'11" but still carries some 30 pounds over 5'6" Paquette. The rules do allow Yoder an extra inch of wheelie-fighting wheelbase at 69".
"The shock has to be different and they're a little bit different on the clutch set-up," McIntosh said about setting up the two 'Busas for different sized riders.
"Even two bikes that are exactly the same will perform differently," noted Paquette. "A real team sharing information will have one vehicle edge out in front of another and then even out.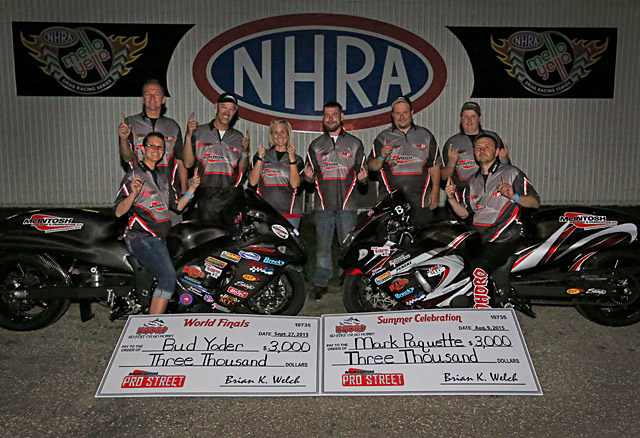 "Bud's bike was faster than mine all year, but the roles have reversed.
We've both been testing things throughout the season. We're making more power, and I've been trying some new things in the clutch. Bud hasn't switched to that yet, so he's using a little too much clutch."
Paquette's 'Busa also has Motec's new PDM15 programmable relay center onboard. "It's not really a performance thing, just the latest and greatest," said Mark. "It keeps the wiring a little cleaner, and instead of blowing a fuse and shutting off, it resets breakers."
Lopes, who is similar in size to Paquette, is riding Paquette's previous 'Busa. "That bike worked really, really well at 69 inches," said Mark. "The new rules require his size to be 68", so we're still trying to figure out what the bike wants at that length."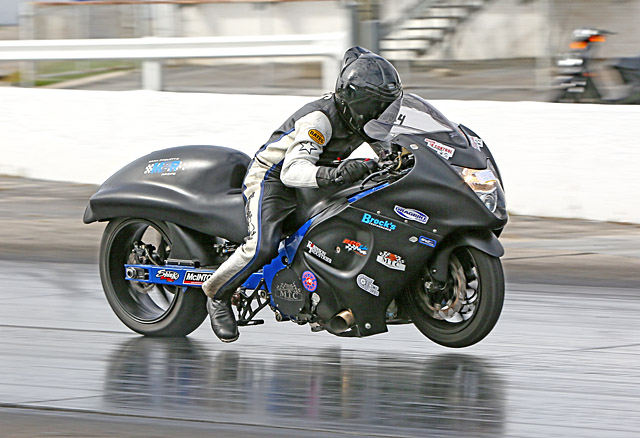 "We've only been working with Jamie a couple different outings, so we're learning with him how he works," said McIntosh.
"I have an amazing team—couldn't ask for anything more," said Lopes. "This was my first time attending the NHDRO and I went my personal best of 7.04."
"I'm very confident Jamie would be right there with me and Bud if he had more seat time," said Paquette. "For a kid who doesn't get to ride much, he'd be right on our heals with ET if he had more passes."
"I'm looking to better that 7.04 at the Battle Royale," said Lopes.
The IDBL's Orient Express Pro Street Battle Royale is the biggest Pro Street race of the year, and the next race on the team's schedule, October 16-18 at Maryland International Raceway.
Will Lopes make his first 6 second pass at the Battle Royale? "That's my goal at this moment," said Jamie. "We had some issues with the bike, but we are busy getting it ready. You can look out for it."
The team is hard at work in their Michigan shop getting all the bikes ready for an all-out assault on the Battle Royale's $10,000 to win purse. "We're all in," said Paquette.
After such a successful weekend in Indy, the team has the luxury of finessing the details. "Mark's got his bike hookin' up all the way down the track," noted McIntosh. "And getting two bikes to both finals, that was pretty impressive."
"We'll be making some clutch changes on my bike for the Battle Royale, closer to what Mark's running," said Yoder.
The team works exceptionally well together—like a well-oiled machine at the track. Each member brings experience and a unique perspective to making all the bikes equally quick. "When we sit down together, we all have our own strengths and weaknesses and balance each other out," noted Paquette. "It takes a lot to keep these things competitive pass after pass."
"We've all got a lot of trust in each other," said McIntosh.
"We get along real well and communicate well together," agreed Yoder.
Bud also noted that there will be more McIntosh chassis going against the two-time Battle Royale winner DME Racing team this time around. In addition to those already mentioned, add in the bikes of multi-time MIRock champion Rodney Williford and Atco IDBL winner Ehren Litten, Derek Miller's bike ridden by Indiana flyweight Justin Doucet, Ryan Hable, Joey Jobbe, the blue RMR bike of Michael Bayes, and the bike owned by Terry Cook.
Paquette, Yoder and McIntosh all stressed the importance of their sponsor network in keeping their team at the sharp end of the field. "We really like the support and help we're getting from everybody," said McIntosh.
Now the whole team hopes they can repay those sponsors' contributions by putting their products squarely in the Battle Royale winners circle. Maybe another Paquette/Yoder final? "Not quite," said Lopes. "I'd like to see one change in that line-up!"
Special thanks to crew members Tony Paquette, Brent Paquette, Kerry Paquette, Kelly Yoder, Terry McIntosh and Tiffany Broderick Kuhn, "and our families for letting us make the shop our second home."
Mark Paquette, Bud Yoder, Jamie Lopes and Terry McIntosh thank McIntosh Machine & Fabrication http://www.mcintoshmachineandfab.com , Robinson Industries http://www.robinsonindustriesinc.com , Shinko Tire http://www.shinkotireusa.com , Ward Performance http://www.wardperformance.com , MTC http://www.mtceng.com/ , Penske Shocks http://www.penskeshocks.com/ , Motec http://www.motec.com , Montgomery Motorsports http://www.montgomerymotorsports.net , RCC Turbos http://www.rccturbos.com , Web Cams http://www.webcamshafts.com/ , Worldwide Bearings http://www.worldwidebearings.com/ , Comp Turbo http://compturbo.com , Bellman Oil Company http://www.bellmanoil.com , Brock's Performance http://www.brocksperformance.com , Schnitz Racing http://store.schnitzracing.com , McCall Colors http://www.mccallcolors.com
This report was prepared by Tim Hailey. Enjoy everything there is to read, see and watch about motorcycle drag racing and more at http://www.eatmyink.com