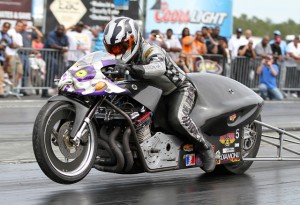 The Mickey Thompson MIRock Superbike Series is off to the most thrilling start in its history. New Orient Express Pro Street rules have the whole field bearing down on Ryan Schnitz's HTP Performance Suzuki Hayabusa—the world's first 6-second streetbike. Johnny "Turbo" Dobrin is hellbent on upending Jeremy Teasley's DME Real Street dynasty, and HTP Performance's Cecil Towner is equally bent on destroying once and for all the ancient Suzuki GS motor's grip on Mickey Thompson Pro Mod with his full-fairing Hayabusa. All these dramas and more will play out in what should be the Maryland International Raceway opener's biggest field ever on a stage of high-horsepower weather this weekend (April 28-29, 2012) at the Fast By Gast Spring Nationals.
Although Teasley's Real Street season hasn't gone as planned, he's finding his way to the Pro Street winners circle on Ken Edward's "No Joke" turbo 'Busa. After taking the MIRock opener last month at North Carolina's Rockingham Dragway, Teasley and Edwards then won the Manufacturers Cup race in Valdosta, Georgia. But HTP will have Schnitz's 'Busa stuffed full of nitrous for MIR's super sticky track—the same one that Schnitz busted that 6 second milestone on last October.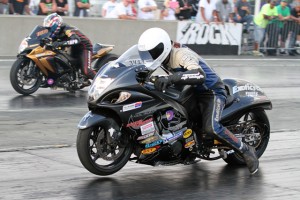 Schnitz won't be the only challenger for Teasley, let alone the only challenger from HTP. Danny Cox moved into the class late last year, but already took number 1 qualifier at the Rockingham opener. Just this Wednesday, Cox ran a personal best of 7.15 at 200 mph. Schnitz ran 7.08/207 at the same test, and you can bet (and probably will) that defending class champion Rodney Williford, Caleb Holt, Joey Gladstone, Carl "Junebug" Lucas, Eric Hart and others have been doing more than shining their windscreens since the Rockingham event.
Like Teasley has done in Pro Street, so has Dobrin in Real Street, Jeremy's former playground. Dobrin followed up his Rockingham win with one at the Manufacturers Cup aboard his turbo 'Busa. Teasley arrived at The Rock with a 2 day old, nitrous-huffing Kawasaki ZX14 built by owner/tuner Roger Starrette. The pair were still working the bugs out in Valdosta, but Starrette is driven to win and surely hasn't rested since. Gladstone, Rickey Gadson, Mark Billiter, David Merks, Ashon "Capo" Dickerson, Super Dave Stewart, Cameron Teasley, and Rickey "Hollywood" Grayson will also be aiming for the win, though Richard Gadson is iffy. Rickey's nephew crashed at Atco Raceway this past week and is nursing injuries with hopes of making the MIR event.
Pro Mod is the domain of two-time champion Ronnie Procopio, but he'll face a new challenge this weekend from HTP Performance's brand new EFI/nitrous/Hayabusa combination with Schnitz at the throttle. Sporting full Pro Stock bodywork on a Keith Browne-built chassis, the much anticipated bike hit the track for the first time this past Wednesday in a test session at Virginia Motorsports Park. Expect Robbie Hunnicutt, Mark Paquette, Jamie Emery and others to challenge with a mix of nitro, turbos and nitrous in the hair raising eighth mile class.
HTP wasn't just testing their "legit" bikes at VMP this week, they also brought out their brand new "Ghost Rider" grudge racing 'Busa. See this new long wheelbase monster make laps and take races with the likes of "Cobra Commander," "Sub Zero" and other heros of the grudge racing game at Saturday night's Afterdark Underground.
But Afterdark Underground won't roll until huge fields of Trac King/APE Top Sportsman, House of Speed Crazy 8s, FBR Shop 5.60, Fast By Gast Pro ET and Brock's Performance Street ET have completed their duels. And Sunday's famous bikini contest will showcase the Mid-Atlantic seaboard's hottest models showing their wares for crowd approval and the top prize.
Friday's open test session from 9-5 proceeds a full weekend of racing from the world's biggest motorcycle drag racing series. See you at MIR!
Find out more about the Mickey Thompson Performance Tires MIRock Superbike Series at http://www.mirockracing.com
This report was prepared by Tim Hailey. Enjoy everything there is to read, see and watch about motorcycle drag racing and more at http://www.eatmyink.com