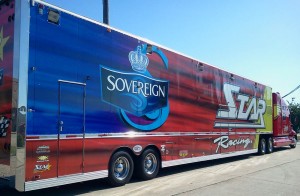 The Sovereign-Star Racing crew is proud to welcome the team's co-owner, Jeno Rujp, to America for his first NHRA (National Hot Rod Association) event ever. Rujp, who owns Sovereign, a large European sugar distribution company, will be traveling from his home in Budapest, Hungary, to join the team for the Houston and Commerce races.
"We're glad to have Jeno coming to the Houston race to finally experience American drag racing at its finest," Bryce said. "He's been around European drag racing with his Sovereign Race Team that we led to a UEM Championship last year, but this will be his first NHRA event."
Since the NHRA Full Throttle Series first race this season at the Gatornationals in Gainesville, Fla., the Sovereign-Star Racing Team has been working long hours to improve and perfect the performance of their 2010 S&S Cycle powered XB9R Buells, in addition to other team improvements.
"Since the Gators, we've gotten shiny, new drivers suits from Vanson Leathers, our trailer has gotten a new partial wrap and after many hours of work on the bikes we've made more horsepower than last time, so we're excited about our potential for Houston," Bryce said.
With the first race in Gainesville out of the way, the team's racers, John Hall and Scotty Pollacheck, feel much more focused and confident in their abilities going into the Houston weekend.
"I'm excited about this weekend and definitely less nervous than I was before the last race," Hall said. "At least I know what to expect going into this one instead of last time when it was my very first NHRA race. I got the first race jitters out in Gainesville and now it's time to go fast."
"I feel better than last time," Pollacheck said. "We're a little more prepared and I think everyone's a little more comfortable having one race under our belts. I think the bikes will run better, John (Hall) and I will run better and everything will head in the right direction."
Both Pollacheck and Hall have tried to stay mentally and physically prepared during the six weeks off from racing.
"Since I haven't been back on the bike since the last race, I've been trying to improve by mentally going through my runs since that's as close as I'm gonna get to the real thing," Hall said.
"I actually got to ride the electric bike (KillaCycle) again the other day," Pollacheck said. "It's a lot different than the Buell, but it's really easy to ride because you don't have to worry about shifting. We mainly show it as an exhibition too, so I don't have the pressure of competition and getting good reaction times. We're actually getting ready to reclaim our world speed record for an electric vehicle."
The Sovereign-Star Racing rider duo says they don't mind having races two weekends in a row with Houston and Commerce. In fact, they welcome it.
Pollacheck said, "I think the back to back races will be really nice from the standpoint that I've only made 11 passes on that motorcycle and this will give me an opportunity to make a good number of passes in a short time. I'll be much more comfortable on the bike because it will still be fresh in my head from the weekend before."
"I don't mind it because you stay tuned into the bikes better," Hall said. "If you run well in the first race, you can carry it over to the other; or if you do badly in the first, you know you better get your act together before the next weekend."
After a positive start to the Full Throttle Series at the Gatornationals, the Sovereign-Star Racing Team has set the bar slightly higher for the coming Houston race.
"Our goal at the Gatornationals was set too low. Our goal there was to run good enough to park on the pavement at Houston!," team co-owner Bryce said. "But on a more serious note, we did meet our goals of having our bikes run well and our racers qualify at the Gators, so now I've set our goals a little higher for Houston. What the Sovereign-Star Racing Team would like to do in Houston is to qualify both bikes in the top half of the field, to win rounds and to get both riders into the top 10 of the Full Throttle points standings."
The Sovereign-Star Racing Team would like to thank the following sponsors: Sovereign, Star Racing, S&S Cycle, Daytona Sensors, Worldwide Bearings, Americus Motorsports Complex, Who's Up Next?, and Quality Tire.
Star Racing Fast Facts:
•    Based in Americus, Georgia
•    Six-time NHRA Pro Stock Motorcycle Championships
•    78 NHRA national event wins with nine different riders
•    Owned by George & Jackie Bryce
Sovereign Racing Team Fast Facts:
•    Based in Budapest, Hungary
•    2011 European UEM Championship Team with rider Jesper Thiel
•    Owned by Jeno Rujp
John Hall Fast Facts:
•    From: Hamden, Connecticut
•    Job: Real Estate Investor
•    Years in racing: 16
Scotty Pollacheck Fast Facts:
•    From: Medford, Oregon
•    Job: Owns "Quality Tire" store
•    Years in racing: 27