Race Status Report For MIROCK FBG Spring Nationals – There is only a 30% – 50% chance of a passing overnight shower on Saturday Night for Southern Maryland.
The daytime forecasts for Friday, Saturday, and Sunday look great with partly sunny skies and temps in the 60s, perfect conditions for record fast runs! We will have no problem getting this event completed. So pass the word, and head to Budds Creek for an exciting weekend of All Motorcycle Drag Racing!  – Event Director Jason Miller
M/T Tires MIROCK "FBG Spring Nationals" April 28-29 at MIR
The Mickey Thompson Tires MIROCK Superbike Series is headed to Maryland International Raceway for the first MIROCK event of the year in Maryland at the Fast by Gast Spring Nationals on April 28-29, 2012.
The event will feature Mickey Thompson Pro Mod, Orient Express Pro Street, DME Racing Real Street, Trac King Clutches Top Sportsman, House of Speed Crazy 8's, FBR Shop 5.60 Index, Fast by Gast Pro E.T., and Brock's Performance Street E.T. The event will also include Grudge Racing both days, and the "Afterdark Underground" 2-hour grudge program on Saturday night.
The event will also host a huge vendor midway on both days full of motorcycle parts, apparel, and accessories! In addition to the racing MIR will host a $1,200 bikini contest on Sunday. So head to Maryland International Raceway for an exciting weekend of motorcycle action!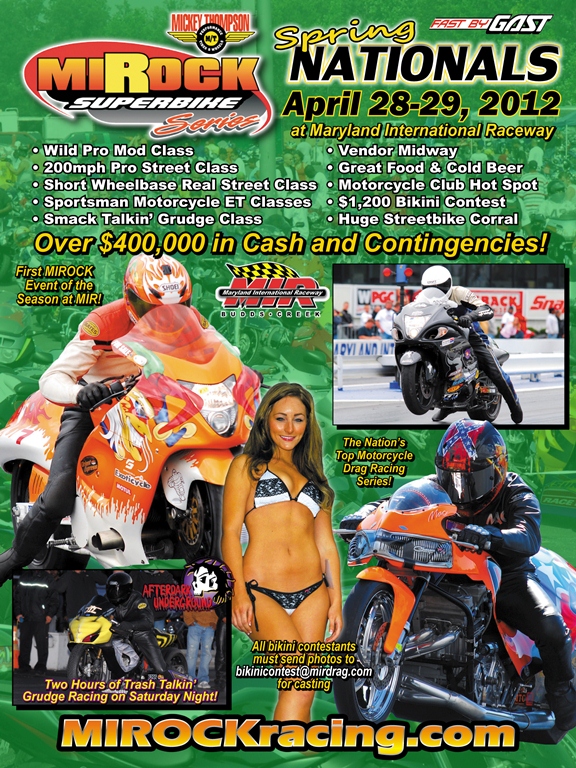 Friday Schedule:
Gates Open..…………………..……..…………..… 8am
Private Test & Tune…….…….………..… 9am-5pm
Open Test & Tune………..………… 6:30pm-11pm
Saturday Schedule:
Gates Open……………….……………………….… 9am
Sportsman Qualifying/Time Runs……..10am-3pm
Pro Qualifying…………………….…..1pm, 4pm, 7pm
Sportsman Eliminations….…………….………… 3pm
*Afterdark Underground begins after Saturday's Program
Sunday Schedule:
Gates Open……………………………….…..….… 8am
Church Service……….…………….…..…..… 8:30am
Sportsman Last Time Run………….. 9am-12noon
Pro Shakedown……………………………..… 9:30am
Eliminations…………………………..…….….. 12noon
Bikini Contest………………………..….….……… 4pm
Admission:
Friday Adult Admission (1-Day)……………….$10
Saturday Adult Admission (1-Day)……………$20
Sunday Adult Admission (1-Day)……………..$20
Sat & Sun Adult Admission (2-Day Pass)……$35
Fri – Sun Adult Admission (3-Day Pass)……..$45
Kids 6-11 (Per Day)……………………………….$5
Track Information:
Track Office: 301-884-9833
Dragline: 301-884-RACE
Track Fax: 301-884-9878
Track Email: info@mirdrag.com
Track Website: www.mirdrag.com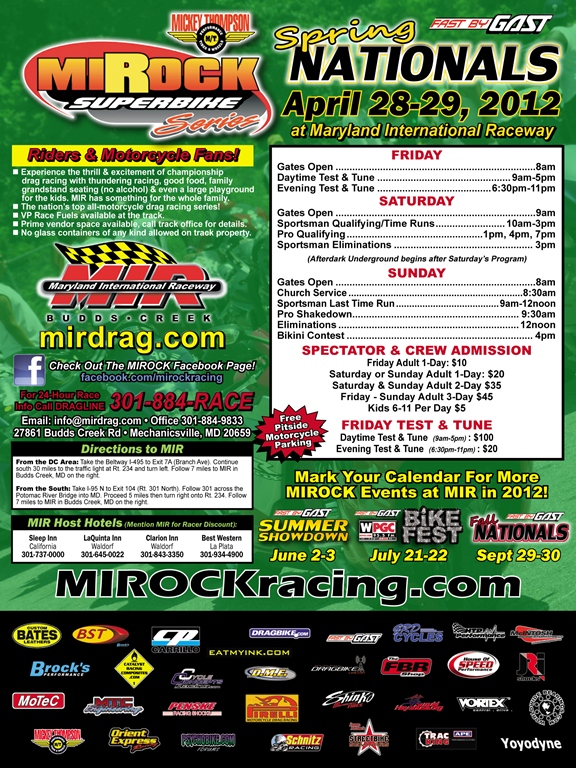 Physical, Mailing, & GPS Address:
Maryland International Raceway
27861 Budds Creek Road
Mechanicsville, MD 20659