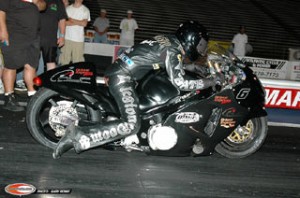 At the final MIROCK race of the season retirement-bound Jason Miller captured a new 60-Inch Pro Sport Bike elapsed-time record.
MIROCK 60-Inch Pro Sportbike racer Jason Miller "Time", in perhaps his final season,  fell just short of his goal for 2006 – a No. 1 plate.  However Miller earned some late-season redemption by winning the final two out three events and resetting the elapsed-time mark to a staggering 7.697.
"It was a great feeling to go out with a win and a new ET record in the 7.60s", Miller said . "It would have been great to win the championship in my last year, but there are far worse things in this world with people dying and the war going on, so I wont be too upset, I am still very fortunate."
The run was especially significant for Miller as it came in the final of the Lee's Performance Fall Nationals and gained him a win over his heated rival and 2006 class champion Anthony Navarro.
"It was a tough track that weekend", crew chief Andy Sawyer said  "Atmospheric conditions and track conditions were changing every hour and we had to be dead-on with our tune-ups".
Miller rode his 2003 turbo-charged Hayabusa to runner-up in the point series. Miller led the championship chase for much of the season, but his lead diminished after he critically wounded his motor in the Summer and was forced to miss an event.
"It was a tough blow," Miller said.  "I'm just glad we could finish strong and end the season with the record."
Miller's teammate Richard "Dimey" Eddinger was also impressive during the weekend, running a career best 7.699 off the trailer during Friday's unofficial test session.
"I'm proud of the NLR-DME-Orient Express team as a whole," Miller said.  "We were the first to be able to put two bikes in the 7.60s."
Jason Miller's Career Numbers:
Best ET: 7.660 (August 2005) * Not backed-up to become an official record
Best MPH: 191.78 (September 2005)
MIROCK wins: 7
MIROCK Runner-ups: 3
Dimey Eddinger's Career Numbers:
Best ET: 7.863 (August 2006)
Best MPH: 186.85 (August 2006)
MIROCK wins: 2
MIROCK Runner-ups: 2