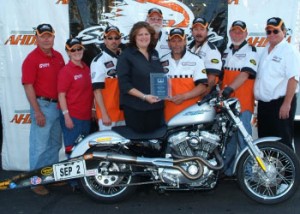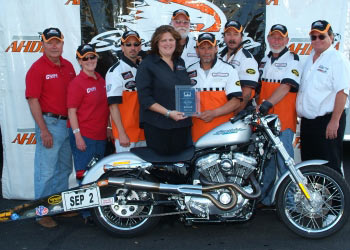 In 2006 AHDRA standout bracket racer Donnie Huffman won two champions in a single season for the second consecutive year.
Prominent AHDRA sportsman Donnie Huffman's drag racing career is like a fine wine.  It keeps getting better as time goes on.
Huffman finished 2006 with both the Super Eliminator and SEP championship.  It was the second consecutive year that he came away with a pair of championships and marked his fifth No. 1 plate in the last three years.  Huffman has now won SEP back-to-back and Super Eliminator three years in a row.
"I love racing, it keeps me going.  My success just comes down to hard work," Huffman said.  "I have been around motorcycles my entire life and I know the different set-ups the bikes need.  I also road race my Super Eliminator bike so I know how it needs to be set up for the different conditions."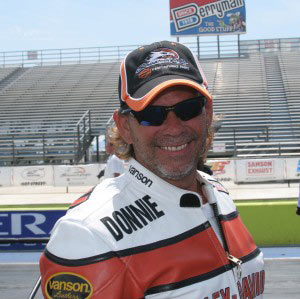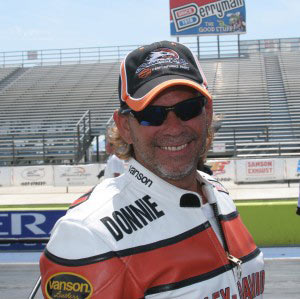 Huffman finishes the year with two victories and three final round appearances. Huffman says the incredibly high level of competition in the SEP class, made it his most valuable championship.
"To back-up SEP meant more to me than the hat-trick in Super Eliminator," Huffman said. . "It puts me in the category of some pretty elite champions. I was the runner-up in SEP three times before I won my first title.
Huffman locked up both championships at the tour's final race, the Jims AHDRA Las Vegas finals.  The anticipation in the Super Eliminator Class ended on the starting-line when No. 2 in the points Bill Rowe Jr. red lit in the first round. However Huffman had his work cut out for him in the SEP class. In the opening round he drew arguably the most successful bracket racer in AHDRA history Dan DeGood, who came into the event 80 points behind. DeGood, in perhaps the final race of his career could win the championship if he could reach the final.
"It was a big match-up," Huffman said.  "Before the race I went over and gave Dan a hug and said let's get it done." The race was decided on the line as Huffman fouled out with a -.001 reaction time.
"It was a perfect red," Huffman said.  "I blew it.  I was under a lot of pressure and I just pushed it too hard."
Unfortunately for DeGood he was unable to complete the fairytale ending and  Dan Norlin won the race with an 11.54 to beat Charles Cannon's 10.46.
"I was rooting for Dan to win it all since it was his final year," Huffman said. "When he lost it was bitter sweet. I was happy but I was also disappointed for Dan.  He's a great guy and I enjoy spending time with him. He treats me like a son. I owe him lot gratitude. He's one of the main guys that taught me how to win."