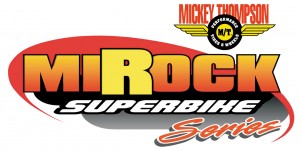 Mickey Thompson Tires has posted $12,000 in the 2012 MIROCK Contingency Program. Mickey Thompson has been the MIROCK Superbike Series Title Sponsor for the last 8 years and has been a contingency sponsor since 2009. When you are looking for maximum grip at the drag strip, be sure to have a Mickey Thompson tire on the back of your motorcycle!
Here are the details:
Mickey Thompson will be paying $100 to win and $50 to runner-up in every MIROCK class to everyone using a Mickey Thompson rear tire. This is a great way for ET racers and the Pros to earn extra cash just by using a Mickey Thompson tire and running the M/T decals.
You can find out more about Mickey Thompson tires at: www.mickeythompsontires.com
Click Link below to view MIROCK Contingency Program:
http://www.mirockracing.com/contingency/
Click Link below to view 2011 MIROCK Contingency Postings:
http://www.mirockracing.com/contingency/12_mirock_contingency_postings.pdf
 Remember… Support Those That Support Your Sport!
The 2012 Mickey Thompson Tires MIROCK Superbike Series kicks off the season with the Honda-Suzuki of Sanford Spring Bike Open at Rockingham Dragway on March 17-18, 2012.
For more information on the Mickey Thompson Tires MIROCK Superbike Series please visit: www.mirockracing.com