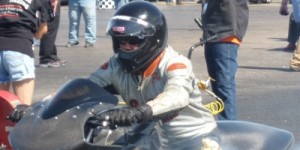 Frank Capone has completed all the goals he had set in his 2nd season with the AHDRA (All Harley Drag Racing Assoc.). After winning Pro Rookie of the Year in 2010, Capone and team, Mark Godin, Richard Murray, Lorne Buchanan and Katy Miller (with their ever present coffee pot) at 2011's seasons end, smashed a series of records and feel they are up for a new set of goals for 2012.
Even before the official season begins, Capone has announced the best way to advance the sport is to help the AHDRA add to the excitement. Capone Racing is pleased to announce that they have become an official contingency sponsor for the AHDRA Pro Modified Class.
This highly modified gas burning Harley-Davidson drag bike class will see an additional $50 go to the #1 qualifier and an extra $250  to the end of the year Pro Modified national points winner.
Capone Racing sponsors and friends supporting Capone's record breaking season include: G&G Engineering, DAS Performance, L. Buchanan Co., Gannos Machine,  Vanson Leathers and all the staff at Capone Landscape.
Capone can be reached at:
781-224-0700
and by visiting his website at: www.caponeracing.com