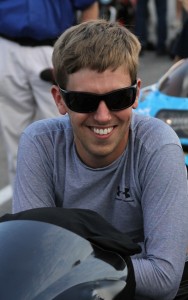 Michael Ray, who we have not seen race since Dallas, has been busy working his day job at Gruene Harley Davidson and is hoping to shake up the countdown in Las Vegas, a track that has been very good to him in the past.
"I am just really excited cause our GottSpeed and Matt Smith Racing Buellhas been running very well. I have had a lot of great success at the Vegas track. When I was racing AHDRA I was crowned champion there quite a few times and won a few national events. So I am ready, ready to go shake up the countdown, and put Matt back up there (in points) and see if we can help get Matt a championship."
Ray believes it takes more then a fast bike to succeed, but also the confidence you need to go with it. Vegas is one track he certainly has found
some confidence, heading into This race weekend with teammates Matt and Angie Smith.
"If you look at Matt, Angie, and I, we all run the same motors. Matt and Angie have both been qualifying in the top half of the field. We just got to get me some laps on the bike. I have been consistently getting more and more confident. Charlotte proved we can go some rounds, that we can run with the contenders. Dallas we got a little behind the eight ball and I went out when I red lit in the first round. You know Hector Jr. is showing everyone that if you have a fast bike with confidence you can go rounds on Sunday. I have a fast bike now I need to develop my confidence. There would be nothing better for me than to possibly put a couple of heavy hitters on the trailer early in Vegas."
Ray doesn't just have his success at Vegas on his mind, he also happens to be thinking about his teammate Matt Smith who is number three in
points, a guy who has been nothing less then a large influence for Ray.
"You can't put a dollar value on his knowledge and his professionalism when it comes to PSM racing. He is the last guy I talk to before I shut my
visor and go down the track, and he is really the first guy I talk to when I get to the top end of the track. He is very knowledgeable and he is such a great influence, because he is such a good rider he can immediately see what your doing wrong and be there to help you out. Matt is really good about being there when it comes to guidance and influence, but not just when it comes to riding but also with tuning the bike. With Matt also being a mechanic it has just helped us tremendously and really made this the best experience in NHRA PSM that I have ever had."
For Ray there is just nothing not to love about going to Vegas. "The championships, the national events, like I said I have won four national events at this facility. The track is amazing, all of Bruton Smiths tracks are just top shelf. You know its Vegas you love the atmosphere, the luck of the roll of the dice at the casino, everything about it just makes the place amazing."
Qualifying starts Friday at 12:15 and 3:15pm and on Saturday 11am and 1:45pm.