Lucas Oil Buell riders Hector Arana Sr. and Hector Arana Jr. tried to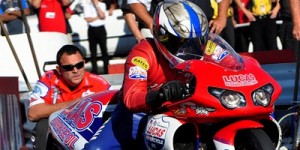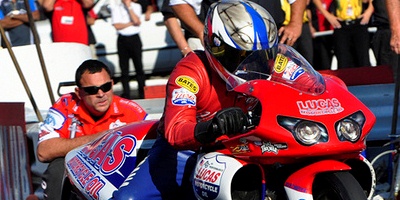 double-down on Sunday at the Big O Tires NHRA Nationals at The Strip at Las Vegas Motor Speedway, but instead, they busted in Pro Stock Motorcycle.
Lucas Oil Ford driver Larry Morgan went down, too, falling in the second round of Pro Stock.
Arana Jr. qualified No. 1 in Pro Stock Motorcycle for the fourth consecutive time and was gunning for his third straight win – as well as to close ground in the points standings.
But the 22-year-old rookie struggled in eliminations, losing in the second round to Angie Smith. Arana Jr. made a quicker pass of 6.975 seconds at 191.35 mph to Smith's 7.046 seconds at 189.47. The difference, though, was off the starting line, as Arana Jr.'s reaction time was .117 to Smith's .021.
"It was just one of those days," said Arana Jr., who knocked off Matt Guidera in the first round with a pass of 6.977 seconds at 192.03 mph. "I got lucky the first round. I had an .080 light there. I don't know if I'm tired or if I can't hang with this Las Vegas lifestyle. No, we've been doing really well. We did well overall this weekend. I just made a little mistake. Nothing we can do about it but learn from our mistake and be better prepared for Pomona.
"We're still right there. All we've got to do is stay focused."
Arana Jr. slipped to 69 points out of the Pro Stock Motorcycle points lead with one race remaining, the Auto Club NHRA Finals in Pomona, Calif., on Nov. 8-11. Some may say he succumbed to the pressure of the points race, but Arana Jr. said that wasn't a factor.
"It was just one of those weekends," Arana Jr. said. "Oh, well. Sometimes you have those times where you're just off. You're not in the right zone, you're off. That's just what happened to us this weekend."
Arana Sr. could have helped ease his son's deficit in the semifinals, as he faced points leader Eddie Krawiec. But Arana Sr. had an issue on the starting line and made his slowest pass of the weekend, 7.157 seconds at 191.48 mph. Krawiec made a run of 6.989 seconds at 193.35 on his way to the event victory.
"I lost my concentration," Arana Sr. said. "It shut off and came back on. I dropped the clutch, and I was going to drop the handlebar, and I double-clutched it. Once you do that, you spin the tire, and you're now chasing the 8-ball.
"The weekend was great until then, and then you do something like this, it doesn't matter what you've done before. This is what you remember. I just have to let it go."
Morgan would like to forget his second-round loss to No. 3 qualifier Allen Johnson, but his two races Sunday were memorable.
In the first round, both Morgan and Vincent Nobile had identical lights of .007 seconds. Then, Morgan and Johnson both cut .041 lights.
"That was good," Morgan said of the statistical oddity. "At least they know I'm here, right?"
Morgan qualified sixth and knocked off Nobile – whom he lost two in the first round in Phoenix – with a pass of 6.658 seconds at 207.18 mph. Nobile ran 6.676 seconds at 207.07 mph.
Then against Johnson, Morgan slowed to 6.716 seconds at 206.83 mph, falling to Johnson's pass of 6.680 seconds at 207.76 mph.
"We blew the tires off," Morgan said. "We were in the bad lane, but there was nothing we could do about it. Hey, for the most part, we had a pretty good weekend. I can't complain. I think we're running well enough that we can win races. Hopefully, Pomona is it. It's my last shot at it this year.
"We're real happy for Lucas and everybody who's behind us."