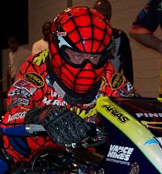 World record holder and nine-time Top Fuel Motorcycle champion Larry "Spiderman" McBride began his 31st season of racing with a victory at the AMA Dragbike Bikeweek Nationals from Valdosta, Ga., March 7-8.
"When I first started I never dreamed I would have been doing this 31 years," said McBride, who aims to win an unprecedented tenth championship.  "To go out there and still be able to win is a great feeling.  I love to race."
It was a busy off season for McBride Racing.  The team began building a new motorcycle which features a longer wheelbase of 104-inches, four inches longer than McBride's current ride. McBride hopes to debut the state-of-the-art machine in July.
"We were planning to have the bike ready for the start of the season but the slow economy held us back a little bit," McBride said. "When the new one comes out I'll still keep my old one.  I'd like to see it go in a museum some day."
Upon arriving at South Georgia Motorsports Park McBride used his first pass of the year to test a new motor combination.  The new set-up proved to be immediately competitive as McBride recorded a 5.99.
"We were trying out a gear-drive motor. This motor is crankshaft to cam gear-driven.  Our other motors use cam chains," McBride said.  "It showed a lot of promise.  I would like to do some more testing with it as the year goes on."
McBride went back to his usual motor for official qualifying on Saturday and took the pole position with a 5.97.  McBride duplicated that 5.97 to score a victory in Sunday's opening round of eliminations, en route to a 5.93 final round victory over longtime rival Chris Hand.  Overall McBride couldn't have been more pleased by the consistency of his motorcycle.
"I should have entered it in Pro ET.  I could have made some more money," laughed McBride. "I don't think we could have made all the rounds though and I'm pretty sure we would scare the daylights out of whoever was in the other lane."
Last season McBride ran record-breaking runs of 5.74 and 5.79.  The nine-time champion believes even quicker runs could be on the horizon this season.
"I think the bike has definitely got it in it.  I'm not so sure if we will see it happen until the Fall," McBride said.  "Atlanta is always a possibility because I have run mid-80s there.  It's just a little short on stopping."
Spiderman, who has been as fast as 248 mph, doesn't include eclipsing the 250 mph mark as one of his goals.
"I'm much more focused on bettering our ETs," McBride said.  "I'm a believer that if you run the ETs the mph will come with it."
As a whole McBride sees the Top Fuel Motorcycle class putting on a great show in 2009.
"Despite the economy I think the class is very healthy," McBride said.  "We're are looking forward to some great turnouts."
McBride plans to run the entire eight-race AMA Dragbike series and possibly some exhibition events this season. Next up for the Spiderman is the Elmer Trett Nationals from Atlanta Dragway, April 4-5.
McBride expressed his gratitude and appreciation for all of the loyal support from his sponsors.
The team thanked; Pingel Enterprise, Trim-Tex Drywall Products, Drag Specialties-Parts Unlimited, Red Line Synthetic Oil Corporation, K&N Air Filters and Web-Cam as well as his other sponsors.
Vance & Hines Motorsports, PR Factory Store, Muzzys Performance, Ferrea Valves,  Kibblewhite, Precision Machine, World Wide Bearings, Vanson Leathers, Performance Machine, Belt Drives Ltd, Street & Competition, Simpson Race Products, Nitrous Express, APE, EK Chain, Arias Pistons, R/D Spring Corp, Autolite, MSD, Protect ALL, Whipple Industries, Cometic Gaskets, B&J Transmission, Carolina Cycle, L.A. Sleeve, PJ1, Mickey Thompson Tires, Valco, Goodridge, Carlisle Belts and Gates Belts.