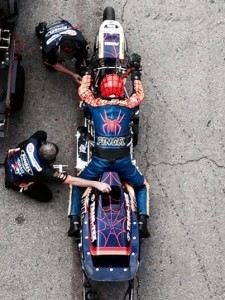 Prior to the final round of the East Coast Cup at Virginia Motorsports Park, June 20-22, Larry "Spiderman" McBride and his crew put what they deemed to be a low-5.90 tune-up in the 12-time champion's record-breaking Top Fuel dragbike.
The run surpassed expectations as Spiderman recorded low elapsed time of the event with a 5.84 at 223 mph to defeat a broken Dave Vantine.
"It has a mind of its own," laughed McBride. "The air got a lot better and it cooled off quickly when we were in the lanes. That really helped. I knew it was going to be a 5.80 when I left the line. It was a pretty cool birthday present for Blue."
The East Coast Cup marked 20 seasons of racing for Blue, McBride's beloved motorcycle.
Spiderman nailed a 1.00 short-time in the final, followed by a 330′ of 2.54, a 1/8th mile of 3.77 at 202 mph, before dropping a cylinder at 5.00 seconds.
"We were on pace for a 5.76 or a 5.77," McBride said. "We think we may have leaned it out just a little bit too much."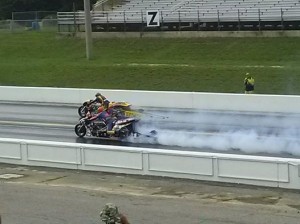 The nitro-guzzling marvel performed with remarkable consistency throughout the weekend, recording passes of 5.97, 5.92, 5.96 and 5.84.
"They (VMP) gave us a great racetrack and when that happens it's easy for us to be consistent," McBride said. "We only had to make small changes. We were controlling the power with our percentage of nitro."
McBride's only problem was the destruction of his giant racing slicks due to the incredible amount of grip on the track.
"We hurt three tires. They were losing chunks. That happens when there is a lot of glue on the track and there isn't enough wheel speed," McBride said. "That's a good problem to have because it lets us put more power in."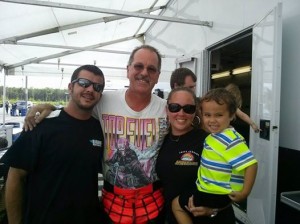 McBride was thoroughly impressed with Sam Wills, who posted a 6.06 on Mike Dryden's motorcycle during a close first round race.
"They are doing a great job," McBride said. "It was tight."
McBride was fortunate to have a .074 reaction time and a 5.96 to reach the stripe first.
Sophomore Top Fuel racer Dave Vantine, who has enjoyed the tutelage and guidance of Team McBride, also ran an impressive 6.06 during the event.
"Dave is riding his butt off and Greg Pollard and Dan Wagner are doing a great job in the pits." McBride said. "The field is really stepping up."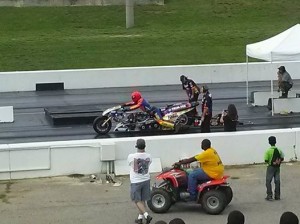 Next up McBride makes his first appearance at a MIROCK event when he travels to Maryland International Raceway in Mechanicsville, Md., for a match race with Vantine at the WPGC Bike Fest, July 25-27.
"I'm really looking forward to it. It has been several years since I've raced at MIR," McBride said. "We got a lot of great feedback this weekend from people who are excited to see us and I keep hearing about how smooth the track is."
McBride thanked his primary sponsors; Pingel Enterprise, Trim-Tex Drywall Products, Drag Specialties-Parts Unlimited, Red Line Synthetic Oil Corporation and Final Swipe Merchant Services.



"Joe Koenig is one of the best guys I have known in my life. He sells the best drywall products in the world."



"Wayne and Donna are like family to me. I make the joke that I'm their oldest and youngest child. Pingel has by far the best quality in America. They have the top of the line, best engineered products and they are all USA made."



"The Web Cam girls and Steve are the best. They are like family to me as well. Laurie Dunlap does so much to help the sport. They also make the best cams on the market."
McBride added –
"Red Line is the best oil on the market or Alan Johnson would not be using it."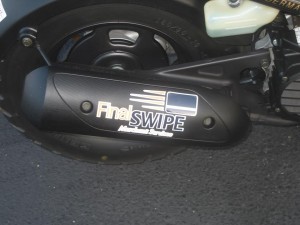 "Drag Specialties is a great company that I'm honored to be involved with. They are the best people to deal with."
"I really appreciate Final Swipe and Gary Baillio. He's a great man with a great company."
"There is not one sponsor that is not important."
McBride thanked his associate sponsors and added, "Everybody is equally important. We couldn't do it without each one of these fine companies."
K&N Air Filters, Web-Cam, Vance & Hines Motorsports, PR Factory Store, Ferrea Valves, Kibblewhite, Precision Machine, World Wide Bearings, Vanson Leathers, Millennium Technologies, Belt Drives Ltd, Simpson Race Products, Nitrous Express, APE, EK Chain, Arias Pistons, MSD, Protect ALL, Cometic Gaskets, B&J Transmission, Carolina Cycle, L.A. Sleeve, PJ1, Mickey Thompson Tires, Valco, Goodridge, Carlisle Belts and Gates Belts.
Photo courtesy of Robert Zorn