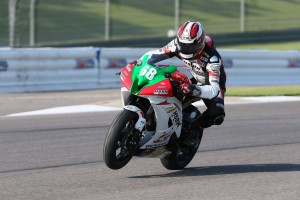 Hearty congratulations to Houston Superbike's Dustin Dominguez who took pole position for this weekend's AMA Pro SuperSport races at Barber Motorsports Park on his Yamaha YZF 600 R6 equipped with K-Tech 20DDS fork cartridges and a 35DDS Pro rear shock. Celtic/Hudson Valley Suzuki's Corey Alexander started third on the grid, also using K-Tech 20DDS fork cartridges and a 35DDS Pro rear shock. Miles Thornton rode hard to qualify in seventh position on the grid on his D&D Triumph 675R with K-Tech Suspension front and rear. Dominguez would go on to take second place in Saturday's first race, Thornton riding hard to take fourth, with K-Tech equipped Wyatt Farris on his Celtic/HVMC Suzuki finishing seventh, and Alexander finishing thirteenth after a late race incident moved him back in the pack. Sunday's second AMA Pro SuperSport race at Barber saw Dominguez advance to take the win and the top spot on the podium for the first time this season, with Alexander taking fourth place, his first weekend without a visit to the podium. Thornton brought home a respectable seventh place finish, with Farris working hard to finish twelfth.
In Italy at Misano, American PJ Jacobsen scored his first podium finish of the season with a third place finish in World SuperSport on his Intermoto Kawasaki ZX6R equipped with K-Tech Suspension 20DDS fork cartridges and a 35DDS Pro rear shock. The entire weekend was a battle of the top five riders with multiple battles for position with Jacobsen managing to avoid trouble and bring home a strong third place finish ahead of series veterans like Sofuoglu, Tamburini, and Zanetti.
K-Tech Suspension is pleased to offer the most advanced suspension technology for racing and street use. The 20DDS fork cartridges offer incredible feel and control, in a pressurized closed system with large fluid displacement, precision machined and anodized billet aluminum components, and wide range of adjustment. The 35DDS rear shock offers a unique By-Pass-Valve for low shaft speed compliance between the rebound and compression circuits, as well as a full range of adjustments including shock length, hydraulic spring preload, and 32 clicks of rebound and compression adjustment. To learn more about what K-Tech Suspension offers for your machine, please contact Orient Express, the exclusive North American importer and distributor. Please call 800.645.6521 or 631.231.9552 to speak with a knowledgeable sales representative or visit http://www.orientexpress.com for more information.