Kandy Magazine Pro Stock Motorcycle rider Angie Smith scored her first-ever NHRA national event win at the Auto-Plus New England Nationals in Epping, NH. The win was historic as Angie met husband and defending series champion Matt Smith in the final round, marking the first time a husband and wife raced each other in an NHRA professional final.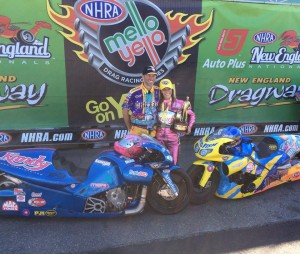 "It's a dream come true for me to finally win a national event in NHRA competition after seven years of trying," said Angie. "I can't thank my MSR team enough and I'm so thankful to have Kandy magazine sponsor me for these past events. I'm so blessed. I am living proof that you should never give up on your dreams." "So please continue to support Kandy magazine by downloading the Kandy App (http://app.lk/kandymagazine)."
Angie had no easy path on her way to the winner's circle. She qualified in the middle of the pack in the eighth position with a 6.87 elapsed and got a free run in the first round of eliminations when Jim Underdahl withdrew after damaging an engine in qualifying.
From there it got as hard as it could. She faced a three-time champ, Harley-Davidson factory rider Eddie Krawiec and won on a holeshot: her razor-sharp .003 reaction time allowed her to win with a 6.89 elapsed time to Krawiec's quicker 6.86.
In the semifinals she met Krawiec's teammate, former champ and current points leader Andrew Hines, and beat him straight up, 6.90 to 6.92.
It was the tenth semifinal appearance of her career but only the first time she was able to advance to the final round.
In the final husband Matt got a huge lead off the line but faced engine trouble and shut the bike down. Angie took the win, running a consistent 6.90 elapsed time.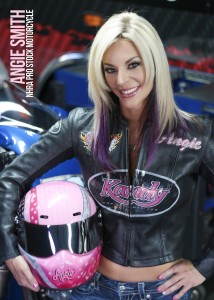 "When it's your day, its your day," she said after beating riders with a total of eight NHRA championships between them. "I'm really tired of dusting all of Matt's Wallys [NHRA event trophy]. I at least want to dust one of mine at the house. Now I have one, and I'm good with that."
"Angie earned this one fair and square," added Matt Smith. "She took out both Harleys to meet me in the final. We decided before the race that we would race for the win. She had a terrible light and I had her beat until my motor went away. Instead of blowing up my engine I pulled the clutch in. We have three races in a row and we won't be going to back to the shop to fix any broken motors."
"Anytime you can say you beat Eddie Krawiec, Andrew Hines and Matt Smith in the same day you have done your job," he added.
The New England event, added to the NHRA Mello Yello championship series last year, has been good to the MSR team. Team rider John Hall scored his first NHRA event win at inaugural Epping event.
With her win, Angie becomes the fourth female to win a NHRA Pro Stock Motorcycle event (the others being Angelle Sampey, Karen Stoffer and Peggy Llewellyn) and the 14th woman to win in any pro class in NHRA competition. She also made a big gain in the points chase, making the top 10 – currently sitting in the eighth position – for the first time this year.
Angie and MSR would like to thank Kandy magazine, BarkAid, S&S Cycles, Mark & Marshall Stockseth, Kenny Koretsky & NitroFish, Red Line Oil, Vanson Leathers, Mac Tools, PJ1, World Wide Bearings, IDG, Affliction, FireCore, GoodFab, CP Pistons, & Haltech, without your support we could not do what we love.
For more information or sponsorship opportunities with Matt Smith Racing contact:
Colbert Seagraves: cseagraves@triad.rr.com or (336) 414-3857.
In addition to the sponsorship, Kandy Magazine will be doing a monthly feature on the NHRA to spread awareness to a worldwide audience.
Kandy Magazine is the fastest growing men's lifestyle brand in the world, covering the latest in movies, music, tech, sports, and of course the famous Kandy Girls. Its' magazine app was ranked #1 in the world on iTunes in January 2014 and is downloaded in 140 countries.