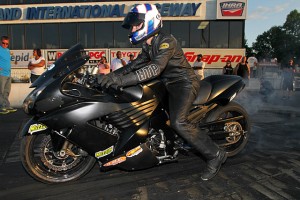 Riding one of South Carolina trucker and race team owner Roger Starrette's nitrous-huffing, Kawasaki ZX14s, multi-time DME Real Street champ Jeremy Teasley qualified number 1 and took another win at the Fast by Gast Summer Nationals at Maryland International Raceway—stop number 3 on the Mickey Thompson Performance Tires MIRock Superbike Series.
Teasley's teammate David Merks qualified fourth and went to the semis on the only turbocharged Suzuki Hayabusa in the RS Motorsports stable, and Starrette himself qualified just behind in fifth. Jeremy's dad, James "Crow" Teasley, qualified eighth.
Jeremy also won Cycle Connection Crazy 8s and nearly ran the sport's first 6.80 Pro Street pass.
Courtesy of Tim Hailey at www.EatMyInk.com