Once a year the International Hot Rod Association™ (IHRA) visits the shores of Lake Huron for three full days of drag racing action. And for that one weekend, the fans of Grand Bend, Ontario pack the house for an event unlike any other as the IHRA and Grand Bend Motorplex celebrate all things speed and excitement at the annual IHRA Mopar Nitro Jam Nationals.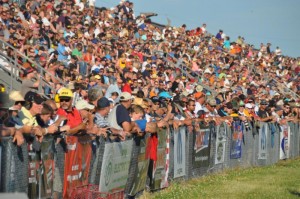 Another massive crowd was on hand on Saturday to witness final qualifying and the opening round of eliminations for all classes with the IHRA's Nitro Jam Drag Racing Series as top qualifiers Jason Rupert (Nitro Funny Car), Mike Scott (Nitro Harley) and Don Blackshear (Nitro Altered) all survived a grueling night of competition. Saturday saw final qualifying and first round eliminations in Nitro Funny Car, Nitro Harley and Nitro Altered, while the remaining classes will begin eliminations on Sunday.
Meanwhile, on the Summit Racing Equipment Pro-Am Tour presented by AMSOIL, race one winners were crowned in front of the capacity crowd as Mark Sanders (Top Sportsman), Bruce Gaier (Top Dragster), Pete D'Agnolo (Super Stock), Steven Dziorny (Stock), Ken Heber Jr. (Quick Rod), Leo Zynda (Super Rod) and Joe Passero (Hot Rod) all took home Ironmen in Grand Bend.
In Nitro Jam competition, California native Jason Rupert, in the Bays and Rupert "Black Plague" '69 Camaro, held down the top spot in qualifying and won his opening round matchup against Mike Halstead in an attempt to avenge a dreadful last race. Joining Rupert, the top four qualifiers in the Nitro Funny Car class from earlier in the day, Rupert, Mark Sanders, Mike McIntire Jr. and Tim Boychuk, all advanced in the opening round. Boychuk led the way during the session with a 5.853-second pass at 243.83 mph in a win over Bruce Litton.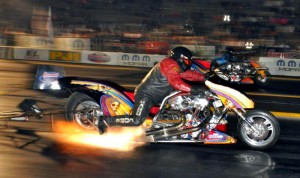 The fan-favorite nostalgia Nitro Funny Car class will see a number of interesting matchups on championship Sunday as Rupert takes on Boychuk, coming off of low ET of round one, and McIntire takes on Sanders.
The same scenario rang true in Nitro Harley as the top four qualifiers, Mike Scott, Mark Cox, Nate Gagnon and Mike Pelrine, all advanced in the first round. Cox had low ET of the round with a 6.392, 216.45 in a win over Rob Brown. In the semifinal round, Scott will take on Pelrine, while Cox will meet Gagnon.
Jay Turner, who is currently second in points, fell in round one to Scott after qualifying eighth.
Nitro Altered saw Don Blackshear, Ron Maroney and Troy Martin all advance to Sunday in a very competitive round. Troy Martin had low ET of the first round with a 6.449, 219.13 after qualifying second earlier in the day.
Nitro Jam's biggest field in Grand Bend is that of the PMRA Pro Modified series as local favorite and IHRA veteran Rob Atchison paced the field with a 6.021, 237.96 pass. Jeff Roth sits second with a 6.094, 233.64, followed by Bruce Boland (6.138), Mike Yedgarian (6.152) and Derek Hawker (6.236). A total of 13 cars were on hand to contest the eight-car field which will begin eliminations on Sunday.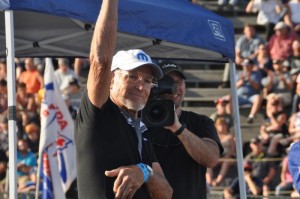 IHRA's two fastest classes, Top Fuel and Jet Dragster, each got one hit at the track on Saturday, with Ike Maier leading the way in Top Fuel with a 4.871, 261.32 and Elaine Larsen pacing Jet Dragster with a 5.721, 273.47.
IHRA's only final on Sunday came in Mountain Motor Pro Stock as the four-car exhibition went to Anthony Paone of Woodbridge, Ontario, who bested IHRA's most recent national event winner John Konigshofer with a 6.632, 200.89.
The IHRA Mopar Nitro Jam Nationals at the Grand Bend Motorplex will conclude on Sunday with day two of the Summit Racing Equipment Pro-Am Tour and final rounds in all IHRA Nitro Jam Drag Racing Series professional classes.
SATURDAY FINAL QUALIFYING
Grand Bend, Ontario – Final qualifying from the 2014 IHRA Mopar Nitro Jam Nationals at Grand Bend Motorplex
Top Fuel Dragster – 1. Ike Maier 4.871, 261.32; 2. Kyle Wurtzel 5.537, 179.74
Nitro Funny Car – 1. Jason Rupert 5.729, 243.50; 2. Mark Sanders 5.839, 234.43; 3. Mike McIntire Jr. 5.866, 238.66; 4. Tim Boychuk 5.915, 241.02; 5. Bruce Litton 5.993, 236.22; 6. Gary Kraus 6.012, 234.13; 7. Ronny Young 6.422, 187.30; 8. Mike Halstead 9.798, 86.07
Pro Stock – 1. John Konigshofer 6.349, 220.91; 2. Tony Pontieri 6.421, 216.71; 3. Larry O'Brien 6.475, 218.44; 4. Anthony Paone 11.981, 72.96
Nitro Harley – 1. Mike Scott 6.317, 218.18; 2. Mark Cox 6.383, 225.05; 3. Nate Gagnon 6.576, 207.85; 4. Mike Pelrine 6.600, 214.74; 5. Devin Pelrine 7.134, 168.03; 6. Alvin Kobernusz 7.758, 156.35; 7. Rob Brown 7.989, 152.00; 8. Jay Turner 11.490, 80.46
Nitro Altered – 1. Don Blackshear 6.275, 215.15; 2. Troy Martin 6.374, 219.56; 3. Ron Maroney 6.466, 211.61; 4. Mike Hilsabeck 6.495, 209.35; 5. Shane Harter 9.076, 103.29
Jet Dragster – 1. Elaine Larsen 5.721, 273.47; 2. Dawn Perdue 5.781, 274.39; 3. Kat Moller 6.184, 254.74
PMRA Prod Mod – 1. Rob Atchison 6.021, 237.96; 2. Jeff Roth 6.094, 233.64; 3. Bruce Boland 6.138, 235.66; 4. Mike Yedgarian 6.152, 206.61; 5. Derek Hawker 6.236, 230.65; 6. Jason Kalso 6.320, 197.58; 7. Denis Lachance 6.396, 221.67; 8. Paulo Giust 6.738, 177.90; 9. Al Martorino 6.752, 173.14; 10. Jason White 7.061, 155.46; 11. Jack Grainy 7.383, 181.30; 12. Gary Mater 7.836, 129.79; 13. Robert Nagy 17.762, 43.56
SATURDAY FINAL ELIMINATIONS
Grand Bend, Ontario – Saturday final results from the 2014 IHRA Mopar Nitro Jam Nationals at the Grand Bend Motorplex
Pro Stock – Anthony Paone, Woodbridge, Ontario, '14 Camaro, 6.632, 200.89 def. John Konigshofer, Otterville, Ontario, '13 Mustang, 8.350, 109.91
Top Sportsman – Mark Sanders, Harrison, Ohio, '05 Cavalier, 7.790, 174.21 def. Ed Szram, Mt. Albert, Ontario, '69 Camaro, foul
Top Dragster – Bruce Gaier, Fort Laramie, Ohio, dragster, 7.391, 178.11 def. Chris Cadle, Monroe, Mich., dragster, foul
Super Stock – Pete D'Agnolo, Rochester, N.Y., '67 Camaro, 9.458, 132.88 def. A.H. Adkins, Ravenswood, W.Va., '69 AMX, 8.945, 147.66
Stock – Steven Dziorny, Leonard, Mich., '96 Dakota, 11.514, 106.87 def. Brent Darroch, Monaco, Pa., '94 Camaro, 10.784, 117.92
Quick Rod – Ken Hebert Jr., Tecumseh, Ontario, dragster, 8.901, 150.17 def. Dave Klomps, Hensall, Ontario, dragster, 8.896, 161.95
Super Rod – Leo Zynda, Clinton Township, Mich., '90 Cavalier, 9.919, 161.55 def. Joe Ferrari, Uxbridge, Ontario, '27 Roadster, 9.920, 147.17
Hot Rod – Joe Passero, Stevensville, Ontario, '67 Camaro, 10.905, 144.88 def. Richard Preiser, Jackson, N.J., '68 Mustang, 10.892, 121.24