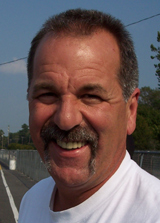 For racers these are indeed hard times.
Eight-time Top Fuel Motorcycle champion Larry "Spiderman" McBride has battled his share of adversity throughout his storied and world record-setting career.  But never before has the Spiderman experienced a more difficult time to compete than amid the harsh economy and soaring fuel costs of 2008.
"These are the toughest times we have ever been through as racers. With the rising fuel prices and this recession I'm just grateful that all of my sponsors have stood behind me through this," McBride said.  "They are the reason we can continue."
McBride's racing operation includes a large diesel race rig and a motor home for himself and his crew to stay in during the event.  The fuel bill to get to and from McBride's last race in Memphis, Tenn. from his home in Newport News, Va. was an overwhelming $3,500.
"It cost us $2,000 to transport the truck and $1,500 to transport the motor home," McBride said.
Add to that the cost of the nitro methane McBride burns and his total fuel bill alone for the weekend quickly surpasses more than the Top Fuel winner's purse, which is either $4,000 or $3,500 depending on the number of entries.
And that's just a fraction of McBride's total expense for the weekend.
"Before I can even think about making my first run I have to be prepared to spend $5,000 in fuel," McBride said.
That's the reality of the sport in 2008.  Before McBride can begin his quest to garner a five-second time slip he must face a five-grand fuel bill.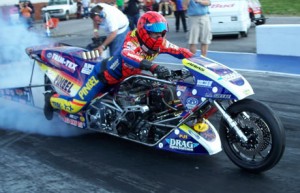 And that's assuming the multi-time champion can even get nitro. There has been an increasing difficulty for anyone to get nitro shipped from China to the U.S. in large quantities.  This problem has affected NHRA and IHRA teams so dramatically, that most are not performing any testing.
"It's a nightmare right now trying to get nitro," McBride said.  "They have shut down several of the plants in China to clean the air up for the Olympics. There are a lot of political issues right now with oil companies."
Of course this issue has led to a sharp increase in the cost of a 55-gallon drum of nitro.
"I was paying $700 a drum last year," McBride said. "This year if you can find some it's $2,085 a drum."
Now take into consideration McBride's 1,200 horsepower-plus machine burns 35 gallons of nitro a race, or about four-and-a-half gallons a run. One drum of nitro methane won't even get McBride through two events.
The shortage of nitro is putting a strain on the class. McBride's Top Fuel colleague Korry Hogan was having trouble finding nitro.  Luckily for Hogan he was able to purchase a barrel from Funny Bike racer Mike Coulson, who at one time planned to ride a Nitro Harley.
Despite all of the added hurdles McBride continues to compete for the pure love of the sport.
McBride has collected two wins on the season.  The first came at the AMA Dragbike Bikeweek Nationals from Valdosta, Ga, in March where McBride established a new motorcycle world record with a blast of 5.79. At the subsequent race in Atlanta, Ga, McBride opted not to compete due to what he felt where unsafe track conditions. At the Spring Nationals from Memphis, Tenn. May 3-4, McBride scored his second victory of the season when he defeated Tom Perry with a 5.83 to Perry's 10.16.
Now McBride heads to Bristol Motor Speedway in the mountains of Tennessee for the first time since the early 1990's for the AMA Dragbike Summer Nationals June 20-22.
"I've only raced there once and it was so long ago the series was called IHRA," McBride said. "I'm excited to go back.  It's a great facility and we haven't ran in high altitude like that for several years.  I think it will be a real challenge to our team.  We made a few changes to compensate.  We increased the compression ratio a little bit."
Fellow racers Chris Hand, Ray Cason and Tom Perry are expected to be in attendance.
"I'm not so sure we'll be able to run in the 5.70s, but I'm confident that we will be able to run in the fives," McBride said.  "It will all depend on how hot it is and how hot the track temperature is."
The team thanked; Pingel Enterprise, Trim-Tex Drywall Products, Drag Specialties-Parts Unlimited, Red Line Synthetic Oil Corporation as well as his other sponsors.
Vance & Hines Motorsports, PR Factory Store, Muzzys Performance, Web-Cam, Kibblewhite, Ferrea Valves,  Precision Machine, Vanson Leathers, Performance Machine, Belt Drives Ltd, Street & Competition, Simpson Race Products, Nitrous Express, APE, EK Chain, Arias Pistons, R/D Spring Corp, Autolite, MSD, Protect ALL, Whipple Industries, Cometic Gaskets, B&J Transmission, Carolina Cycle, L.A. Sleeve, PJ1, Mickey Thompson Tires, Valco, and Carlisle Belts.