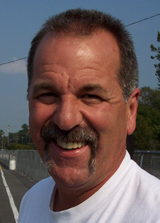 Top Fuel Motorcycle drag racing legend, Larry "Spiderman" McBride, believes his team may have solved what proved to be a mysterious and lingering malady on his record-breaking machine at the AMA Dragbike Pingel Thunder Nationals from Indianapolis, Ind., Aug. 1-2.
For the past several months McBride had been experiencing problems with his motorcycle dropping cylinders at different points on the drag strip, particularly off the starting line. Initially the team thought it was an ignition problem, and later a bad supercharger, but McBride thinks he finally nailed the real gremlin in Indy.
"It was the placement of a fuel injector nozzle we had over the valves. It wasn't letting the fuel atomize," McBride said. "It was causing us to drop cylinders at the hit of the throttle. Once we moved the nozzle, all the horsepower came back."
The good news for the team is now McBride's Suzuki has more power than ever. The bad news is the team was unsure if the problem had been corrected prior to the Indy final, which resulted in McBride overpowering the racetrack and spinning the tire.
"If I had known we were going to pick it up that much I could have made some clutch adjustments," crew chief Steve McBride said. "We still weren't sure."
"We were starting to think we weren't as smart as we think we are," McBride laughed. "We have been experimenting with so many new parts since Atlanta, it was hard to determine what was causing us the issue."
In the final McBride got out of the hole with a stellar .997 60-foot time but smoked the tire shortly thereafter, conceding the victory to Canadian Geoff Pollard, who ran 6.04 at 232 mph to McBride's 6.42 at 198 mph.
"I hate to lose, but it feels great to see Geoff win, and get beat by a bike we helped to build," McBride said of Pollard's first victory on his new motorcycle. "We did the fuel system, the drive, the blower, the manifold and set the bike up. I'm happy for him. It proves he's got the parts he needs to beat us."
On Saturday, McBride qualified on the pole with a 5.98 at 228 mph. In Sunday's opening round of eliminations, McBride defeated Tommy Sloan with a 6.32 at 233 mph to Sloan's 7.18 at 197 mph.
"We smoked the tire. I was on and off the gas, pedaling it," McBride said. "When that happens you try to do anything you can to get it to hook back up, including grabbing the rear brake. That's an old trick Elmer Trett taught me."
Next up for the nine-time AMA Dragbike champion will be the Orient Express U.S. Nationals from Atco, NJ, September 12-13.
"We're headed up with both barrels loaded," McBride said. "Atco has been a good track for me over the years. We want to keep it up."
The team thanked; Pingel Enterprise, Trim-Tex Drywall Products, Drag Specialties-Parts Unlimited, Red Line Synthetic Oil Corporation, K&N Air Filters and Web-Cam as well as his other sponsors.
Vance & Hines Motorsports, PR Factory Store, Muzzys Performance, Ferrea Valves, Kibblewhite, Precision Machine, World Wide Bearings, Vanson Leathers, Performance Machine, Belt Drives Ltd, Street & Competition, Simpson Race Products, Nitrous Express, APE, EK Chain, Arias Pistons, R/D Spring Corp, Autolite, MSD, Protect ALL, Whipple Industries, Cometic Gaskets, B&J Transmission, Carolina Cycle, L.A. Sleeve, PJ1, Mickey Thompson Tires, Valco, Goodridge, Carlisle Belts and Gates Belts.