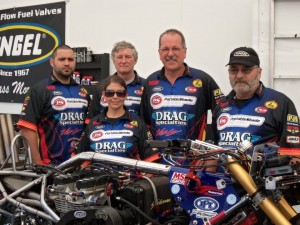 The world's quickest motorcycle drag racer, Larry "Spiderman" McBride, opened his 34th season of competition with remarkable consistency and dominance over a full field of Top Fuel racers to win the Manufacturers Cup from South Georgia Motorsports Park in Valdosta, Ga., April 13-15.  McBride became the first Top Fuel racer to record six, five-second runs at a single event.
"I think it's safe to say my brother (Steve) figured out our problem," commented McBride on the record-holding motorcycle's tendency to drop cylinders over the past couple of years.
In the final, McBride faced Harley-Davidson rival Tommy Grimes for a third time in the Cup's four-race history.  As usual, both motorcycles performed brilliantly, and McBride was able to out-motor the Ray Price-owned V-twin with a 5.92 at 240 mph to Grimes' 6.20 at 231 mph.
"The track was really awesome, and we needed more power in the bike," McBride said. "We knew Tommy would be tough and we didn't want to get too aggressive and risk smoking the tire. The track was a lot better than we thought it was going to be."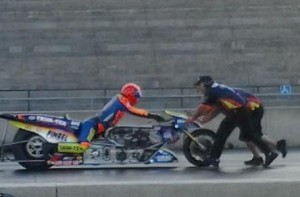 A valiant losing effort, the 6.20 was Grimes' third quickest pass of his career. Grimes also had an impressive reaction time, with a .020 to McBride's .055.
"Tommy cut the tree down on me so hard, I had to run over the broken glass. He owes me a new tire," joked McBride. "I really focused on cutting good lights this weekend because these talented Harley racers like Tommy can really embarrass you off the line."
After his team's third consecutive final-round loss to McBride, Price joked, "We need to figure out a way to slow him down. I'd like to cut his blower in half."
McBride displayed outstanding consistency and quickness throughout the weekend by amassing qualifying runs of 5.86, 5.98 and 5.84, and race-day runs of 5.87 and 5.96 to defeat Joey Sternotti and Jay Turner.
"This season is off to a great start," McBride said.  "I'm excited."
McBride thanked sponsors; Pingel Enterprise, Trim-Tex Drywall Products, Drag Specialties-Parts Unlimited, Red Line Synthetic Oil Corporation, K&N Air Filters and Web-Cam as well as his other sponsors.
Vance & Hines Motorsports, PR Factory Store, Muzzys Performance, Ferrea Valves, Kibblewhite, Precision Machine, World Wide Bearings, Vanson Leathers, Performance Machine, Belt Drives Ltd, Street & Competition, Simpson Race Products, Nitrous Express, APE, EK Chain, Arias Pistons, R/D Spring Corp, Autolite, MSD, Protect ALL, Whipple Industries, Cometic Gaskets, B&J Transmission, Carolina Cycle, L.A. Sleeve, PJ1, Mickey Thompson Tires, Valco, Goodridge, Carlisle Belts and Gates Belts.