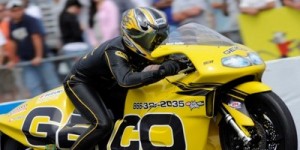 Karen Stoffer and the GEICO Suzuki Pro Stock Motorcycle team are keeping an eye on this weekend's weather forecast for the O'Reilly Auto Parts NHRA Spring Nationals at Royal Purple Raceway.
Stoffer and the team are hoping for hot weather conditions in Southeast Texas this weekend because high temperatures and humidity have a balancing effect on the Pro Stock classes.
"Houston has been a good track for us over the years," Stoffer said. "Hopefully Lady Luck will shine down on us again, we'll make the right calls and everything will stay together.
"If it's warm that will help us because the top bikes will have a tougher balancing act for getting their power to the track. We have always done that well so it could be an advantage for us."
The team has been using just one motor this year, so they've had to be conservative on their tune-ups.
"We've still not gotten any new motors," Stoffer said. "We're running last year's power for now. We only have the one motor so we're going to be conservative with it."
Stoffer said that she and the GEICO team are antsy to get back on the track because it seems like forever since the bike's first race of the season at Gainesville.
"It's the longest time between the first race and the second race that I can recall," Stoffer said. "It's back to being exciting again. The long break is almost like starting over. Everyone is excited at the opportunity to get things started."
To keep their edge, Stoffer and her husband/crew chief, Gary, recently switched roles as Gary did some Sportsman racing with Karen making the tuning calls.
"He was at Las Vegas and Phoenix racing in his car," she said. "I was the crew chief and he was the driver. He did really well in Las Vegas, out of 91 cars entered; he finished in the top 12. That's huge for us in Super Gas.
"It's been fun to go out there and keep in touch with the racing: focused and in race mode. It's a different kind of challenge for us, but still very exciting and keeps a jump in our step."