Drag racing history was made at the MIROCK WPGC Bike Fest at Maryland International Raceway, July 25-27.
Top Fuel Motorcycle legend Larry "Spiderman" McBride and sophomore nitro racer Dave Vantine mesmerized fans with the sport's quickest side-by-side pass during a weekend-long match race series.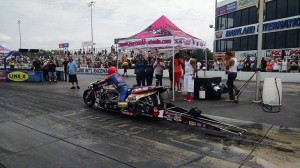 On Sunday afternoon MIROCK official Jason Miller performed extensive track prep, which included, not one, but two laps on his quad spraying the entire track with VHT glue. With aggressive tune-ups, McBride and Vantine put the extra traction to good use. The Spiderman accelerated to a 5.791 alongside Vantine's 5.974 for the first side-by-side five second pass in motorcycle drag racing history.
"This is very special to me," McBride said. "To run the first five in 1999 and then be a part of the first side-by-side five 15 years later is pretty awesome."
Vantine becomes just the ninth Top Fuel rider in the world to record a five.
"I'm very proud of him," said McBride, who serves as a mentor and a coach for Vantine. "He has learned very quickly. He is levelheaded and intelligent and he has a great future in this class."
The celebration began at the far end of the track when the teams' crews and MIROCK officials met with the riders.
"Jason Miller came down and was just as pumped up as we were. He said he didn't even expect us to go out there and run fives. He just wanted us to put on a good show," McBride said. "Everybody was really excited."
Before the historic run fans were dazzled all weekend with side-by-side burnouts and pit area warm-ups from the 1200-horsepower beasts.
Overall McBride was thoroughly impressed with the MIROCK series.
"MIROCK takes excellent care of the racers and they were on top of everything," McBride said. "It was a great experience."
McBride now quickly turns around his operation to race this weekend at the MANCUP event at South Georgia Motorsports Park in Valdosta, Ga.
McBride thanked his primary sponsors; Pingel Enterprise, Trim-Tex Drywall Products, Drag Specialties-Parts Unlimited, Red Line Synthetic Oil Corporation and Final Swipe Merchant Services.



"Joe Koenig is one of the best guys I have known in my life. He sells the best drywall products in the world."
"Wayne and Donna are like family to me. I make the joke that I'm their oldest and youngest child. Pingel has by far the best quality in America. They have the top of the line, best engineered products and they are all USA made."



"The Web Cam girls and Steve are the best. They are like family to me as well. Laurie Dunlap does so much to help the sport. They also make the best cams on the market."
McBride added –
"Red Line is the best oil on the market or Alan Johnson would not be using it."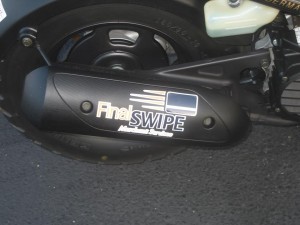 "Drag Specialties is a great company that I'm honored to be involved with. They are the best people to deal with."
"I really appreciate Final Swipe and Gary Baillio. He's a great man with a great company."
"There is not one sponsor that is not important."
McBride thanked his associate sponsors and added, "Everybody is equally important. We couldn't do it without each one of these fine companies."
K&N Air Filters, Web-Cam, Vance & Hines Motorsports, PR Factory Store, Ferrea Valves, Kibblewhite, Precision Machine, World Wide Bearings, Vanson Leathers, Millennium Technologies, Belt Drives Ltd, Simpson Race Products, Nitrous Express, APE, EK Chain, Arias Pistons, MSD, Protect ALL, Cometic Gaskets, B&J Transmission, Carolina Cycle, L.A. Sleeve, PJ1, Mickey Thompson Tires, Valco, Goodridge, Carlisle Belts and Gates Belts.