For the first time ever at a Mickey Thompson MIROCK Superbike Series event, Top Fuel motorcycles took to the meticulously prepped quarter mile at Maryland International Raceway. It was the WPGC Bike Fest this past weekend, July 25-27, and while just being there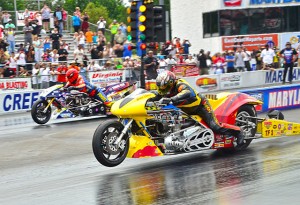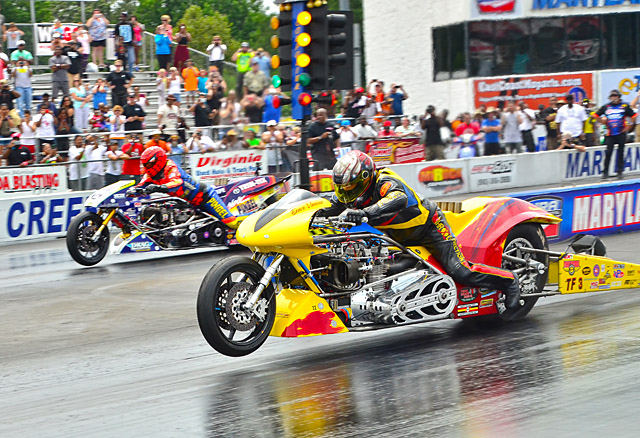 guaranteed a certain amount of history for both the series and the sport, no one was expecting a significant milestone moment. So when the scoreboards lit up with the world's first ever side-by-side, 5 second motorcycle pass, pandemonium spread through the record-setting crowd.
Larry "Spiderman" McBride is also known as "First in the 5s," a now 15-year old achievement for the Virginia racer and his tuner/brother Steve. But although the McBrides have run more 5 second passes than they can count, few have followed and the MTC 5 second club just closed its membership (limited to the first eight to do so) this past April with Ian King. And even though McBride and Korry Hogan sparred quite a bit with their 5 second bikes a few years ago, they'd never run 5s at the same time.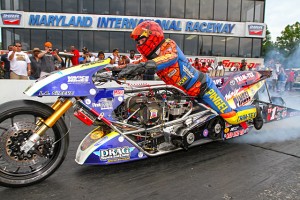 Nitro newcomer David Vantine had raced with King for that last spot in the club but come up short. Riding Greg Pollard's low-slung yellow screamer, Vantine was at MIR to run four match races with McBride. After running a 5.97 shakedown pass on Saturday, McBride slipped up into the 6s and Vantine was running between 6.10 and 6.34.
So no one was really anticipating anything other than the usual sensory thrills of Top Fuel motorcycles when McBride and Vantine lined up for their first pass on Sunday—not Vantine's first 5, and certainly not the first ever side-by-side 5. But BAM! There it was. "I'm just glad I didn't leave before the tree was activated!" said Vantine, who redlit by -.116, then ran a MIROCK record 237.46 mph on the 5.97 second pass.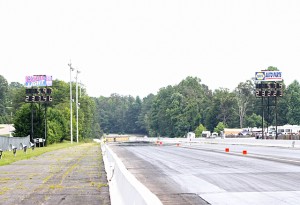 McBride ran a 5.79 in the other lane. "In 3200 foot air?" said McBride. "Those are impressive numbers. We had 110 grains of water, and we don't like to see that. But our oxygen readings were good.
"I really can't say enough about the track, the staff, and the other racers. It was actually an honor to be there. I've been racing 36 years and absolutely I've never been treated like that at a race track—ever. They really appreciate us being there. I can't even say how many racers—at least a hundred plus—came up to me and said they appreciate us coming. I've never had track staff in the lanes come up to me and say they were sorry they called us up so early. I'm blown away.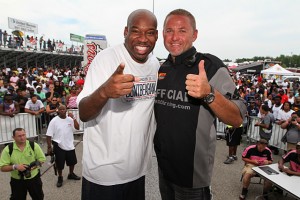 "And Jason (MIR promoter Jason Miller) and his dad Royce (MIR owner) were so nice. They have water in the staging lanes, they have a canopy for the racers, they have fans. It's phenomenal. The bands, the contests—I've never seen anything like it. And it was all so professionally run. And the way they prep the track, that's a show in itself. Phenomenal."
With all the hoopla over Top Fuel, Orient Express Pro Street had a chance to operate out of the high-pressure glare of the spotlight for a change. "It was nice," said champion Joey Gladstone. His team's DME Racing turbocharged Suzuki Hayabusa has been at the forefront of the race for the sport's first 6.80 street tire pass, and for once they got to work in the shadows.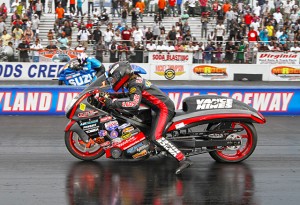 And in the shadows they thrived, qualifying number 1 with a 6.95 and eventually hitting a top speed of 220 mph. Gladstone worked his way to a final round pairing with June runner-up Doug Gall. Gladstone took the tree, the stripe, and stretched his lead in the points. Pro Mod/bracket racer Mac McAdams made his Pro Street debut on "Wigsplitter" and won Pro Street B.
Rickey Gadson is once again a major player in DME Racing Real Street. After runner-upping in June on his turbo ZX14R, Gadson qualified number 2 this time around behind David Merks and his RS Motorsports turbo 'Busa.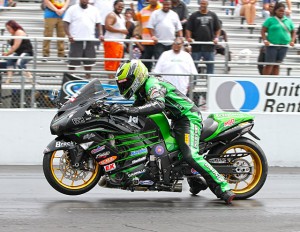 RS Motorsports had three bikes in the semis, with Merks losing to teammate Jeremy Teasley on a holeshot. Gadson then beat RS team boss Roger Starrette in the other semi to set up a June final rerun with class champion Teasley. Jeremy took the tree on his sinister black, nitrous-huffing RS Motorsports Kawasaki ZX14, but wheelied as Rickey's turbo power came in smoothly and powered him across the stripe for the win.
Gadson dedicated the win to the family of Aaron Slemker, who passed away earlier in the week in what can only be described as a freak accident while performing drills during Gadson's drag racing school at MIR. Slemker, who's father Tracy is the point man for high end carbon fiber manufacturer Montgomery Motorsports, was the youngest of a great racing family and will be sorely missed.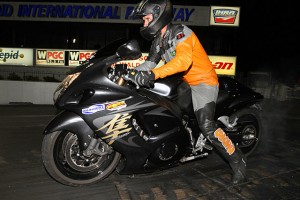 After Gall runner-upped in Pro Street, he came back around to continue dueling with the large Cycle Connection Crazy 8s field. After taking out number one qualifier Shayne Proctor in round 4, Gall eventually paired with defending class champion Teasley in the final. Gall took the tree and thus the win, as both bikes ran 8.91.
Louis Concrete 4.60 champion Kenny Cornell has struggled with his new bike so far this year, but this time around made it to the final to face Ronnie Smith. Cornell's bike did its job, running 4.606, but Cornell's .158 light did him in and Smith took the win. Pro Street B winner McAdams qualified number 1 with a 4.601 in the world's quickest 2-wheeled index class, but broke while winning round 1.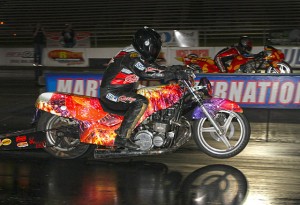 FBR Shop 5.60 number 1 qualifier "Fearsome" Andy Baumbach was going rounds in many classes at MIR and took an all-dragbike 5.60 final over June runner-up Ben Knight, who redlit this time around.
Trac King Clutches Top Sportsman showcased the quickest 32 of the whopping 158 bike Pro ET field. Wilson Burkhead qualified number 1 with a 7.71, but the final boiled down to Brian Canoles vs. Chuck White. This time around it was Canoles with the win after laying out a .034 advantage for himself at the tree.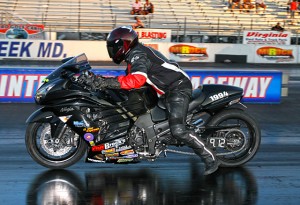 No one was busier Saturday night than Connecticut HVAC man Bob Carlson, who won Brock's Performance Street ET over Brian Guarino and runner-upped to Mike Schulz in the Fast by Gast Pro ET final. Sunday's wins went to Dale Hamilton over Dwight Robinson in Pro ET and birthday boy Boo Brown over Clay Davies in Street.
MIR homegirl Kelly Clontz won the all-ladies Paint the Quarter Pink breast cancer awareness race for the second straight year. Clontz qualified number 1 with a 7.91, then beat Virginian Jody Butler in the final.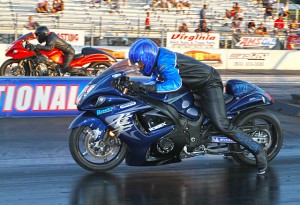 Afterdark Undergound's biggest race had Lil' Richard Gadson riding the Johnny Locklear-built Katrina racing Darion "Nanu" Payne on the HTP Performance-built N2Deep. "The race was locked in for third round of grudge," said Gadson. "We had nothing but problems on all our previous runs. We almost paid the punk-out money because the bike wouldn't go down the track clean, but we found the problem 15 minutes before that round. So it was like doing the race off the trailer." Gadson and Katrina took the win.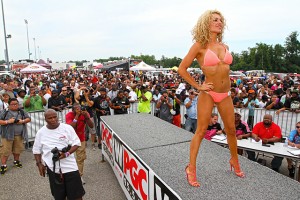 The most anticipated event on the motorcycle drag racing and culture calendar also included the Mid-Atlantic's hottest International Bikini Team models, MIR's biggest East Coast Stunt Jam competition ever, bikini bartenders, custom bike show, huge vender midway, and the DC area's best bands MC'd by WPGC's DJ Flexx. Despite some iffy weather in the area on Sunday, the major DC motorcycle clubs streamed to Budd's Creek for this can't-miss event.
The world's largest motorcycle drag racing series—the Mickey Thompson MIROCK Superbike Series—hits the track at legendary Rockingham Dragway for the 18th annual FBR Shop Summer Sizzler on August 15-17.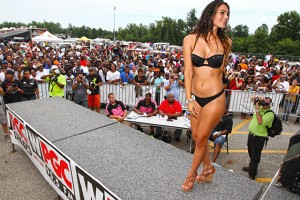 Find out more about the Mickey Thompson Performance Tires MIROCK Super Bike Series at http://www.mirockracing.com
Find out more about Maryland International Raceway at http://www.mirdrag.com/
This report was prepared by Tim Hailey with photos by Hailey and Genie Muldoon. Enjoy everything there is to read, see and watch about motorcycle drag racing and more at http://www.eatmyink.com